 Brazil's Marcelo lies on the pitch during the World Cup in Belo Horizonte, Brazil, July 8, 2014.
By Patrick Johnston
BRASILIA, July 8 (Reuters) - Hosts Brazil suffered their worst World Cup defeat ever when they were crushed 7-1 by Germany in the semi-final in Belo Horizonte on Tuesday.
It was Brazil's first home defeat in a competitive match since 1975 and one of the most extraordinary results in the sport's history.
Here are some other sporting humiliations.
BOXING
Buster Douglas stuns Mike Tyson, Tokyo 1990
Before the fight, Tyson was unbeaten as a professional and routinely knocked his opponents out in the first round. That all changed 35 seconds into the 10th round when massive underdog Douglas knocked Tyson out for the first time in his career, causing one of the greatest upsets in boxing history.
Tyson would never completely recover. He went on to win subsequent fights and even regain the world heavyweight title briefly. But the dominant reign of the man who some thought early in his career would be considered the greatest heavyweight boxer of all time was over. In this Feb. 11, 1990, file photo, James Douglas follows with a left, dropping Mike Tyson to the canvas at the Tokyo Dome in Tokyo.
- -
RUGBY
Wales 13 Western Samoa 16 - 1991 World Cup.
Wales, one of the great rugby nations, were expected to smash the Pacific Islanders in their opening World Cup match at their home ground in Cardiff in preparation for bigger tests against Australia and Argentina.
But the Samoans had not read the script. To'o Vaega and Sila Vaifale scored tries as the Pacific Islanders recorded a huge upset and advanced to the knockout stages at the expense of the Welsh.
The result sparked one of the great rugby quips: "Thank heavens Wales weren't playing the whole of Samoa."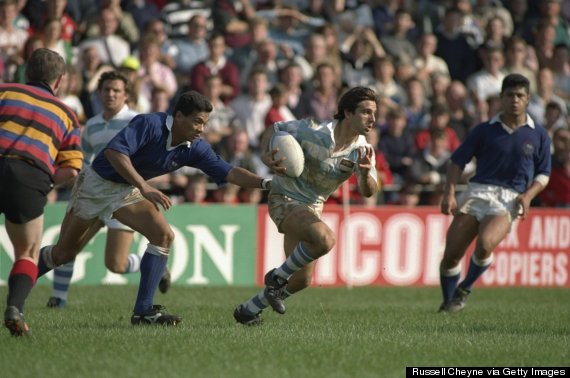 Lisandro Arbizu of Argentina makes a break past a Western Samoan defender during the 1991 Rugby World Cup at Sardis Road, Pontypridd, Wales.
- -
SOCCER
United States 1 England 0, 1950 World Cup.
England, the sport's founding nation, were making their World Cup debut in 1950 with the part-time United States side their first opposition in Brazil.
But they were guilty of under-estimating their lowly opponents, for whom Joe Gaetjens snatched the only goal in a shock 1-0 win that is still remembered to day thanks to the film "The Game of Their Lives" which details the match.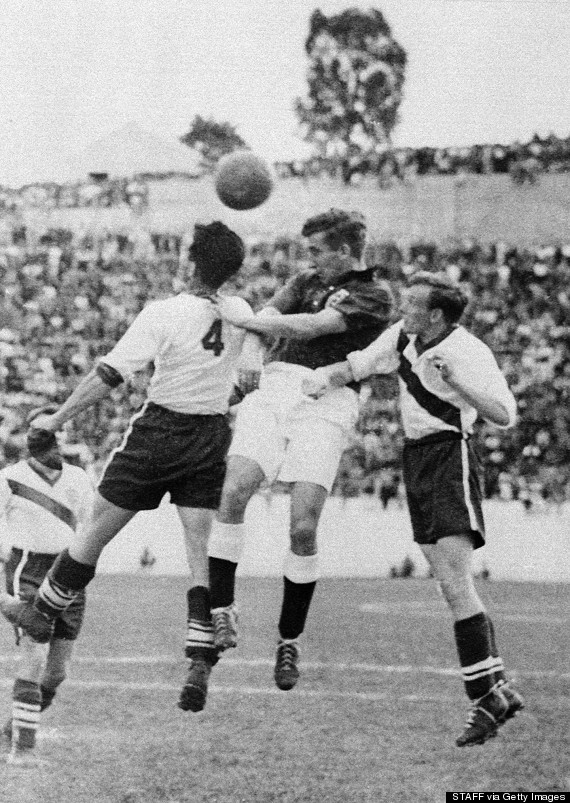 English midfielder Thomas Finney (C) tries to head the ball between American defenders Charlie Colombo and Walter Bahr 29 June 1950 in Belo Horizonte.
- -
SOCCER
North Korea 1 Italy 0, 1966 World Cup.
Twice World Cup winners Italy took on unheralded North Korea playing in their first World Cup in England with a huge win expected for the Europeans.
But Pak Do Ik's goal ensured a massive upset and the Asian team went down in folklore.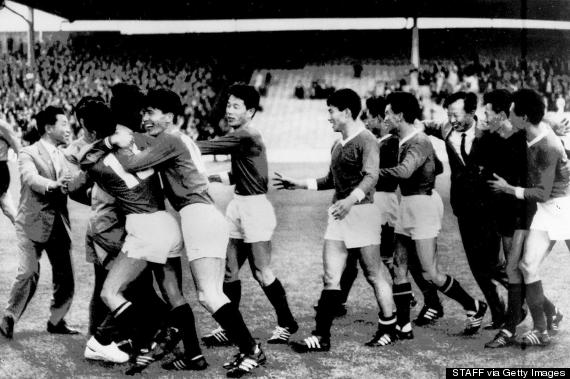 North Korean national soccer team players celebrate their upset victory over Italy July 19, 1966 in Middlesbrough.
- -
CRICKET
Australia thrash England 5-0 to win the 2013-14 Ashes.
England headed to Australia favorites to win the Ashes again having easily triumphed 3-0 on home turf only months earlier, but they unraveled in humiliating fashion with players quitting the tour and others retiring before the series was over.
The 5-0 loss was only the third Ashes whitewash ever and came after emphatic 381-run, 218-run, 150-run, eight-wicket and 281-run defeats.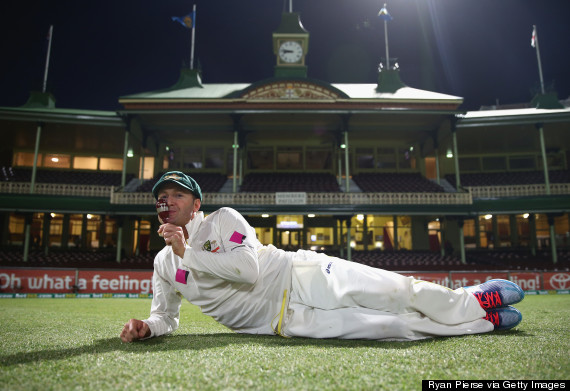 Michael Clarke of Australia poses with the urn on January 5, 2014 in Sydney, Australia
- -
TENNIS
Steffi Graf beats Natasha Zvereva in 1988 French Open final
Germany's Graf thrashed Zvereva of the Soviet Union 6-0 6-0 to defend the women's title in a match that lasted 32 minutes - the shortest final in the Open era.
It was the first French Open final in which a player had failed to win a game and the first double bagel in a grand slam final since Dorothy Lambert Chambers defeated D.P. Boothby at Wimbledon in 1911. Steffi Graf holds holds up her Suzanne Lenglen winner's trophy, June 4, 1988, at Paris' Roland Garros Stadium.
- -
CYCLING
Lance Armstrong backtracks and admits doping
The American was in retirement for a second time having won seven Tour de France titles and successfully dismissing continual accusations he had been doping throughout his career.
But the Texan was forced to endure the most humiliating of comedowns when he admitted in a televised interview with Oprah Winfrey that he had doped, lied and bullied his way to the top. In this Monday, Jan. 14, 2013, file photo provided by Harpo Studios Inc., Oprah Winfrey, right, interviews Lance Armstrong in Austin, Texas.
- -
ICE HOCKEY
Miracle on Ice, 1980 Olympics
The Soviet Union had won six of the seven previous Olympic gold medals in the sport and were expected to easily roll over a United States team made up of amateur and college players at Lake Placid in New York.
But the plucky Americans, led by coach Herb Brooks, claimed a huge 4-3 upset win and went on to beat Finland to take a shock gold.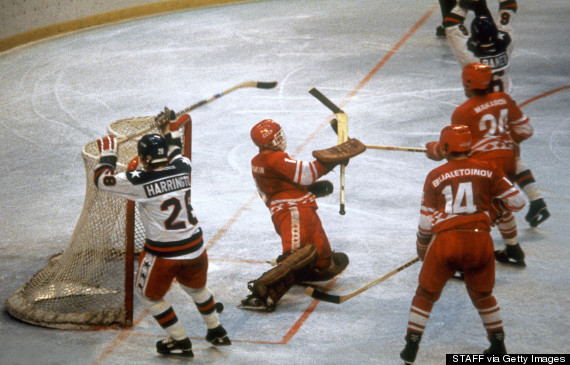 US hockey players John Harrington (L) and Michael Ramsey (top R) react after the puck was fired into the net, February 22, 1980 in Lake Placid.
- -
GOLF
Greg Norman tosses away 1996 U.S. Masters
The world number one Australian was all set for a fun-filled final round procession having opened up a six-shot lead over England's Nick Faldo following three brilliant rounds at Augusta National.
But the Great White Shark capitulated in Sunday's final round as his game deserted him. He could only muster a six-over-par 78 to finish six behind a victorious Faldo in a painful finish watched by millions around the world.
Norman never fully recovered from the meltdown and failed to add to his two major championships wins. Greg Norman falls to the ground after missing his shot for an eagle on the 15th hole during final round play in Augusta, Ga., April 14, 1996.
- -
NFL
Peyton Manning and Broncos crushed in 2014 Superbowl
Peyton Manning entered the Superbowl with his Denver Broncos side having just being voted the NFL's MVP for the fifth time and looking certain to claim a winner's ring.
However, the Seattle Seahawks recorded a 43-8 win - the biggest rout in the championship decider since Denver lost 55-10 to the San Francisco 49ers in 1990.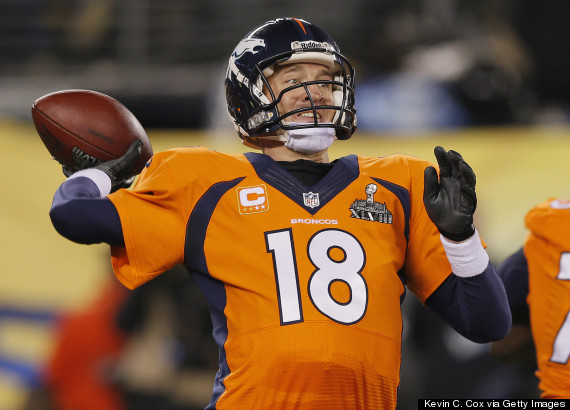 Quarterback Peyton Manning looks to pass on February 2, 2014 in East Rutherford, New Jersey.
- -
NFL
In 1969, "Broadway Joe" Namath and the New York Jets shocked the seemingly invincible Baltimore Colts 16-7 in the Super Bowl, blowing away the notion that the upstart American Football League was a second-class group when compared to the more established National Football League.
Back then, the winners of the AFL played the NFL champion for the title and the first two championship games were won by the NFL's Green Bay Packers by a combined 70-24 score.
The Jets' victory in the first game officially named the Super Bowl paved the way for the 1970 merger of the two major professional American football leagues. In this Jan. 12, 1969, file photo, New York Jets quarterback Joe Namath gives his father a big hug after a 16-7 win in Miami.
(Editing by Ed Osmond)