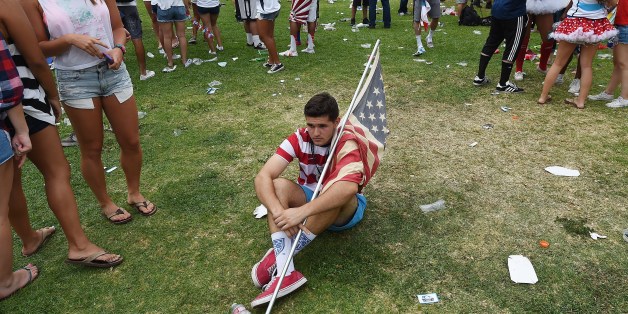 Here's a question: Which is the most tortured sports franchise in America?
The answer? Apparently, it's whatever team you root for.
With the overwhelming majority of professional sports teams ending each year disappointed and many of them ending entire decades without much to cheer about, the act of rooting for any sports team over time can be viewed as an act of masochism. It's more often the dream deferred than the dream season. In the end, annual grief is the price we all pay for the chance at the catharsis of one victory parade. It also seems to be one thing that fans of nearly every team have in common.
When the U.S. Soccer team bowed out of the 2014 World Cup with an extra-time defeat to Belgium, fans of professional and college teams hailing from the Deep South to the Pacific Northwest commiserated and welcomed those new to such disappointment.
For those who don't know what it's like to be a Bills fan, now you do #USMNT

— Anthony Mathews (@anthmathews) July 1, 2014
Now y'all know what being a cowboys fan feels like.

— A Homeboy From Texas (@texashomeboy1) July 1, 2014
Welcome Team USA fans, now know what it's like to be a Cleveland fan

— Bill Snyder (@BSnyderIV) July 1, 2014
Being a USA fan is a lot like being an Ole Miss fan

— Karla London (@karlalondon21) July 1, 2014
Glad the entire nation right now knows what its like to be a #nyr fan with your goalie constantly bailing you out. @610Barstool

— Conky (@Conky10) July 1, 2014
HEY, AMERICA. THIS IS WHAT IT'S LIKE TO BE A KNICKS FAN JUST MULTIPLY THIS BY FORTY YEARS.

— Salvatore Pane (@SalPane) July 1, 2014
America, now you know what its like to be a Mizzou fan. -@TrevorPeters

— George Terlep (@terlepathy) July 1, 2014
Is this what it felt like to be a 49ers fan after the Super Bowl #USA

— Darby ∞ (@Its_Darby) July 1, 2014
Now the rest of the country knows what its like to be a Braves fan

— Colton Parr (@ColtonParr21) July 1, 2014
Now you know what it's like to be a Vol fan America

— Jason Fisher (@JasonFisherJR) July 1, 2014
now I know what it feels like to be a jets fan #disappointed

— Nathan Bodenstein (@n_bodenstein) July 1, 2014
Now I know what it's like to be a cubs fan. So much disappointment.

— Danny Roses (@Dozen_Roses27) July 1, 2014
Now you all know what it feels like to be a Philadelphia sports fan

— Ty Rzemyk (@Ty_Rze) July 1, 2014
Dear America: now you know what it is like to be a @Mets fan.

— Francis Creighton (@FCreighton) July 1, 2014
USA soccer fans now know what it's like to be a Cincinnati Bengals fan when the playoffs come around

— Mr. TJ 21 (@IamTJ21) July 1, 2014
Now we know what it feels like to be a San Jose Sharks fan, guys.

— Shawnze Kopitar (@ShawnGleason) July 1, 2014
Well, now all of America knows what it's like to be a Falcons fan. #whodat

— Fleurty Girl (@FleurtyGirl) July 1, 2014
Congratulations, America. Now you know what it feels like to be a WSU fan.

— Brian Cobb (@BrianRCobb) July 1, 2014
This is what rooting for Clemson football feels like. I'm Charlie Brown expecting team USA not to pull the football away at the last second

— Kevin McAllister (@Papa__Roche) July 1, 2014
To those USA soccer fans. you now know what it's like to root for UNLV basketball. Sweet 16 will forever be good enough

— William (@TripnBilly) July 1, 2014
Now all of America knows what it's like to root for the Chicago Bears.

— Kristin Chirico (@lolacoaster) July 1, 2014
Welcome to what being a KU basketball fan in March is like, America. #USMNT

— James Hoyt (@jamesjhoyt) July 1, 2014
America officially knows what being a #Vikes fan is like now. #TooSoon ?

— Gabe Glidden (@gabeglidden) July 1, 2014