Three-day weekends -- like this past Fourth of July holiday -- are usually for relaxing at the beach and afternoon barbecues. Apparently, one post-Independence Day beach party in Hawaii didn't get that memo.
At least two men were arrested on Saturday after a crowded day at Waimea Bay on Oahu's North Shore turned into the scene of a massive drunken fight, according to Hawaii News Now. Authorities said that alcohol was a factor, however no major injuries were reported.
(Story continues below.)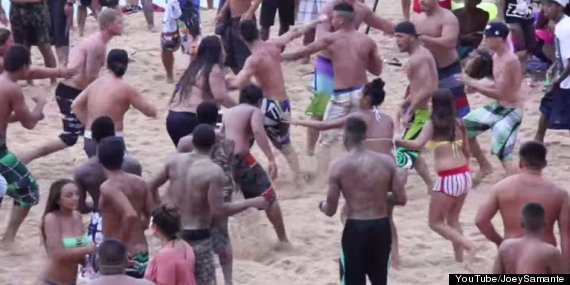 A YouTube video that captured parts of the brawl, titled "Waimea Riot," shows police as they make their way through an aggressive and stubborn crowd while trying to stop several fights.
A separate video posted online includes a brief time-lapse of the day's events, depicting several relatively calm parties that eventually turned into a melee as the cameraman wandered through the fighting. Both videos show that the presence of authorities did not seem to perturb the mob of beach goers.
While the footage reveals an intense scene, Honolulu police told The Inertia the fighting was mostly "blown out of proportion" and pointed out "that fights like these don't occur often and are most likely a result of alcohol."
According to The Inertia's report, 12 police officers were called to the scene and made several arrests with charges that included public drinking, resisting arrest and misdemeanor assault.
One witness took to Reddit to voice concern about the fight at Waimea Bay. "Saturday... was just a complete clusterf**k," Redditor ninjamarket wrote, and highlighted key factors that might have contributed to the day's chaos: "way too little police presence" and people's complete disregard for Hawaii's open container laws which prohibit the consumption of alcohol in public areas.
With a perfectly good beach day ruined and probably a few hangovers that will eventually turn into court dates, we have to ask: Where's the aloha?
WARNING: Graphic language
BEFORE YOU GO
PHOTO GALLERY
Dangerous Days