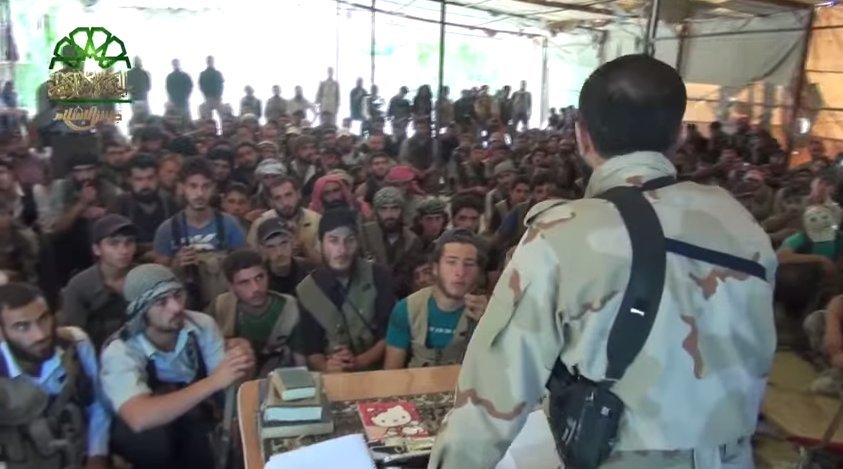 A video of a militant leader in Syria released last week raised eyebrows on social media for one bizarre detail -- the fiery jihadist uses a pink Hello Kitty notebook.
The clip was posted on July 2 and claims to show Islamist fighter Zahran Alloush exhorting his men to battle and destroy the enemy, when the Japanese cartoon notebook enters the frame.
Alloush is the head of Jaysh al-Islam, one of several Islamist factions fighting in Syria and a rival of Abu Bakr al-Baghdadi's cross-border Islamic State group. The July 2 video appears to be shot ahead of an attempt to wrest the town of Maydaa in Ghouta from Islamic State militants.
As France 24 notes, Jaysh al-Islam is well-armed and oversees around 50 rebel brigades, while its funding is believed to come from Saudi Arabia.
Reuters reports that fierce fighting erupted between Jaysh al-Islam and fighters loyal to al-Baghdadi at the beginning of July. According to Lebanese newspaper Al-Akhbar, Alloush was injured in the clashes.
The rebel commander's penchant for Hello Kitty may look incongruous, but the Japanese brand is apparently very popular in the area. The Christian Science Monitor reported last year that amid the rubble of besieged Aleppo, one Syria factory survived the devastation of war by making Hello Kitty blankets snapped up by eager customers in neighboring Iraq.
Moreover, Hello Kitty may just be the latest cat craze among Syria's rebels, who regularly post battle photos with their feline pals.
BEFORE YOU GO
PHOTO GALLERY
Syria War in July