#RumoAoHexa... That's the hashtag Brazilians have been over-sharing on all (and I do mean ALL) social media platforms since the very beginning of the World Cup. The phrase loosely translates to "towards the sixth," meaning this year could have been the sixth time Brazil raised the coveted trophy. With five championships already, it would have put them two ahead of any other nation.
But things took a very dark, very sad turn on Tuesday during the semifinal game against Germany in Belo Horizonte. In just over 90 minutes, the dream that once was became a worldwide joke that will loom over the host country for the next few weeks, if not years or even decades.
It all started like this...
Once upon a time Brazilians were excited, nay thrilled, at the possibility of beating Germany and moving onto the final.
Some even contemplated spending an unfathomable amount of money on last-minute tickets to the game.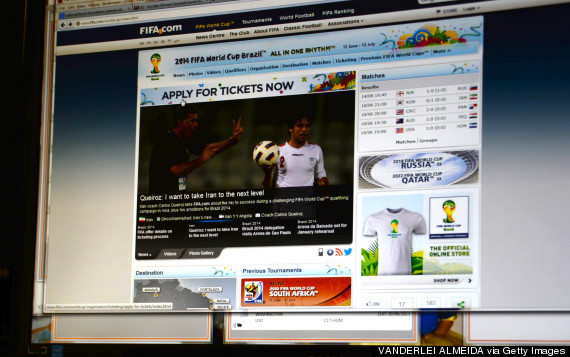 But most of us couldn't buy them, so we moved on. We dressed in green and yellow and shared stories about how nervous we were.
"We have to win!"
Some of us were of the opinion that Germany would win. Those people were bullied, yelled at and asked to sit in the corner.
Finally, game on. But sadly, Germany's Thomas Müller scored the first goal against Brazil in the 11th minute of the game.
WATCH: Scoring machine Thomas Muller's goal to put #GER up 1-0. #BRA might want to mark him »
http://t.co/yn41JTzv05

— ESPN FC (@ESPNFC) July 8, 2014
Every Brazilian soccer fan thought: "It's all good. We needed that pressure, now let's tie this thing so we can win the game. We're still in this."
Then came Germany's second goal in the 23rd minute...
Remember when Miroslav Klose broke Ronaldo's all-time World Cup scoring record? Here it is if you need a reminder » http://t.co/hp4sZGMe1p

— ESPN FC (@ESPNFC) July 8, 2014
And Brazil stared in shock wondering, "What. Is. Happening? If they score a third, it's over."
And exactly one minute later, Germany's third goal came to ruin the hopes and dreams of every Brazilian in the world. And just like that Brazil knew, "It's over. Let me get up off this chair and open up another beer, or five."
But the pain wasn't over. Germany scored five goals in the first 30 minutes of the game.
#GER passed #BRA for the most goals in World Cup history (221) during the first half. Here are all 5 goals »
http://t.co/fRXhKZ1ZxI

— ESPN FC (@ESPNFC) July 8, 2014
And goals 2, 3, 4 and 5 were all made in a seven minute window, which is like, not embarrassing at all.
Then we cried. We cried quite a bit.
And we threw looks of disbelief as Germany scored two, yes two, more goals.
Yeah, this happened during the first half, we know. But this was the look on our faces pretty much throughout the entire game.
Let it be known that hearts and embarrassing world records were broken that day. The final score was 7-1.
If you want the honest truth, the memes started long before the game was even over.
BREAKING: Brazil's Christ the Redeemer statue right now. pic.twitter.com/fvZ0YPJ5Wz

— Football Funnys (@FootballFunnys) July 8, 2014
Screw this.. am outta Brazil. #BrazilvsGermany pic.twitter.com/gfR8gG9GFE

— Gautam Trivedi (@Gotham3) July 8, 2014
And they just kept on coming!
Germany eat Brazil like Shark Attack
#GERvsBRA #WorldCup2014 pic.twitter.com/pVz38437qp

— Mohammed Al Heidous (@MAlHeidous) July 8, 2014
Brazil vs Germany #SMACK https://t.co/BOtDuVABAJ

— Smack College™ NE (@SMACKCOLLEGE) July 8, 2014
Brazil as the game went on.. | pic.twitter.com/FAhqXBTXls

— 2014 World Cup (@2014WorIdCup) July 8, 2014
Colombians thought: "This is why you eliminated us?"
#BRA vs #GER JAAJAJAJAJA pic.twitter.com/ddSrF8BH3U

— Mundial 2014 Brasil (@Mundial2014TM) July 8, 2014
Yes, Colombia, there are no words.
Only tears and sad pouts on the face of an entire nation.
Please put at least some of these away Brazil... Do it for this guy pic.twitter.com/OwwSOnCAxF

— Tommy Thompson (@tomthom11) July 8, 2014
And some very unhappy people who resorted to eating their flags.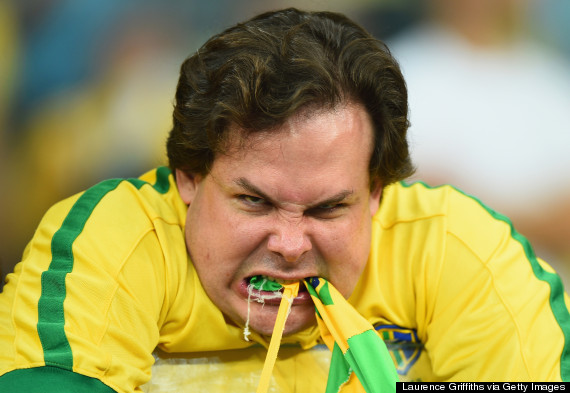 So now Brazil says, "It's up to you Germany, please take this thing all the way to the championship."
Iconic "sad #BRA fan holding #WorldCup trophy" later handed that trophy off to a #GER fan: http://t.co/IRT8hHqs35 pic.twitter.com/ga7SRkW3uM

— Neetzan Zimmerman (@neetzan) July 9, 2014
No seriously, we're all with you now.
Because our hearts can't take the thought of Argentina winning a World Cup in Brazil. We will not make it through if this happens.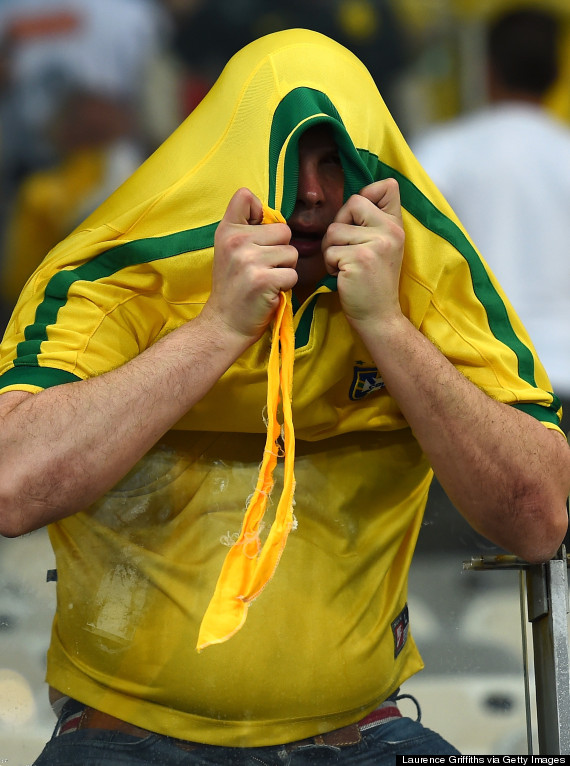 That would make us crawl into a hole and cry for all eternity. Maybe.
Because we're coping, but we are NOT okay.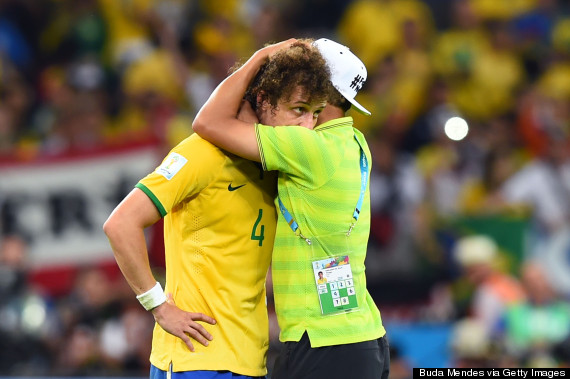 So if you see a Brazilian, give them a hug. Because we will surely #NeverForget the nightmare that was the semifinal against Germany.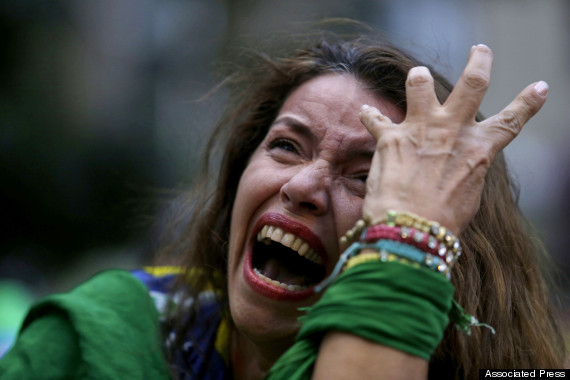 BEFORE YOU GO
PHOTO GALLERY
A Historic Loss For Brazil...In Memes