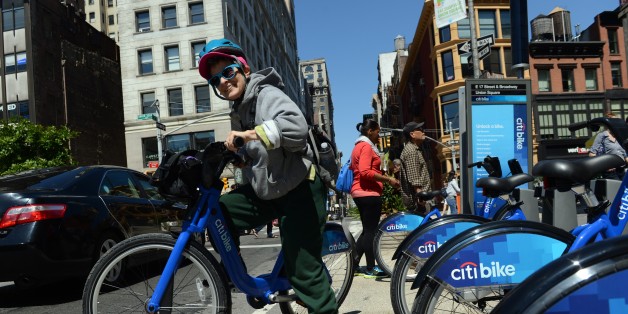 The hardship of finding a vacant spot to park bike share bicycles is proving maddeningly difficult for some New Yorkers -- so much so, the city is now experimenting with free valet bike parking at one of its most popular docking locations.
The pilot program, which officially kicked off on Monday, will post at least two Citi Bike employees at the system's 7th Street and Avenue A location in the East Village every weeknight from 7 p.m. to 11 p.m. -- easily one of Citi Bike's most hectic periods.
The staffers will carry away bikes on tricycles and guide bikes to newly open spaces, freeing riders of the all-too-grueling task of finding their own, AM New York explains.
"The valet bike parking is something I think provides a sense of reassurance," Citi Bike spokesperson Dani Simons told AM.
Valet service follows persistent complaints from Citi Bike users, who have long criticized the hugely popular bike-sharing program for its operational faults -- with a lack of available docking spots among the chief complaints.
The trial also comes amidst reports that Citi Bike, although popular with New York City residents, is struggling financially and might even need a corporate overhaul.
The valet service will last through Labor Day.