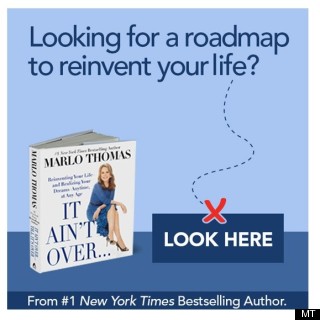 "One of the reasons I started my website is that I wanted a place for women to come together and dream. We women need to know that we don't have to hang on to an old dream that has stopped nurturing us—that there is always time to start a new dream. This week's story, an excerpt from my new book "It Ain't Over Till It's Over," is about Doreen Orion, a psychiatrist whose husband asked her to leave her job and go on a year long road trip – which turned into a permanent lifestyle." —Marlo, MarloThomas.com
Doreen Orion thought her husband was nuts. And she's a psychiatrist. Then again, he's a psychiatrist, too. Tim, a car enthusiast who could spend hours browsing through the mechanics magazines at his local newsstand, had picked up one called Bus Conversions, about people who strip down and remodel tour buses and turn them into homes on wheels.
His proposal: He and Doreen take a sabbatical, convert a bus, and travel the country.
Her reply: "No way! Why can't you be like a normal husband in a midlife crisis and have an affair or buy a Corvette?"
Doreen, who had just turned 40, was content with her life. She was living in a big house in the mountains of Colorado, had her own private practice that was fulfilling both financially and emotionally, and still had plenty of time to indulge her love of shopping (and had the gargantuan walk-in closet to prove it).
Over the next few years, Tim persisted—and what he said started to resonate with Doreen. She began to notice how often her older patients would lament putting off their dreams until retirement, only to realize it was too late.
In 2003, Doreen finally gave in. She and Tim would buy a bus, remodel it, and hit the road. The caveat: After their year of living peripatetically, they'd sell it and resume their old lives. Deal? Deal.
Article Continues Below Slideshow
PHOTO GALLERY
Doreen Orion
They packed, pared down (after all, they were going from a 4,500- square-foot home into a 340-square-foot tour bus), and plotted. Doreen, they decided, would step down from her practice and shift toward doing online insurance work that she could do from the bus; Tim would temporarily give up both his medical director's job and his private practice.
Then, two months before their planned departure, they decided to take a three-week "shakedown cruise" to get acquainted with piloting their 40-foot, 20-ton home on wheels.
But the first day out proved to be a bumpy one. While backing down the driveway, Tim almost ran over Doreen. When they were on the highway, going 60 miles an hour, the bus door flew open and Doreen thought she was going to be sucked out. Near Rock Springs, Wyoming, they drove into a hailstorm so severe that even the truckers were pulling over.
Things could only get better.
But they didn't. As they were about to leave a gas station in Reno a few days later, the door lock—the same one that had let the door fly open on the highway—got stuck. Doreen and Tim were left standing outside the bus in 100-degree heat; their poodle and two cats were locked inside with no air-conditioning.
While waiting for the locksmith to get there, Doreen had a meltdown. "I felt stuck," she says. "We had already rented out our house for the whole year and there was no turning back." But Doreen agreed to give it some time.
After they got back from their test run, they put their plan into motion. Musts on their itinerary: Mount Rushmore in South Dakota; the Mall of America in Minneapolis ("my Mecca," says Doreen); and then they'd "meander East for a while," just in time to chase the fall colors down the coast.
So off they went. It didn't take Doreen long to fall in love with the carefree lifestyle. "Two months in," she says, "we were in New Hampshire about to drive up Mount Washington. It was a gorgeous New England fall day in the middle of the week. I remember thinking, I wouldn't have this day if I were still living in Colorado and going to the hospital. What a gift this is."
During their year on the road, they traveled more than 20,000 miles to 47 states, including Alaska (where, it turned out, Doreen didn't get much work done since their satellite Internet and cell phones couldn't get reception).
"After 4 years of college, 4 years of medical school, 4 years of residency, then 15 years of private practice—all in their predictable order, with their predictable schedules—I didn't realize how much I needed to take a leap into the unknown," Doreen says.
Not that life on the road was always smooth. In Virginia, faulty wiring caused flames to shoot out of the bus roof. In Arizona, they encountered an armed robber at a burrito joint. "All the new experiences, even the bad ones, challenged me in a way I never would have imagined," she says. "They brought a certain aliveness back that I hadn't even realized was missing."
And Doreen felt more connected to Tim than ever before. "Getting through all the disasters boosted my confidence in us as a team," she says. "It gave me the feeling we could handle anything."
Doreen even started a blog chronicling their adventures, which she turned into a personal memoir: Queen of the Road: The True Tale of 47 States, 22,000 Miles, 200 Shoes, 2 Cats, 1 Poodle, a Husband and a Bus with a Will of Its Own.
When the year was up and they returned to their house and to reality, Tim and Doreen couldn't bring themselves to sell the bus. So even as they resumed their jobs, they rearranged their schedules so they could take winters off and hit the road to warmer climates.
"But every time we returned home, we missed life on the bus," she says. So in 2012, they went all the way: They sold their house and most of their possessions, and the day before Doreen's fifty-third birthday, they embarked on a permanent road trip. They work just enough at their telecommuting jobs to support their scaled-down "explorer's life."
"When fellow travelers ask us where we're from, we always answer nowhere—and everywhere. Not a day has gone by that we don't look at each other and marvel at how lucky we are to be living this new life. Literally and figuratively, it has taken us places I've never been. When your surroundings are downsized, your horizons are endless."
* * *
To find out more about Doreen's journey -- and to read 59 other inspiring stories -- buy your copy of "It Ain't Over Till It's Over." Click here.
Add Marlo On Facebook:
Follow Marlo on Twitter:
Sign up to receive my email newsletter each week - It will keep you up-to-date on upcoming articles, Mondays with Marlo guests, videos, and more!