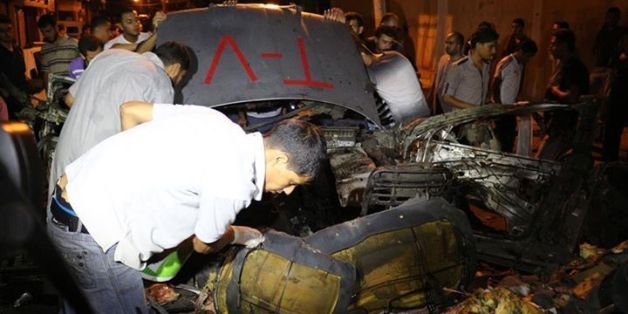 Several press freedom groups have spoken out against the Israel Defense Forces' airstrike that killed a Palestinian media worker on Wednesday.
Hamid Shihab, a driver for Media 24 in Gaza, was killed when an Israeli rocket hit his vehicle despite it being "clearly marked" as a press car, according to the Committee to Protect Journalists (CPJ). Shihab had been reporting on the current crisis between Israel and Hamas, which continues to escalate as Israel increases its deadly air raids in the Gaza Strip and Hamas fires rockets into Israel.
CPJ condemned Israel for its actions on Thursday and called on its forces to put a stop to airstrikes targeting the media. The organization also noted a Facebook photo that clearly shows the car labeled with the word "TV" in red.
"We condemn the killing of Hamid Shihab and call on the Israel Defense Forces to refrain from targeting media vehicles and facilities in Gaza," CPJ Middle East and North Africa Program Coordinator Sherif Mansour said. "Attacking journalists in a war zone is in direct contravention of international law."
CPJ joined the International Federation of Journalists (IFJ) and the Palestinian Journalists Syndicate (PJS) in condemning the killing of the journalist. IFJ called the death "appalling" while PJS labeled it a "heinous" attack.
"We demand that Israeli authorities carry out a thorough investigation into this attack to ensure that justice prevails," IFJ President Jim Boumelha said.
At least 85 people have been killed in this week's attacks, with about 860 sites hit since Tuesday. CPJ also highlighted that at least 9 other journalists were injured as a result of Israeli airstrikes in 2012.