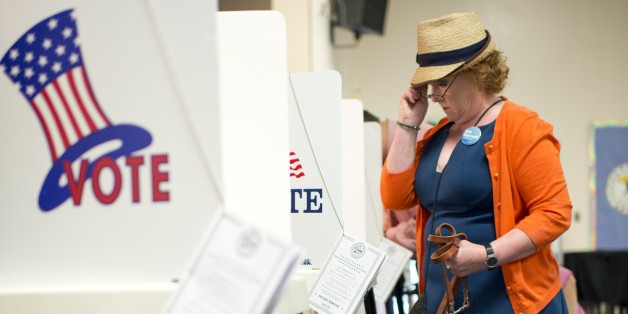 Some Americans in North Dakota have a window of only seven hours to vote on Election Day, according to a report from Smart Politics, a nonpartisan political news site at the University of Minnesota. That's less than half the time some polling places, such as those in New York state, are open on Election Day.
Polls in North Dakota precincts that had fewer than 75 voters in the last general election don't have to open until noon, and they can close as early as 7 p.m.
On the other end of the spectrum, New York polls are open for 15 hours, from 6 a.m. to 9 p.m. And four states mandate 14 hours: Connecticut (6 a.m. to 8 p.m.), Iowa (7 a.m. to 9 p.m.), Louisiana (6 a.m. to 8 p.m.) and New Jersey (6 a.m. to 8 p.m.).
Only two states -- New York and Iowa -- are required to keep polls open until 9 p.m., although clerks in North Dakota are allowed to keep voting locations open until that time.
Hawaii, Indiana and Kentucky polls close the soonest -- at 6 p.m.
The earliest statewide opening time for polling places is 6 a.m., which is required in 10 states: Arizona, Connecticut, Illinois, Indiana, Kentucky, Louisiana, Missouri, New Jersey, New York and Virginia. Maine and New Hampshire allow polls to open at 6 a.m., but not all are required to open at that time.
Vermont allows polls to open as early as 5 a.m., but as late as 10 a.m.; Massachusetts allows for a 5:45 a.m. opening, but polls don't have to be open until 7 a.m.
The majority of states' polling places open at 7 a.m., but some states start later. Idaho and Nebraska (the portion in the central time zone) open polls at 8 a.m.; Vermont's open at 10 a.m. Some polling centers don't open until 10 a.m. in Maine and Minnesota, 11 a.m. in New Hampshire, and noon in Montana and North Dakota.
For some states, Election Day polling hours are less of a concern. Washington state votes entirely by mail, while most of Oregon does, too.
The full report by Dr. Eric Ostermeier, a research associate at the University of Minnesota, can be found here.
BEFORE YOU GO
PHOTO GALLERY
Politicians React To Voting Rights Act Ruling