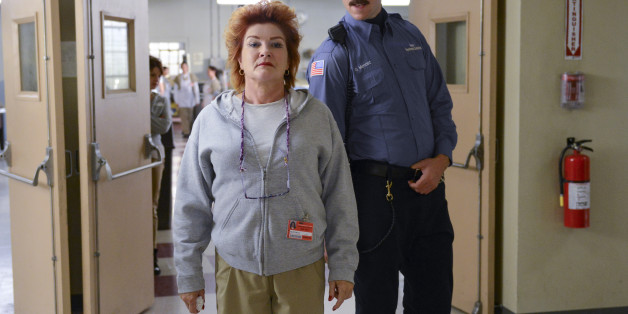 From "Ryan's Hope" to Captain Janeway to Red, Kate Mulgrew spent nearly 40 years in the industry before earning her first Emmy nomination.
On Thursday, July 10, the actress was nominated for Outstanding Supporting Actress in a Comedy Series for her portrayal of Red on "Orange Is the New Black." Easily one of the most beloved characters on the Netflix series, Red is like a mother to many of the Litchfield inmates, but she's tough as nails and doesn't take anyone's crap. HuffPost TV caught up with Mulgrew to find out how it felt to get her first Emmy nomination and what we can expect from Red in Season 3.
Congratulations! This is so exciting!
It's fun isn't it? It's great! One doesn't get a nomination for an Emmy every day.
This is your first nomination, right?
This is my first Emmy nomination. Can you believe it, after 40 years in this business? I think it comes down to the writing. Jenji Kohan is a genius, and what she's managed to do, which is singular and splended, unique, bold and has captured the imagination of the American viewing public.
"She doesn't weigh 98 pounds, her teeth are not porcelain veneers. It's a real woman."
How does it feel to be nominated alongside so many of your fellow co-stars?
It's thrilling! And Jodie Foster and Jenji for the show and an episode. What could be better? The whole thing is a collaborative effort. I love those girls and I have a particular tenderness for Taylor [Schilling] and Natasha [Lyonne]. I've known them for some time. I see how the work of all -- I see how it deepens. I see how brave they are and how much it means to them. This is a recognition of not only talent, but I think of a kind of endurance and a kind of courage that they have. I'm so delighted and honored to be in their company.
What do you think it means for the show that it's been nominated for Outstanding Comedy Series?
It's only good. Clearly the viewing public has developed a sophistication that I'm not sure was quite so evident. They realized that this is a comedy. We only have two categories, unfortunately we've not yet legitimized the category of dramedy. They appreciate its comedic overtones. It's quite smart from my point of view because there is a lot of darkness in this series. It's always countered with that lightness. It's not so much a comic touch as it is a whimsical one. You find yourself laughing really at your own personal brokenness, which is an extraordinary feat for a writer to achieve.
I agree. It's my favorite TV show right now.
And why is it your favorite?
Just that, it's a perfect blend of comedy and tragedy."You find yourself laughing really at your own personal brokenness."
Exactly. And that's how we live, right? In the course of one day the emotional spectrum that we experience is exactly what these women take us through in any given episode. I think we're grateful for that, I think we're elevated by it, I think we're moved by it. We can finally say, "Ah I can relax and go into that character because I know who she is." She doesn't weigh 98 pounds, her teeth are not porcelain veneers. It's a real woman within the confines of a bleak and very challenging environment, at the prison. That's why its so intoxicating.
Can you share anything about Season 3 and how soon Red will get out of the hospital?
I think that Red is not a person who likes to stay in the hospital for long. She's a doer, she's a strategist, she's a survivor and she has a very rich and complex emotional life. I think we're going to see a lot more of that in Season 3. We don't know a lot, which is also the beauty of this thing. Just as we don't know a lot in life, we don't know what tomorrow's gonna bring.

BEFORE YOU GO
PHOTO GALLERY
"Orange Is The New Black"