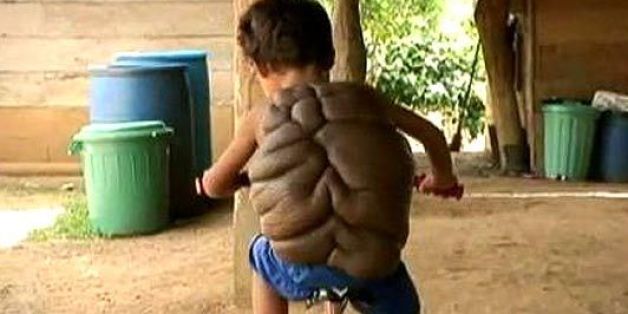 An 8-year-old Colombian boy got a new lease on life three years ago when his gigantic mole -- that accounted for 20 percent of his body weight -- was surgically removed.
Now, Didier Montalvo, who was labeled "Turtle Boy" when the shell-like growth on his back made headlines, is helping other kids affected by the rare condition.
The Daily News reports on Montalvo and his mother's appearance on ITV Thursday morning:
His mother Luz said: "He felt very bad before the surgery, it impeded him from doing a lot of the activities he enjoyed doing.

"When he heard people calling him 'Turtle boy' he felt very sad and he would ask "Why do I have this?" It was a very difficult question to answer.

"We always had hope that something would be done."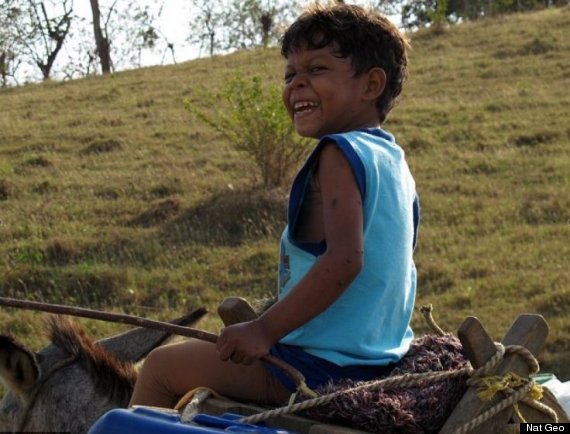 Doctors diagnosed him in 2011 with congenital melanocytic nevus, a rare mole condition. Worrying that the growth might become malignant, surgeons in the U.K. removed it. Months later, Montalvo was speechless when he got to see his normally shaped torso.
Not only is he a happy kid these days, but he's been traveling from his Colombia home to the U.K. to meet and cheer on other people affected by CMN. He met Jodi Whitehouse, who set up a chairty called Caring Matter Now to support children in the U.K. with the condition. She told This Morning:
"We support around 400 families in the UK and internationally, and we offer support days, support pack fro parents and for teachers and staff at schools, it's a real network and children are now growing up knowing they are not alone, like Didier thought he was. Coming to the UK he has met children for the first time who also have the condition."
The boy and his mother have reportedly been staying with a South American family in London whose four-year-old son also has the condition.
Like Us On Facebook |
Follow Us On Twitter |

Contact The Author
BEFORE YOU GO
PHOTO GALLERY
Amazing Anatomies