 We can now sit back and bask in what the television gods have deemed the best of the year. Amid an exceptional bout of small-screen gems, the agony of some of our favorite shows being shut out stings. If Thursday's nominations are a marker of which of 2014's TV programs will be remembered in years to come, then generations ahead will curse us for not better appreciating "The Good Wife," being utterly clueless as to the fact that "Orphan Black" exists and somehow still making room for "The Big Bang Theory" as one of the six best comedies on the air.
In general, I suppose this year's crop is fairly apt. "Orange Is the New Black" stepped up to the plate for the first time, earning an impressive 12 nominations. (Remember it's the show's first season that's being recognized, not the one that just premiered in June.) "House of Cards," the other big Netflix series, is in the running for its second season. It scored 13 nominations -- up from last year's 9 -- and with that, we can wave the big red and white flag: The age of Netflix is upon us. Even Ricky Gervais made the shortlist for "Derek," a show that's generated virtually no buzz.
But something shows like "Orange Is the New Black" and "Louie" call into question, perhaps more so than ever before, is whether it's time to dissect the distinction between comedies and dramas. That's no longer a groundbreaking statement, but to see "The Big Bang Theory" and "Modern Family" sit alongside those shows is more incongruous than ever. How can anyone compare, and in turn award, them? That's not to say that traditional, multi-camera sitcoms can't veer toward the dramatic at times, and it doesn't mean that single-camera shows aren't ever LOL funny. But, because networks must submit their programs for consideration in specific categories (unlike the Oscars, where individual voters can elect to nominate someone for either lead or supporting), much of the nominees' placement is a result of politics. Netflix didn't want "OITNB" to compete against "House of Cards," like it did at the Golden Globes in January, when it couldn't muster a nomination even though "HoC" did. If we really want to level the playing field, there must be a finer magnifying glass held up to these shows, whether it's through a Television Academy committee issuing rulings or a new set of dramedy categories entering the race. (Then again, God forbid we do anything to make award show telecasts longer. Imagine another hour of 2013's "sad Emmys").
I digress. Back to "The Good Wife." In one of the finest examples of a series' slow build to excellence, the Julianna Margulies-fronted drama's fifth season became one of TV's buzziest and most electrifying phenomena. Margulies and co-stars Josh Charles and Christine Baranski made the list, but instead of earning the top recognition it was expected to, "Downton Abbey" supplanted the show for Outstanding Drama Series. No offense to the Granthams, but Julian Fellowes and his cohort have outlived their heyday. The show's most recent season opened with two strong episodes and then took a swift dive, introducing a problematic rape subplot that should have rendered it too soapy for Emmy voters not to censure it. Instead, Michelle Dockery ignited the fire under Tatiana Maslany fans' bellies. The celebrated "Orphan Black" actress, who portrays an entire stable of clones on one beloved BBC America show, didn't benefit from a similar framework that won Toni Collette an Emmy for "United States of Tara." Cue misery. The Emmys used to be able to get away with snubbing the more out-there programs, but that was back when TV was an inferior medium -- which, believe it or not, was more or less the consensus until only a few years ago. Now, it's more glaring when categories are peppered with the same generic programming. Despite our complaints, though, maybe we're actually seeing a bit of an uptick in terms of atypical nominees. "Modern Family," which endured a second consecutive season of being less than outstanding, still nabbed Outstanding Comedy Series (and could, sadly, win), but previous nominees Sofia Vergara, Eric Stonestreet and Ed O'Neill were shut out. (Julie Bowen, Ty Burrell and Jesse Tyler Ferguson are accounted for, but that's fine: Burrell is by far the show's best performer, Bowen was a lock, and Ferguson won't win. Progress! Or, you know, "Modern Family" could just become a great show again and actually deserve the recognition. That would be okay, too.)
On the bright side, freshman series "Silicon Valley" was nominated for Outstanding Comedy Series, Outstanding Writing for a Comedy Series and Outstanding Directing for a Comedy Series. What a pleasant surprise, even if the most deserving aspect of that show is Thomas Middleditch's note-perfect turn as Pied Piper's skittish founder. The "Silicon Valley" recognition points to the dissonance between the Emmys of yesteryear, when comedy nominations consisted of rote lists of networks' most middlebrow offerings, and the Emmys of today, when it's increasingly hard for laugh-track sitcoms -- now largely considered off-trend -- to make the cut.
And speaking of all things comedy, let's pause to mourn the moment that Mindy Kaling announced the Emmy nominations live across the world, only to discover that she, too, was snubbed. That's not technically a surprise, but I could sense a collective cringe nonetheless.
One of Kaling's friends, "Girls" creator/star/writer/director/defender Lena Dunham, secured a nice little morning for herself. She's great as Hannah Horvath, but an actress Dunham is not. To think of all the comedy performers who were exiled because Dunham did a good job playing herself is like another episode out of Marnie's endless life crises. Instead, give her what she deserves: a nod for co-writing the great episode "Beach House" alongside Jenni Konner and Judd Apatow. Yay for Adam Driver, though!
Perhaps we can chalk up the "Girls" affinity to the Emmys' loyalty to HBO. The network secured a whopping 99 nominations, miles ahead of its nearest competitor (CBS, with 47). Despite criticism over submitting "True Detective" for drama awards instead of miniseries (where anthology series like "American Horror Story" usually find a home), the show garnered every major nomination it was expected to, barring Michelle Monaghan, who had a question mark lingering over her name anyway. That means we'll see a showdown between "True Detective," "Breaking Bad" and "Game of Thrones" for Outstanding Drama Series. "Detective" would have guaranteed itself a miniseries win, but instead it'll probably lose to "Breaking Bad." So, HBO, maybe you don't always make the right choices. (Don't worry, the McConaissance is still alive.)
But wait! What about "Mad Men," you say? Why haven't we talked about "Mad Men"? Okay, here we go.
"Mad Men" won't win anything. It can't. The piss-poor reception its sixth season (rather deservingly) received derailed the show's untenable admiration. It bounced back this year, but Matthew Weiner's tight-lipped media approach is doing the show no favors these days. The buzz isn't quite there anymore. Still, it's a disappointment not to see Elisabeth Moss, the shining star of Season 7's first half, earn her due. It's equally surprising to see the criminally under-used Christina Hendricks appear while John Slattery and everyone who isn't Jon Hamm (or Robert Morse, who landed an Outstanding Guest Actor spot) is absent. The biggest indicator of the show's fall is the fact that it earned no writing accolades, which is a genuine shame. Compare that to 2009, when "Mad Men" locked up four of the category's five nominations.
Here's what I'll say about that, though: Praise be to "Mad Men," but more praise be to the Television Academy for not feeling married to the show like it did "The West Wing," another series whose first four seasons nabbed the big kahuna. "Mad Men" was once seen as the golden child of contemporary television, but the fact that voters have responded to its lapse is, frankly, refreshing, even if it is still a wonderful show. Regardless, poor, poor Elisabeth Moss. She should have won this year.
Ultimately, though, there is much to celebrate here: Kate Mulgrew, Uzo Aduba, Natasha Lyonne, Laverne Cox and Taylor Schilling all got "OITNB" nods, while "Fargo," Andre Braugher ("Brooklyn Nine-Nine," which should have gotten much more attention), Kate McKinnon ("Saturday Night Live"), Lizzy Caplan ("Masters of Sex"), Allison Janney ("Mom"), Lena Headey ("Game of Thrones"), Kristen Wiig ("The Spoils of Babylon"), Allison Tolman ("Fargo") and Jim Parsons ("The Normal Heart") are great inclusions. There isn't any love for "The Americans," however, and my personal list of snubs includes "Broad City," which deserved to sweep, as well as Michaela Watkins ("Trophy Wife"), Laurie Metcalf and Niecy Nash ("Getting On"), Kiernan Shipka ("Mad Men"), Hugh Dancy ("Hannibal") and Lisa Kudrow ("Scandal"). Seriously, people. Lisa Kudrow! That sexism speech! How could you forget her? How?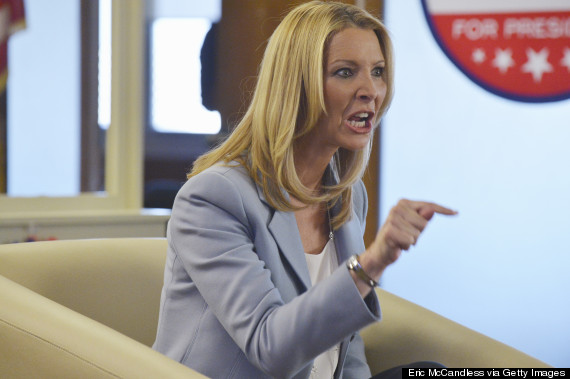 I started out saying the nominations are decent, right? In writing, did I convince myself otherwise? I kind of think so. But, alas, here we are, stuck with a Television Academy that doesn't watch "Orphan Black" and doesn't understand "Broad City." Congrats to everyone who was nominated. Many of you, in truth, are so, so deserving. As for the others, what are we faithful TV lovers to do? What we do best, of course: Keep on binging.
BEFORE YOU GO
PHOTO GALLERY
2013 Emmy Winners