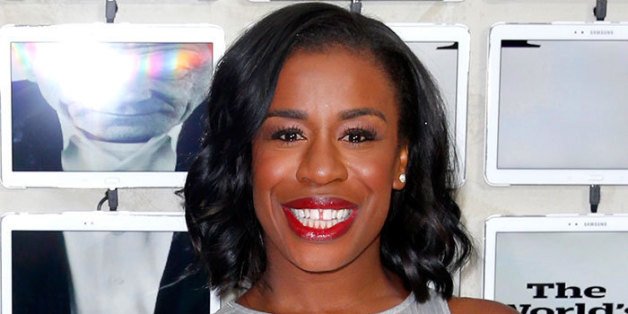 Who doesn't love awards season?
The nominations, the snubs, the drama -- it's what we live for. While we'll have to wait to see who takes home some hardware this year, we do know who's in the running for an Emmy. After yesterday's nominations announcement for the, some of the biggest names on the small screen had good reason to celebrate. From Aaron Paul to Kerry Washington, seasoned TV vets earned some well-deserved nods for the work they put in on their respective shows. And while many of the stars who made the cut have had Emmy attention before, we thought it'd be fun to place the spotlight on those first-time nominees.
Take a look at what these actors, who earned their first Emmy nomination on Thursday, did before making it big:
Lizzy Caplan
Before she was baring it all for "Masters of Sex," Caplan was playing Jason Segel's disco-loving friend on "Freaks and Geeks."
Kate Mulgrew
Okay, so we all know she was Captain Kathryn Janeway on "Star Trek: Voyager," but before she was off having interstellar adventures, Mulgrew starred as Mrs. Columbo, a crime-solving housewife.
Lena Headey
You know her as Cersei Lannister, the woman we love to hate on "Game of Thrones," but before she was having inappropriate relationships with her twin brother, Headey played a girl in some serious trouble in the 1992 film "Waterland."
Matthew McConaughey
"True Detective" was one of the best crime dramas we've seen in a long time and part of that is thanks to McConaughey's thrilling turn as Detective Rust Cohle. It's going to be difficult to choose between him and co-star Woody Harrelson when the award for "Outstanding Lead Actor in a Drama Series" is handed out but what's not difficult is appreciating McConaughey in the role that first made the actor, and his signature phrase, a household name.
Natasha Lyonne
Prior to landing behind bars as drug addict Nicky Nichols in "Orange Is the New Black," Lyonne was a child actor who's first credited gig on "Pee-wee's Playhouse" is a far cry from life at Litchfield.
Colin Hanks
"Roswell," the teen soap that followed three human-alien hybrids as they navigated love, relationships and high school, is the show that first introduced us to Katherine Heigl, but another TV star had his start on the WB series too. Hanks, who's nominated this year for his role in "Fargo," played the nice guy in love with Heigl's character on the teen drama.
Taylor Schilling
We didn't know of Schilling until she starred as Zac Efron's love interest in "The Lucky One," but before she was Piper Chapman on "OITNB," Schilling starred in the short-lived TV series Mercy. (Recognize her co-star?)
Kate McKinnon
We didn't know of Schilling until she starred as Zac Efron's love interest in "The Lucky One" - yes, we watch Nicholas Sparks movies, get over it - but before she was Piper Chapman on "OITNB," Schilling starred in the short-lived TV series Mercy. (Recognize her co-star?)
Matt Bomer
It's about time Matt Bomer got some recognition. The actor's baby blues were part of the reason we needed tissues on hand while watching "The Normal Heart," but before he nabbed his dream role in Ryan Murphy's show, the actor, like many others, got his start on a beloved soap opera.
Kate Mara
Prior to getting pushed in front of a train on "House of Cards," Mara, who's nominated for her role as Zoey Barnes on the political drama, got her start on, what else, "Law & Order."
Uzo Aduba
The woman that made us fall in love with Suzanne "Crazy Eyes" Warren just got her first Emmy nomination thanks to the Netflix original series and we're so happy, we could throw a pie, but before she was writing love sonnets and catchy "Chocolate and Vanilla Swirl" jingles, Aduba was putting in her time on the stage.
Honorable Mentions
These actors aren't strangers when it comes to earning Emmy nods, but we just had to include their first roles somewhere in here if only to prove success doesn't just happen overnight.
Bryan Cranston
Before he was Heisenberg, Cranston got his start doing some pretty embarrassing TV commercials. We've all seen his turn as the Preparation H spokesman, but it's this ad for Shield Soap that has the actor smelling like a skunk, literally, and us seeing Walter White in a whole new light.
Peter Dinklage
Could we love Peter Dinklage any more? Why yes, yes we can. Before his role as Tyrion Lannister on "Game of Thrones," Dinklage starred in the low-budget comedy "Living in Oblivion." It's a movie about making a movie, it has Steve Buschemi in it and Dinklage playing a blue-tuxedo-wearing dwarf named Tito. Enough said.
BEFORE YOU GO
PHOTO GALLERY
'Game Of Thrones' Season 4