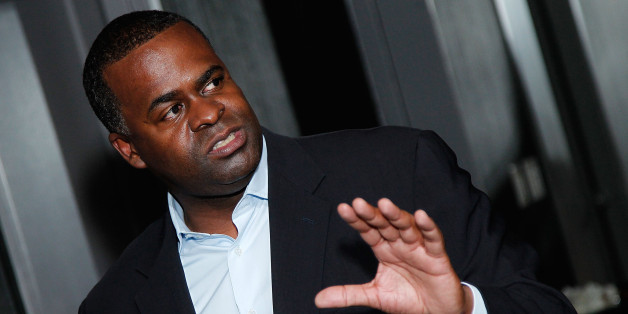 Atlanta's popular African American mayor, Kasim Reed, has a message for two fellow Democrats seeking higher office in Georgia: if they want to win, they must make more of an effort to reach out to minority voters.
Reed made the comments about former nonprofit CEO Michelle Nunn, who is running for Senate, and state Sen. Jason Carter, who is running for governor, in an interview with Georgia Public Broadcasting reporter Bill Nigut.
Reed said the Democratic strategy of waiting until late in the election cycle to reach out to black voters would not help Carter beat Georgia Gov. Nathan Deal (R) or Nunn in her bid against either Rep. Jack Kingston (R-Ga.) or businessman David Perdue.
"If someone calls on me at that point, I'm not going to be too responsive to that because I think that's offensive and I think it's the old way," he said. "What needs to happen is you have to communicate with all your constituencies at the exact same time through election day."
Reed also had advice for Carter and Nunn about their get-out-the-vote tactics and ground game, saying they would have to heavily invest in voter contact efforts.
"And if they haven't invested, I would say somewhere between 3 to 5 million [dollars] in their registration efforts and in their voter contact efforts, I don't believe they are going to prevail," he told Georgia Public Broadcasting.
Reed's message is one he has been emphasizing consistently for months: in June, he told the Atlanta Journal-Constitution that Democrats would only have a shot if they helped with a party effort to vastly expand the electorate in the state.
"At the end of the day, no matter what the polls say, the election is going to be determined by the registration effort in the state of Georgia," Reed said.
While the relationship between Reed and Carter has been described as "chilly," the mayor has been an enthusiastic supporter of Nunn's candidacy.
Reed is rumored to be weighing a gubernatorial run in 2018.
BEFORE YOU GO
PHOTO GALLERY
Senate Seats Up For Grabs In 2014