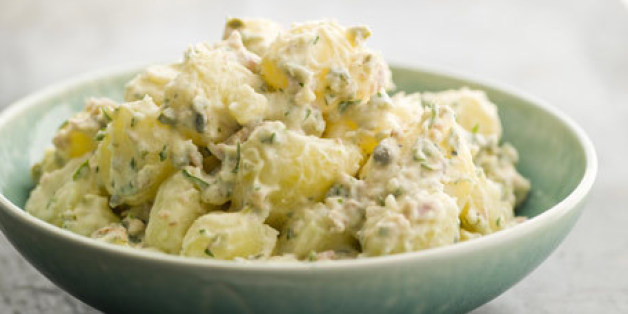 On Labor Day Weekend, 29-year-old Gina Haraszti and her co-workers at a Montreal research lab plan on taking a road trip down to Columbus, Ohio, to eat potato salad with a random guy they heard about on the Internet.
"One of my colleagues said this was the Woodstock of our generation," Haraszti said on Wednesday. "There's something seriously wrong with that, but it's still kind of fascinating."
Many of Haraszti's colleagues are Ph.D. students.
If you haven't heard about this yet, you must be having problems with your Wi-Fi this week. A Columbus man, who calls himself Zack Danger Brown, posted a simple request on the crowd-funding website, Kickstarter: Help him raise $10 to buy the ingredients to make potato salad.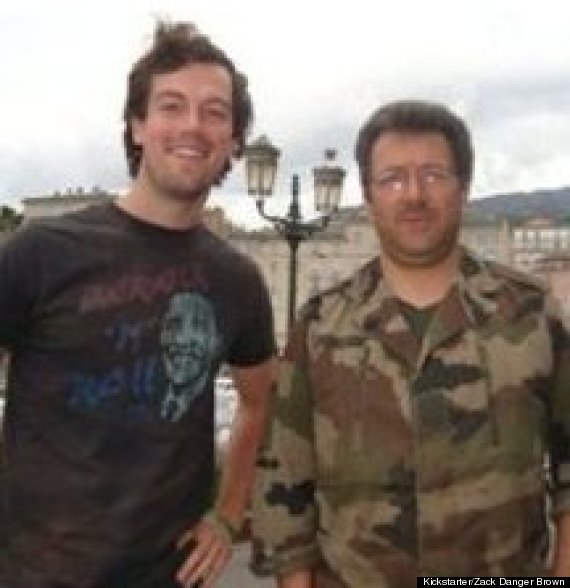 Zach Danger Brown's profile photo. (Brown is at left).
As the saying goes, ask and the Internet shall giveth you 7,000 times what you asked for: In just a week, donors handed Brown more than $70,000 to make potato salad. (The amount later fell to about $44,000.) Brown, whose Kickstarter profile says he's donated to a bunch of the site's campaigns himself, was so enthused that he promised to throw a potato salad party to which "the whole Internet" would be invited.
By Thursday morning, over 5,300 people had given their hard-earned money to Brown's potato salad endeavor. We talked to 18 of them, chosen at random, to find out why.
Most said they had donated between $1 and $3 because they thought it was funny and they liked the simple and straightforward spirit of Brown's project. "I see a lot of Kickstarter projects that are really complicated or for gadgets that people don't really need," said Mark Forscher, a designer in his early 30s living in Brooklyn, New York. "It was refreshing to find a Kickstarter project to support a really simple idea [and] with a modest goal of just $10."
People also said they responded to Brown's seemingly genuine tone. There is a simplicity to Brown's online persona that is undeniably charming. For example, under "Risks and challenges," he answered, "It might not be that good. It's my first potato salad." In other updates, he posted in all caps, "WOW YOU GUYS" and "WE MADE THE NEWS!"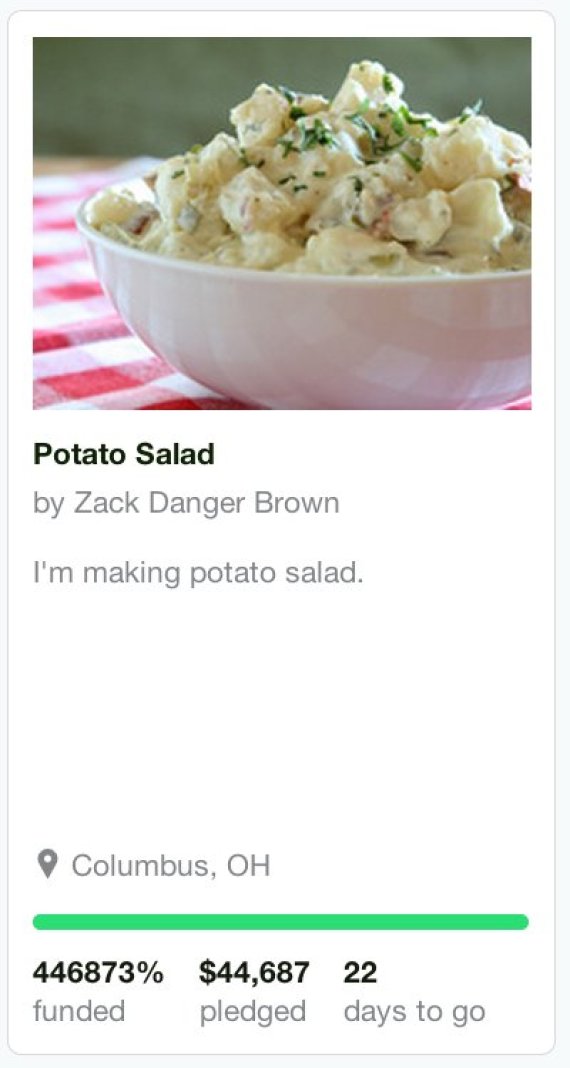 A screenshot from the potato salad Kickstarter page.
Louis-Jean Teitelbaum, a 32-year-old living in Paris who was one of the first people to pledge money to the potato salad, said he appreciated Brown's tone of "overwhelming gratitude," which he said people use too often on the Internet in an "inauthentic" way.
"It seemed to come from an actual person, not a viral marketing firm," seconded Eric Mill, 30, a web developer in Washington, D.C., who has donated to 53 Kickstarter projects since 2010.
People also seemed struck by the contrast between Brown's superficial goal of using Kickstarter, a platform often focused on more noble causes, to do a completely ordinary thing that isn't likely to make a valuable contribution to the world. "I was quite impressed by his blasé attitude to his use of Kickstarter," said Rey Dhuny, a developer in his 20s in London who donated "a small amount" to the potato salad project. "You find that folk spend a great deal of time in developing their product (and pitch!) when they launch a campaign. Like John McClane [played by Bruce Willis in the movie Die Hard] just wanted to go home for Christmas, Zach Danger Brown just wanted to make a potato salad, and that's all."
The sincerity of the potato salad project is a crucial reason for its popularity, said Neetzan Zimmerman, a former editor at Gawker who is an expert on why certain things go viral online. "There's definitely something to be said about a thing having to be genuine for it to go viral," he said. "To a certain extent, you really have to believe what you're seeing in order for you to really get behind it."
Others who donated to Brown's project admitted that they were in it for the rewards. Many people said they just wanted to see if Brown would actually send them a bite of potato salad in the mail, something he promised to do for anyone who gave as little as $3 (Admittedly, this seems like a difficult promise to fulfill, especially considering that some donors live in South America, Europe and Asia.) Others said they wanted Brown to personally thank them on his website, or to say their names out loud while he actually made the now-famous potato salad, both things that Brown also promised to small-time donors.
With such a low buy-in threshold, it was easy for people to join the fun, said Susan Whitbourne, a psychology professor at the University of Massachusetts Amherst. "The amount is small enough that you're not really sacrificing," she said. "And on a deeper level, people want to be part of something larger than themselves."
Of course, if you want to be part of something larger than yourself, you can donate to more meaningful causes. There's a plethora of these to be found on online crowd-funding sites, including projects to provide food to refugees in the Middle East or help the children of U.S. soldiers who died in combat. A lot of the criticism Brown's potato salad project has received has focused on that argument.
Some guy gets $52,000 to make potato salad and I can barely get people to look at the gofundme for my medical treatments. So messed up. :(

— Christine Galgano (@xtinegalgano) July 9, 2014
So, @kickstarter and the potato salad guy are going to give all of the money to food banks, right?

— charlie wright (@ch) July 10, 2014
Use #ACTUALbetterkickstarters to share projects ACTUALLY better than potato salad that ACTUALLY need your funding! :( #betterkickstarters

— Josh Arnolde (@Josh_Arnolde) July 10, 2014
To his credit, Brown seems open to using the money for a good cause. Appearing on Good Morning America on Tuesday, he said he wanted to "do the most good" that he could with the funds raised. The big potato party, he said, will be held over Labor Day Weekend.
Regardless of what Brown does with the money, we were curious what his backers thought about about this point. Shouldn't they have given their money instead to a more important cause, like giving e-readers to AIDS orphans in Uganda? Potato salad pledgers mostly rebuffed the question.
"I found it randomly funny, [and] life needs some pointless fun," said Alexandru Popescu, who described himself as "a dude from Romania" and who has only given to four other projects since joining Kickstarter in 2009.
But it was a game developer in Reno, Nevada, who put it most eloquently: "People always assume that fun should take a back seat to more important things," said Philip Ludington, age 41. "But should the nation outlaw fun until all the important things are taken care of? I think not, we'd fail due to a colossal collapse in morale."