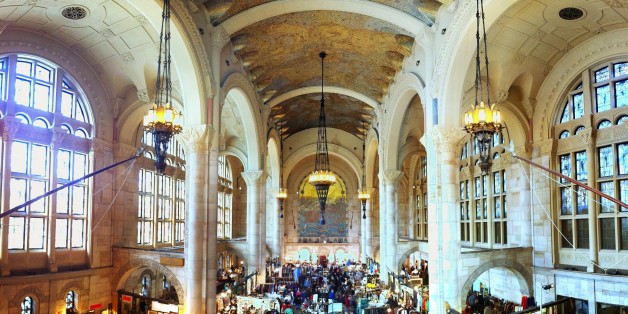 You can find anything at a flea market -- weird, life-sized dummies, ancient weapons and, you know, more mainstream things like vintage furniture and antiques. Summer is the unofficial flea market season. And while there are many to choose from, there is, of course, a difference between the "good" flea markets and the more disappointing ones filled with tube socks. We've rounded up the more promising markets in the country by region, so you can start planning your weekends now. If we missed any, let us know in the comments!
NEW ENGLAND (MAINE-CONNECTICUT)
Brimfield, Massachusetts. The Brimfield Antique And Collectibles Show trends towards the pricier end of the spectrum (buyers from Ralph Lauren, Tommy Hilfiger and other design houses are very much present), but bargains still can be had at this massive flea market. (My pro tip: Go there for the vintage clothes. Less competition for clothing means incredible buys.) 2014 show dates: July 8-13 and September 2-7.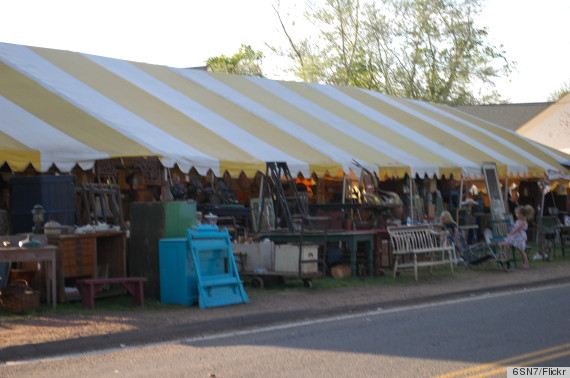 A view of one of the vendor areas at Brimfield.
Charlestown, Rhode Island. The General Stanton Inn Flea Market has been in business for nearly 50 years. Open Saturdays & Sundays, April-October.
Harwinton, Connecticut. The Harwinton Antiques & Design Weekend (previously the Farmington Antiques weekend) is exactly how it sounds: A weekend dedicated to all things antique. The weekend in question? August 30-31.
MID-ATLANTIC (NEW YORK - NEW JERSEY - PENNSYLVANIA)
Stormville, New York. The Stormville Airport Antiques Show & Flea Market boasts over 600 vendors across a wide range of categories. The next market is August 30-31.
Brooklyn, New York (multiple locations). The Brooklyn Flea has become its own brand, spawning a handful of "pop up" locations in the region. The carefully-vetted vendors sell incredible handmade and vintage goods, but bargain-hunters take note: You'll be paying NYC prices. For more details on locations and hours, visit Brooklyn Flea.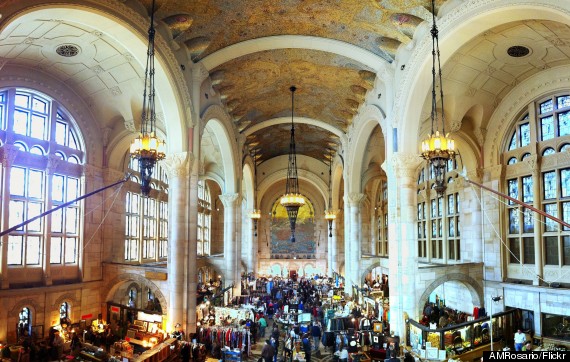 A view of the Brooklyn Flea Market, held at the Skylight One Hanson, formerly known as the Williamsburg Bank.
Trenton, New Jersey (and other locations). The Punk Rock Flea Market pops up in multiple locations throughout the year, but the next one is in Trenton on August 3. The "punk rock" name is a bit of a misnomer -- though you can find your fair share of records, there are also vintage clothes, collectibles, toys and more. For more info, check out the Punk Rock Flea Market Facebook page.
Lambertville, New Jersey. The Golden Nugget Antique Flea Market is a designer favorite, nestled a short car ride away from antique destinations New Hope, Pennsylvania and Frenchtown, New Jersey. Antiques can be a little pricier (always expected when designers "discover" a market), but deals can still be had. Open year-round on Wednesdays, Saturdays and Sundays from 6 a.m. to 4 p.m.
Kutztown, Pennsylvania. The Antique and Collector's Extravaganza takes place three times a year; the next date is September 25-27. Visit the antique and farmer's markets, also on premises (which are open year-round).
THE SOUTH (MARYLAND-TEXAS)
Baltimore, Maryland. Starting July 12, the BMore Flea takes over the Inner Harbor every Saturday from 11 a.m. to 5 p.m.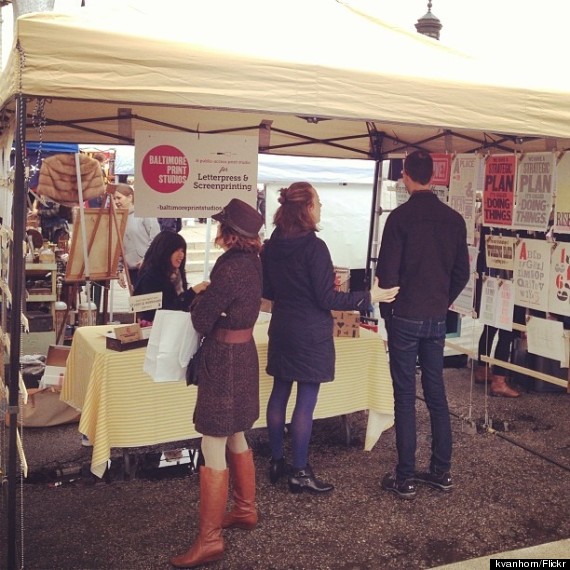 Prints at the BMore flea, when it was held outside of Penn Station.
Chantilly, Virginia. The Big Flea pops up in multiple locations, but at this D.C. branch, over 600 vendors will pack the Dulles Expo Center July 19-20. For more dates and locations, visit The Big Flea.
Cumming, Georgia. The Lakewood 400 Antiques Market is an "upscale" market with vintage and, yes, antique furnishings and accessories. Multiple dates; next one's July 18-20.
Daytona, Florida. The Daytona Flea & Farmer's Market can be a mixed bag, but it's a huge one that can yield treasures at bargain prices. It's open every Friday, Saturday and Sunday from 9 a.m. to 5 p.m.
Miami, Florida. With 125 dealers covering antiques from 1900-1960, the Lincoln Road Antique & Collectible Market of Miami Beach is the place to find your vintage furniture happy place. While the 2014 dates have passed, 2013 saw dates into October-December. Check back with the Lincoln Road website to see if that's true this year.
Fort Smith, Arkansas. The Fort Smith Vintage Flea takes place on July 19 -- and it's thankfully indoors. Browse a selection of vintage goods, clothes, crafts and more.
Round Top, Texas. The Texas Antique Weekend happens twice a year in multiple Texas towns, over the course of three weeks. We're takling miles and miles of antiques. "It's hands-down our favorite flea market," says flea market shopping experts Amie and Jolie Sykes (who star in the "Junk Gypsies" reality show on GAC.) The next one is in September. Check out the Antique Weekend website for the full list.
THE MIDWEST (OHIO - THE DAKOTAS)
Springfield, Ohio. The Springfield Antique Show & Flea Market is held multiple times a year, featuring a comprehensive mix of vintage and antique goods.
Shipshewana, Indiana. The Shipshewana Auction & Flea Market is the Midwest's largest flea, featuring 900 vendors across 100 lots. It's open every Tuesday and Wednesday from May to October, with special extended hours on holiday weekends.
Chicago, Illinois. The Chicago Antique Market is part of the indoor-outdoor Randolph Street Market Festival. The eclectic mix of vintage, antiques, crafts, artisanal products and entertainment make this a must-see. Next one: July 26-27, 10 a.m. to 5 p.m.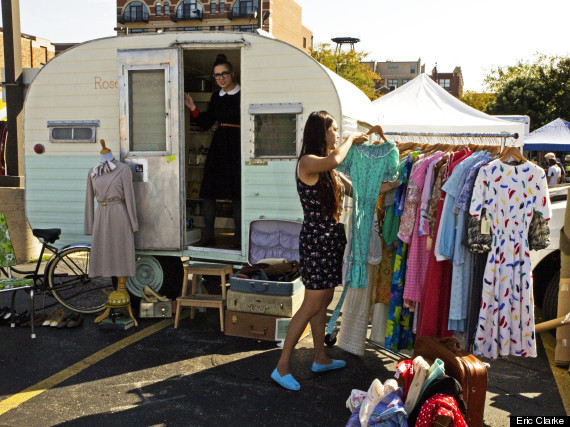 Vintage clothes at the Randolph Street Market.
What Cheer, Iowa. The What Cheer's Collectors' Paradise Flea Market is one of the major flea markets in the Midwest. As the name suggests, it's geared towards those who are more into the the "collectibles" end of the antique spectrum. Held three times a year, the next market is August 1-3.
Oronoco, Minnesota. Downtown Oronoco's Gold Rush Days feature hundreds of antiques dealers from the region. This year, the event will be held from August 15-17.
Ballwin, Missouri. The St. Louis Antique Show will be held September 19-21. You'll find the standard mix of antiques and vintage dealers, along with jewelry designers and artists.
Kansas City, Kansas. The Heritage Antique Show at Overland Park features 70+ vendors from across the country. This one's a bit later -- November 1-2.
THE WEST (CALIFORNIA-COLORADO)
Tempe, Arizona. Mark your calendars for October 4, when the Thieves Market Vintage Flea re-opens. It's got that quirky mix of vintage and handmade that always makes for great gift-giving.
Denver, Colorado. The Mile High Flea Market is a giant weekly market with a little bit of everything, but with some great antique deals if you're willing to hunt. Open Friday-Sunday, 7 a.m. to 5 p.m.
Boise, Idaho. The Treasure Valley Flea Market Expo Idaho happens five times a year, with the next one happening October 4-5. Lots of crafts, antiques and vintage.
Seattle, Washington. The Fremont Sunday Market has been a go-to since 1990, hosting a wide variety of vendors ranging from food to crafts to vintage dealers. As the name suggests, it's on Sundays, from 10 a.m. to 5 p.m. (April - October) and 10 a.m. to 4 p.m. (November - March).
Portland, Oregon. The Summer Junk Fest is filled with handmade and vintage goods, plus music and "adult beverages." Now you know what you're doing on July 25.
Alameda, California. How popular is the Alameda Point Antiques Faire? So popular that its website advises visitors that filming often occurs at the market. It's a favorite of editors, designers and everyone else. Next one is August 3.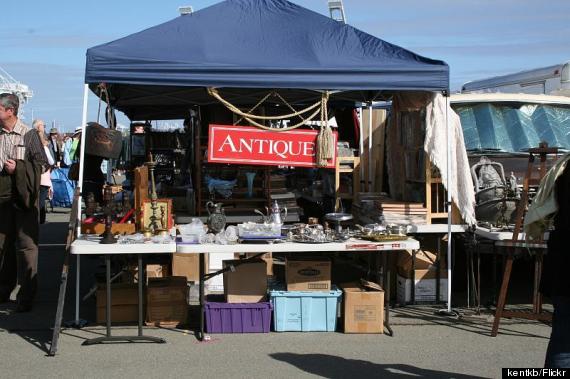 Antique shopping at the Alameda Point Antiques Faire. Photo by Kent K. Barnes.

San Francisco, California. The Treasure Island Flea highlights local artisans and businesses, offering an interesting mix of vintage and handmade. Check it out July 26-27.
Pasadena, California. Of course, we have to mention the Rosebowl Flea Market. The massive event is held the second Sunday of every month, with 2,500 vendors.
ALASKA & HAWAII
Anchorage, Alaska. The Anchorage Market & Festival is held Saturdays and Sundays in the summer. Though, the organizers hesitate to call it a traditional flea market -- instead of antiques and vintage, you'll find new items made by area artisans.
Honolulu, Hawaii. If you ever are in town for the Aloha Stadium Swap Meet & Marketplace, you'll want to brace yourself: It's a big affair. Held in, yes, the Aloha Stadium, it's a thrice-weekly event with over 400 vendors.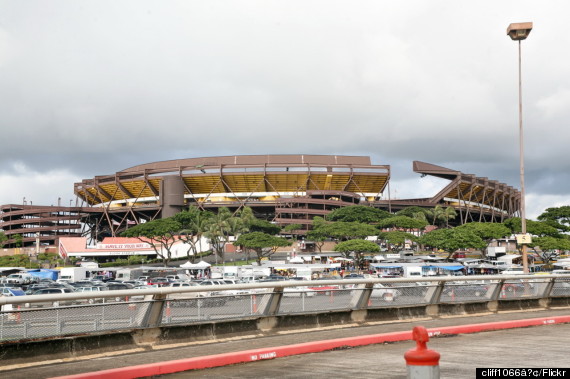 A view of the Aloha Stadium Swap Meet.
BEFORE YOU GO
PHOTO GALLERY
What Is It? What Is It Worth?