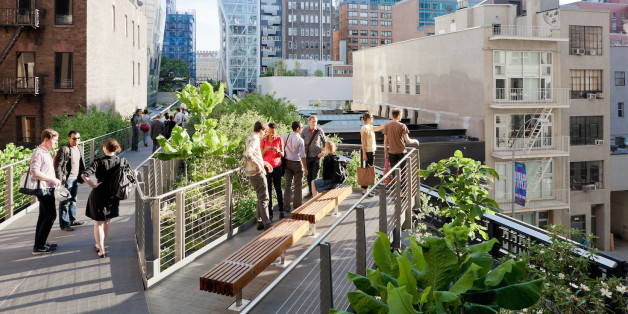 To keep an old building, or bust it down and build something new in its place? Such is the question facing developers who want to increase property value while minimizing the cost to do it. But it doesn't take a historic preservationist or urban explorer to see that abandoned spaces can be beautiful.
Projects like New York's High Line and the Tate Modern in London are great examples of what's known as adaptive reuse, giving a structure a second act, and they are leaders of a growing trend. Twitter, AirBnB and other tech companies are plucking up and restructuring historic San Francisco buildings for office space like they're candy, and NPR recently described how land banks influence redemptive construction by rebuilding neglected structures "no private investor will touch."
Some of these projects breed creativity by encouraging experimental design -- architects can think about approaching an established structure in a different way -- and by devoting more space for public engagement. Perhaps most importantly, projects like the following enhance the placemaking and livability of their city.
The High Line, Manhattan, New York:
What was once a dangerous, vital railway that ran down Manhattan streets and, sometimes, over its pedestrians, the High Line now offers fields of wildflowers and beautiful views of the city along its tracks -- essentially a meadow suspended three stories above the streets.
The original railroad opened back in 1934 in an effort to reduce street-level traffic and accidents. But when reliance on rail diminished in the '50s due to interstate trucking (the last train ran its tracks in 1980), the High Line subsequently fell into neglect and became a thing people hated. But Joshua David and Robert Hammond saw potential, and formed the non-profit Friends of the High Line in 1999 to lobby for its preservation.
So far, about a mile and a half of the overgrown rail has been refurbished as a walkway that overlooks Frank Gehry and Jean Nouvel buildings through Chelsea, with heavily-considered landscaping and rotating art. When construction is complete, the park, which is owned by New York City and maintained by Friends of the Highline, will stop at West 34th St.
The High Line's story is told in a documentary produced by Great Museums that debuted last month; you can see the full video here.
Dorchester Projects, Chicago, Illinois
When Theaster Gates repurposed abandoned two-story houses along Chicago's Dorchester Avenue into a library, slide archive, soul food kitchen, Black Cinema House, and "Listening Room" in the mid-2000s, it provided a devastated lower-income community a multi-use space where musicians, artists, neighbors, and art supporters could gather to share ideas.
Gates calls himself an artist first, but he's also earned two degrees in urban planning and, through his non-profit Rebuild Foundation, he focuses on social change through creative energy. A recurring idea in his work is how we incorporate that energy to build or reinforce a community.
What's more, he says this idea can be used as a model, easily translatable to cities across the country. His most recent project, currently under development, is a 32 unit, mixed-income artist community, called the Dorchester Artists Housing Collaborative.
Kakaako Agora, Honolulu, Hawaii
By now, it's a go-to move: offer reduced rent to creatives to establish a community and increase the value of surrounding real estate. And now, the industrial neighborhood called Kakaako is the Williamsburg of Honolulu. It was no accident: landowner Kamehameha Schools has invited and encouraged a lot of artistic energy in an effort to draw crowds to a once socially-neglected part of town.
Honolulu-based non-profit arts collective Interisland Terminal seized an opportunity to collaborate with Japanese firm Atelier Bow Wow in the creation of the Agora, a public park built inside an unused Kakaako warehouse for the purpose of gathering, holding events, and finding shade in an area where there's little natural shade to be found.
It's a two-level wood pavilion tucked in the warehouse, with a garden of native plants on one end and a huge, blank wall for film projections. The park, cooled by Hawaiian trade winds blowing through garage doors open on both ends, keeps business hours and, in its first month alone, has housed events that ranged from film screenings and opera performances to lectures, concerts, dinners, dances, and art exhibitions.
BEFORE YOU GO
PHOTO GALLERY
Abandoned America