 This is it. All games at the 2014 World Cup have been played but one. For the third time in World Cup history, Argentina and Germany will meet in the final. The matchup was dubbed "Messi vs. the machine" by ESPN commentator Jon Champion as it pits Argentina's standout star against the relentless Germany side that throttled Brazil in the semifinals.
2014 World Cup Final
Argentina vs. Germany
Where: Estadio do Maracana, Rio De Janeiro
When: 3:00 p.m. ET
TV: ABC, Univision

Germany put up four goals against Portugal in its group-stage opener and booked its place in the final with a 7-1 thrashing of Brazil. All together, Germany has outscored its opponents 17-4 entering the final match of the World Cup. Argentina may not have produced the gaudy scorelines of Germany but it has something that can't be quantified in the magic of Lionel Messi. The diminutive four-time Ballon d'or winner already has four goals in Brazil and may need to add to that tally if Argentina is to emerge triumphant from the Maracana.
"My dreams and my hopes are being fulfilled due to the hard work and sacrifice of a team that has given everything from match one," Messi wrote in a Facebook post on the eve of the final. "We knew it was possible. Our people, the Argentineans, they have carried us here. But the dream is not over yet, tomorrow we want to win and we are ready!"
Fans around the world, perhaps with the exception of some in Brazil who lament their team's absence, are ready as well.
STAY TUNED FOR LIVE UPDATES, HIGHLIGHTS AND COMMENTARY
07/13/2014 6:19 PM EDT
PHOTO: Germany Lifts The World Cup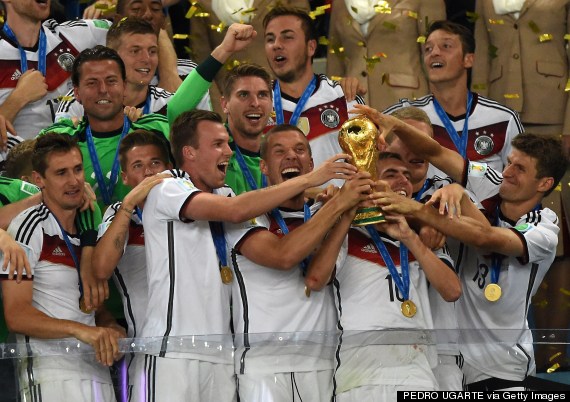 07/13/2014 5:36 PM EDT
WATCH: This Goal Won The 2014 World Cup
This is the 2nd latest goal in World Cup final history. Mario Gotze. WATCH » http://t.co/04jemM69lc

— ESPN FC (@ESPNFC) July 13, 2014
07/13/2014 5:36 PM EDT
GERMANY WINS THE WORLD CUP
The final whistle finally comes and Germany have won it 1-0.
07/13/2014 5:35 PM EDT
Kick Goes Over
Messi's kick sails over the goal and that could the last chance for Argentina.
07/13/2014 5:34 PM EDT
Last Chance?
Argentina has a free kick 25 yards from goal. Messi is over the ball... drama...
07/13/2014 5:33 PM EDT
Tick.. Tock.. Stoppage Time
It's two minutes of stoppage time after extra time.
07/13/2014 5:30 PM EDT
Messi Heads Over
Messi rises to meet a high, looping cross into the penalty area. He heads but just over Neuer's crossbar.
07/13/2014 5:29 PM EDT
Neuer Everywhere
With Argentina pressing for an equalizer, Manuel Neuer again comes far off his line to disrupt.
07/13/2014 5:26 PM EDT
Super Goal
Gotze took a cross from Schurrle with his chest and then smacked it past Argentina goalkeeper Sergio Ramos with his left foot. A super goal!
07/13/2014 5:25 PM EDT
GOAL GERMANY!
Mario Gotze scores in the 113th minute for a 1-0 lead.