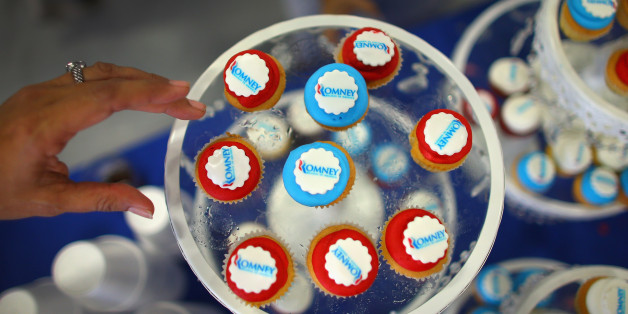 Gallup finds changing partisan views of the Supreme Court but an unchanged overall rating. About two-third of Republicans say they want to impeach President Obama. And nearly as many in the GOP say they won't pay more than 2 dollars for a cupcake. This is HuffPollster for Monday, July 14, 2014.
AMERICANS STILL SPLIT ON SUPREME COURT - Rebecca Rifkin: "Americans remain divided in their assessments of the U.S. Supreme Court, with 47% approving of the job it is doing, and 46% disapproving. These ratings are consistent with approval last September, when 46% approved and 45% disapproved, and rank among the lowest approval ratings for the court in Gallup's 14-year trend….Republican approval of the Supreme Court is up 21 percentage points since last September, from 30% in 2013 to 51%. Independents' approval shows little change, going from 47% to 46%. Support among Democrats, on the other hand, is down. In September, Democrats were the most approving group, at 58%, while in the current survey their approval is as low as independents', at 44%. Democrats are now slightly more likely to disapprove (50%) than approve (44%)." [Gallup]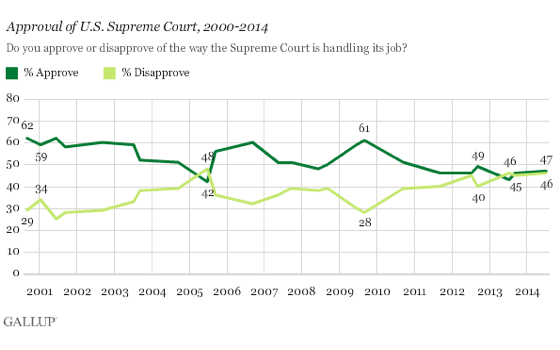 REPUBLICANS SUPPORT IMPEACHING OBAMA - Emily Swanson: "Sarah Palin raised eyebrows last week when she called on Congress to impeach President Barack Obama, but a new HuffPost/YouGov poll shows that the former Alaska governor is not alone. A third of Americans, and two-thirds of Republicans, think Obama should be impeached. Among all Americans, those saying Congress would not be justified in beginning impeachment proceedings against Obama outnumber those who think it would be justified, 44 percent to 35 percent, while 21 percent said they weren't sure. The question drew a huge partisan divide. Sixty-eight percent of Republicans said beginning the impeachment process would be justified, while only 8 percent of Democrats said the same. Independents were divided, 37 percent to 37 percent, while 26 percent said they weren't sure. Overall, 26 percent of non-Republicans said impeachment would be justified.….Obama isn't the only recent president to face calls for impeachment from members of the other party. A 2007 Gallup poll asked the same question about George W. Bush, and found that 36 percent of Americans, including 58 percent of Democrats, 35 percent of independents and 9 percent of Republicans, said there was justification for Congress to begin impeachment proceedings." [HuffPost]
HERE ARE THE RESULTS OF A POLL ABOUT CUPCAKES - Swanson: "Most Americans aren't willing to pay more than a dollar or two for a cupcake, a new HuffPost/YouGov poll conducted on the heels of the demise of cupcake empire Crumbs Bake Shop shows. Sixty-six percent of Americans said the most they'd willing to pay for one excellent cupcake is $2 or less. Nineteen percent were willing to pay $3, 9 percent were willing to pay $4, and percent said they'd pay $5 or more….But it's not all bad news for cupcakes. Only 8 percent of Americans think there are too many cupcake shops in their area, while 31 percent said there are not enough….And many Americans under age 30 are still fans of the dessert. Forty-one percent of that category called cupcakes either 'one of the best' (31 percent) or 'the very best' (10 percent) dessert. " [HuffPost]
-@EL_Swan: "Fact of the day: people who think there are too many cupcake shops less likely to want Obama impeached than those who say current # is good" [Twitter]
SURVEYS SHOW RAHM EMANUEL ON SHAKY GROUND - Joseph Erbentraut: "Two new polls released over the weekend contained bad news for Chicago Mayor Rahm Emanuel as he begins to ramp up the fundraising efforts for his re-election campaign. According to a poll commissioned by the Chicago Sun-Times and conducted by We Ask America (R), Karen Lewis -- the outspoken Chicago Teachers Union president who has said she is 'seriously thinking' about running for the city's top office -- would beat Emanuel by 9 percentage points, with 45 percent support compared to the mayor's 36 percent, if the city's Feb. 24 mayoral election were held right now….A separate poll conducted by Anzalone Liszt Grove Research (D) and obtained by Crain's Chicago Business also showed Emanuel coming up short in a hypothetical re-election showdown. The poll found that Emanuel would lose to Preckwinkle if the election were held now, although the margin in this poll was just 8 percentage points -- 48 percent support for Preckwinkle versus 40 percent for Emanuel, with a 4.4-point margin of error." [HuffPost]
HUFFPOLLSTER VIA EMAIL! - You can receive this daily update every weekday via email! Just click here, enter your email address, and and click "sign up." That's all there is to it (and you can unsubscribe anytime).
MONDAY'S 'OUTLIERS' - Links to the best of news at the intersection of polling, politics and political data:
-A survey for the Ohio Democratic Party finds John Kasich (R) nearly tied with Ed FitzGerald (D) for Ohio governor. [PPP]
-PPP's (D) poll of the Georgia GOP Senate runoff gives Jack Kingston the edge. [Atlanta Journal Constitution]
-Kathy Frankovic reviews the slow, marginal improvement in perceptions of the ACA. [YouGov]
-David Leonhardt says new Gallup data shows little evidence that the youngest voters are trending less Democratic. [NYT]
-Seth Masket explains how weather affects turnout. [Pacific Standard]
-The French are not the world's most voracious consumers of cheese, and other facts for Bastille Day. [Pew]
-"Study Finds People On Dates Know Within 30 Seconds If Other Person Is Newt Gingrich." [The Onion]