Once upon a time in 1975, an illustrator with a knack for crooked lines and an author with a penchant for dark humor forged a friendship children's literature will never forget.
The author was Roald Dahl, the late British writer who brought us James and the Giant Peach, Charlie and the Chocolate Factory, Matilda and so much more. The illustrator was Quentin Blake, the artist whose pen is responsible for the characters we know visually as the Twits and the Big Friendly Giant. Together, these two men -- one well known as a grumpy "curmudgeon," the other hailed as "the absolute Don of illustration" -- made kids' dreams and whimsical nightmares come true.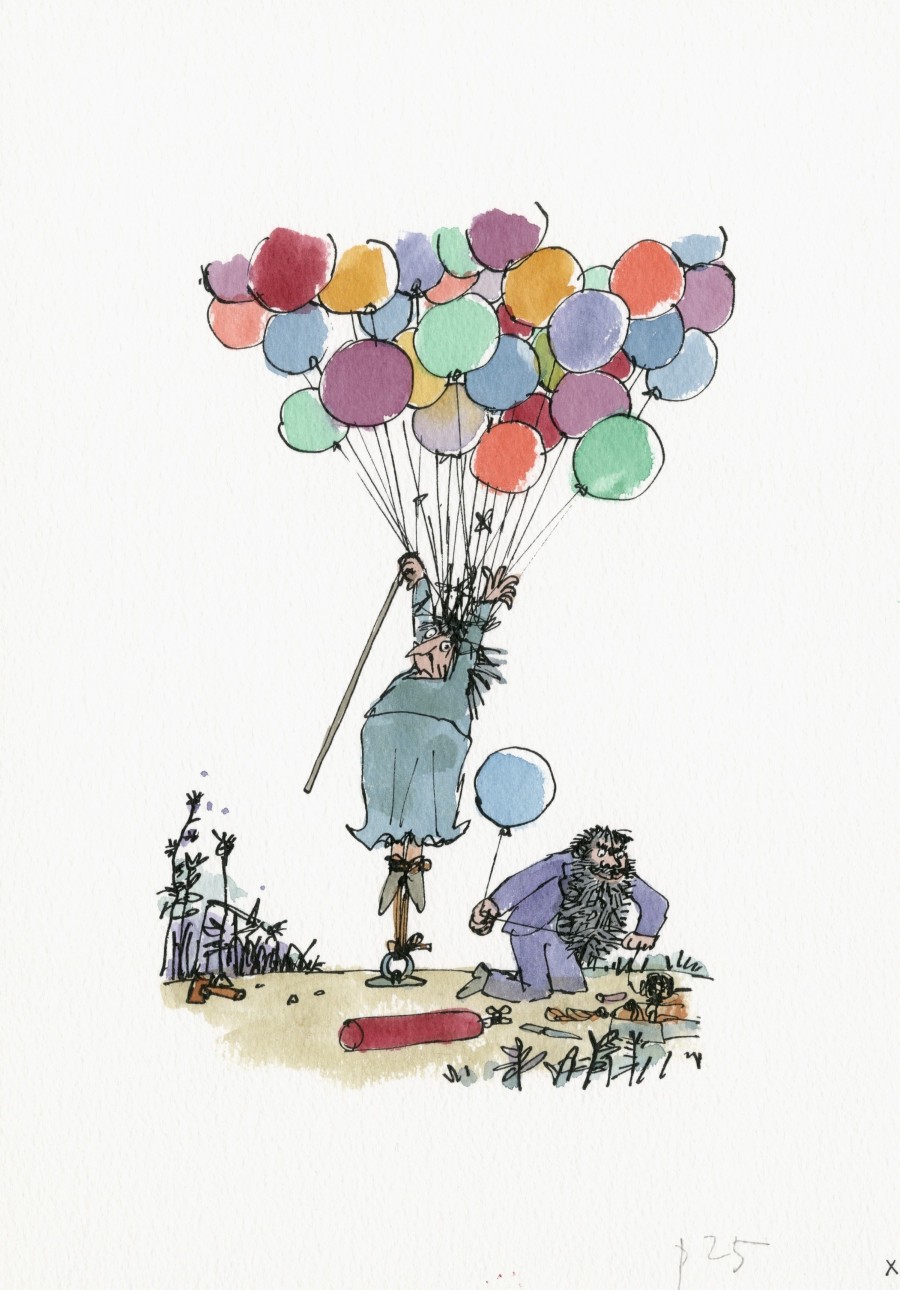 The Twits ©Quentin Blake, 2010
While Dahl's stories were undeniably magnetic (not to mention profound, disturbing, unsentimental, and utterly entertaining works of art that will go down in publishing history), the images created by Blake were what easily stuck in the minds of most children. Those hovering above and below the ages of literacy are, after all, more inclined to remember the pictures of adolescent stories. Those of you who grew up in the 1980s are likely conjuring the purple jacket of Willy Wonka or the watercolor orange of James' peach as you read.
A new exhibition at London's House of Illustration is paying homage to the illustration great with an art show dedicated to Blake's original work. From the beloved sketches he produced for Dahl to the images he rendered for his own books, the exhibition "Quentin Blake: Inside Stories" showcases roughs and storyboards from throughout the artist's stunning career.
Born in 1932, the now 81-year-old Blake began drawing at a young age. His first cartoon was published in a magazine called The Punch at the age of 16 and he stayed within that realm until 1960, when he illustrated the children's book A Drink of Water for John Yeoman. "There was nothing to suggest that I could draw -- my parents certainly couldn't," Blake recalled in 2007. Yet he went on to collaborate with literary icons like Russell Hoban, Joan Aiken, Michael Rosen and, of course, Dahl. And he gobbled up awards on the way -- Chevalier des Arts et des Lettres, Hans Christian Andersen Award, Children's Laureate.
"Blake is published in 15 languages, and lauded widely for his knack of reaching children without talking, or drawing, down to them," Barbara Rosen wrote in The New York Times back in 1999. Gazing upon Blake's works now, it's not difficult to see how his faint, chaotic lines drew in the public's eyes. The characters, scribbled as if the drawer was overjoyed to bring life to them, communicate the complex emotions between delight and sorrow with characteristics as simple as a set of googly eyes and a pair of too-big hands.
You can preview a selection of images on view at the House of Illustration until November 2. "Illustration is around us everywhere, but what I hope is that here you will stop and think about it," Blake pleads. We guarantee thoughts -- and a sufficient bout of nostalgia -- will follow.
PHOTO GALLERY
Quentin Blake
"Quentin Blake: Inside Stories" will be on view at the House of Illustration from July 2 to November 2, 2014.
BEFORE YOU GO