You've heard the one about the politician walking a dog? An observer, upon seeing the pair, says, "If given the choice, I'd rather vote for the dog."
It's your chance: This election year, there's an impressive roster of canine candidates seeking your votes. They help kids read, they spread autism awareness, they work in law enforcement, one of them searched the World Trade Center towers for 9/11 survivors while another -- who had the roughest possible start in life -- helped pass a law increasing penalties for animal abusers.
These eight impressive dogs are in the running to be named this year's American Humane Association Hero Dog, a title which comes with a $5,000 donation to the dog's charity partner. It's currently held by a pit bull therapy dog named Elle, whose owner Leah Brewer tells HuffPost that among the many highlights of Elle's tenure was hobnobbing with animal lover Betty White at the 2013 award ceremony.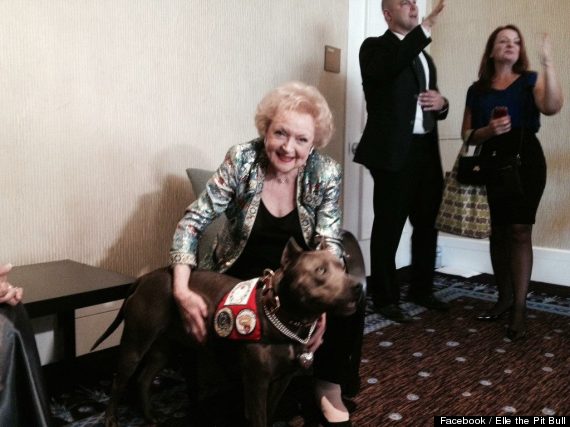 Who will lick celebrities' hands at the 2014 ceremony, to be held in late September in Beverly Hills? That's up to you -- and we don't envy you having to choose just one.
Friends, meet your furry finalists:
Susie, Paws & Effect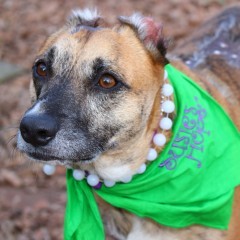 Susie was discovered covered in burns, and maggots, in a park in 2009. After being nursed back to health -- and helping her new owner overcome depression brought on by a dog attack that left her unable to have children -- Susie inspired a North Carolina law imposing tougher penalties on animal abusers.
Xena the Warrior Puppy, Sheltie Rescue of Utah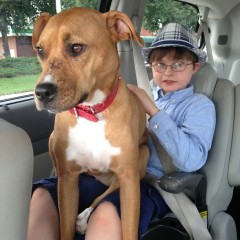 Xena the Warrior Puppy was rescued from horrible abuse, weighing just a few pounds when she was brought to a Georgia animal shelter in 2012. She's now part of a family that includes Jonny, a boy with autism -- whose mother says that Xena's friendship has brought Jonny out of his shell.
"He is non-stop chatter now!" Jonny's mother, Linda Hickey, told TODAY.com last year. "He is the happiest child that I've ever seen him be in eight years."
The pair now advocate for animal welfare and autism awareness, in addition to snuggling in the car.
Xxon, Fidelco Guide Dog Foundation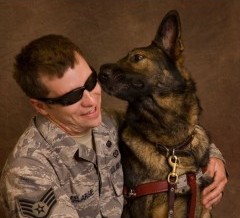 This is Xxon, a guide dog for retired Air Force staff sergeant Michael Malarsie, who was blinded in an explosion in Afghanistan -- and who credits Xxon with helping him become the Air Force's first blind active duty airman.
Kai, Project Paws Alive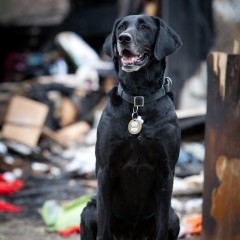 Kai is a fire detection dog with the San Antonio Fire Department. Picked up off the streets by animal control officers after being abandoned by her owners, this pup escaped euthanasia when a humane society representative noticed her drive and energy, while playing at the shelter. She's worked more than 200 investigations, and also helps educate kids on fire safety.
"I am proud that Kai is being recognized nationally and it is all due to the incredible support given by San Antonio. The success of Kai is a direct result of many people who recognized how special she was from her time spent in the shelter to now," Kai's owner and handler Justin Davis told My San Antonio. "It is rewarding that Kai is being recognized for being a special dog. Kai is the perfect example of what a dog can do when put into the right situation."
Bretagne, Penn Vet Working Dog Center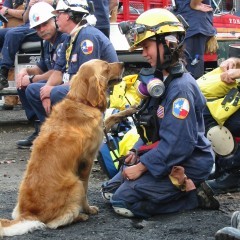 Bretagne is a search and rescue dog whose first mission was looking for 9/11 survivors at the World Trade Center towers.
Fourteen years old, and retired since 2008, Bretagne now spends her days helping kids learn to read -- she's a friendly, non-judgmental audience for those who want to improve their skills -- and waiting to be called back into action.
"She still thinks you can go (on search and rescue missions)," her owner, Denise Corliss, told the website Click2Houston.com. "She doesn't quite completely understand or at least accept the fact that she's retired."
JJ Krawczyk, Freedom Service Dogs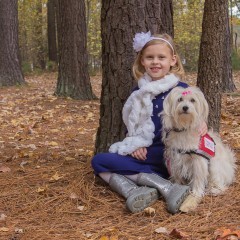 JJ Krawczyk has been called a guardian angel, for helping a young girl with a rare disorder live a full life.
JJ alerts KK's parents when her charge is having a dangerous allergic reaction -- the reaction can be to nearly anything; doctors told CBS News that going from air conditioning to outside can sometimes trigger anaphylaxis -- and she's so good at her job that surgeons invited her to participate in an operation last year.
Kota, K9s4COPs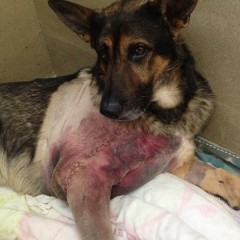 Kota is a Virginia police dog who got seriously injured after falling through a ceiling while pursuing home invasion suspects -- and showed exceptional dedication, and loyalty, in the aftermath, dragging himself to his handler to help complete the arrest. He's undergoing physical therapy now, after major surgery -- and riding around in parades.
Chaney, America's VetDogs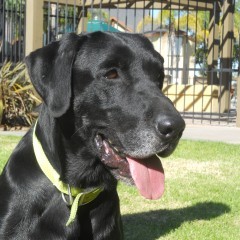 Chaney is a former explosive detection dog who retired from the Marines in 2013, after multiple tours of duty in Afghanistan and Iraq.
Chaney's handler Matt Hatala adopted the dog about a year ago; the pair now work together on a nonprofit that Hatala started, that trains dogs to work with veterans and kids with autism.
We don't know how you'll pick a favorite, but if you do, here's where to cast your ballot. You can vote once per day until the contest closes on September 15, and the winner will be announced at the ceremony on September 27, when all eight dogs will walk the red carpet in Beverly Hills.
And don't shed a tear (or any fur) for Elle, whose mom says that being 2013's American Humane Association Hero Dog has surpassed all expectations.
"The platform has helped us reach more new friends than we ever dreamed of. We have a global reach that stands strong in spreading our message of love and acceptance and our cause very close to my heart of saving lives through education," says Brewer. "Elle will be excited to paw over the crown to this year's winner and happy for all the fun things in their future to come."
BEFORE YOU GO
PHOTO GALLERY
Betty White With Animals