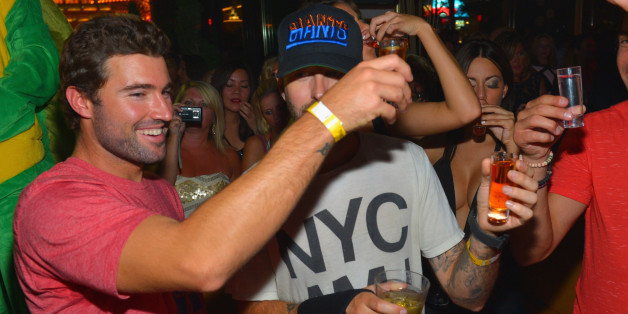 Longtime reality television personality Sam Brody Jenner (bet you didn't know his first name is Sam) raised some perfectly plucked eyebrows this past weekend when he attended Detroit Lions running back Reggie Bush's wedding to model-dancer Lilit Avagyan.
Perhaps you're wondering why there was such a fuss; C-list celebrities regularly attend the weddings of other C-list celebrities. Well, you are likely forgetting that Bush is Jenner's stepsister Kim Kardashian's ex-boyfriend. Oh, yeah. Drama.
And perhaps you are also forgetting that Jenner didn't even attend Kardashian's star-studded wedding extravaganza in May.
So to recap: Jenner did not attend his own stepsister's wedding, but he went to her ex-boyfriend's. Major drama, right?
Not according to the former "Princes of Malibu" star, who addressed his RSVP choices with reporters at the ninth annual ESPY Awards All-Star Celebrity Kickoff Party at in West Hollywood on July 14.
"I love Reggie. It was a great wedding. It was beautiful," he told reporters, before explaining why he was a no-show at Kardashian's nuptials to Kanye West. "Kim's was in Paris. I was working. Kim was in Paris, and it's as simple as that. So yeah, it's kind of ridiculous that everybody's making such a big deal out of it. Reggie's been a friend of mine for a very long time. So it's all good."
So, there's no drama then?
Well, who really knows? It's all kind of suspect given that in November, Jenner was unsure he'd even be invited to his stepsister's wedding. "Well, you never know with the family. I didn't get invited to the engagement, so you never know," Jenner told Us Weekly.
BEFORE YOU GO
PHOTO GALLERY
Celebrity News & Photos