Fantasy. It's a word that attracts images ranging from cloud-dwelling princesses and talking frogs to souped-up cars and pornographic displays, depending on, among other things, your age. The idea of fantasy and all its many manifestations is the subject of a new exhibition by Brooklyn-based street art duo FAILE. The show, called "Fuel, Fantasy, Freedom," explores the many visions that populate our daydreams and desires, from the naive to the NSFW.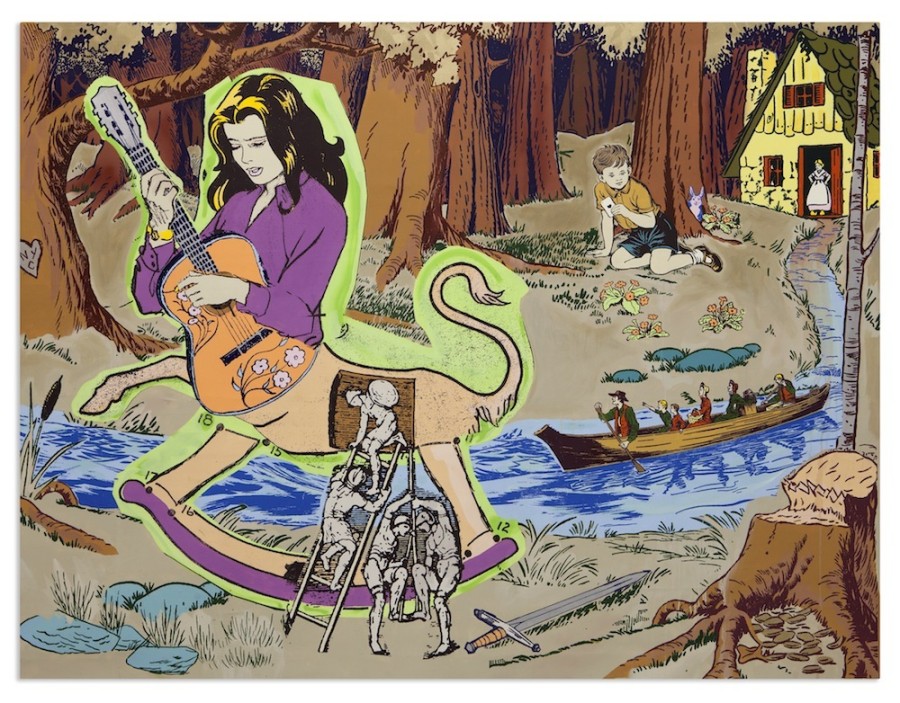 Forever Found, 2014 acrylic, silkscreen ink and spray paint on canvas , 228,5 x 177,8 cm
FAILE, also known as Patrick McNeil and Patrick Miller, work in a signature street-pop aesthetic that combines the piercing hues of the Blue Rider Expressionists, the imaginative freedom of childhood storybooks and the deadpan humor of Andy Warhol. Sprinkle in the low-brow influence of magazine editorials, tabloid headlines and comic books and you get the eye-popping stuff that art dreams are made of.
The artworks on view present a kaleidoscopic close-up of 21st century American culture -- precisely what it means to be free. From pink unicorns to 1970s convertibles to bikini clad pin-up girls, FAILE's chosen imagery feels plucked from a teenage boy's bedroom walls or forgotten storage, if it was then sent through the psychedelic filter of one's imagination. The works on view both indulge the idealized understanding of fantasy while revealing how these fierce imaginings morph into pre-fabricated desires and consumer-driven idolatry. But there's no judgment in FAILE's color-drenched renderings, the sweet rides are drawn with as much precision and intensity as the wildest fruits of a child's dreams.
"This show is based at heart around childhood fantasy," the artists explained in an email to The Huffington Post. "From fairy tales, to drag racing stock cars, beauties and beasts, unicorns and jet engines this show explores the many archetypes of our youth. As we see our young children grow we are constantly amazed to see the way they interpret the world and the way the world is interpreted to them. This is especially true as we explore our own sense of myth making and fantasy through making images and creating visual stories that speak to the world of today –- both from a current perspective and from the time that we began to be inspired as young kids."
Featuring paintings on wood, paper, and fabric, "Fuel, Fantasy, Freedom" matures before your very eyes, revealing that childish innocence and adult desire aren't as disconnected as you may think. The exhibition is intensely personal, and you can tell, but it's interesting how the most private of fantasies become strangely universal when plastered across bedroom, or gallery walls. The spread of American dreaminess may just conjure memories of your own pre-adolescent fantasies, be they filled with dragons, race cars or whatever else.
"Fuel, Fantasy, Freedom" is on view until September 6, 2014 at Galerie Hilger NEXT in Austria. Take a look at the exhibition, and in-progress works around the studio, below.