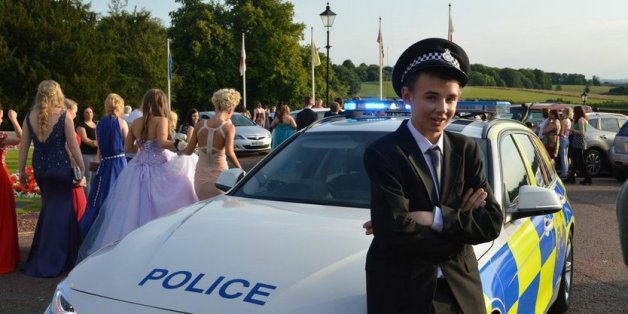 Though 15-year-old Kieran Maxwell has battled cancer, on his prom night, that fact faded into the background as he pulled up to his prom looking awesome in a police car.
"I walked out my house and all I heard was sirens. I was like 'oh no', I thought they were coming to arrest someone. I thought 'this is perfect, ruining my night!'," Kieran told the Northern Echo. Fortunately for Kieran, the police were actually there to help give him the best prom night possible. Three police cars and two motorcycle outriders drove Kieran and his date to at Hardwick Hall, in Sedgefield, England.
The stunt was put together by one of Kieran's teachers, who was aware of his previous hope to become a police officer before his Ewig's Sarcoma diagnosis in 2011.
On his website, Kieran explains how he fought through eight cycles of chemotherapy and the amputation of his leg. Six months after his diagnosis, he was finally told that he was cancer-free.
In that time, Kieran's goal of becoming a police officer has changed: he now aspires to be an Olympic gymnast. Naturally athletic, the only thing standing in Kieran's way is the expense of the prosthetic leg necessary for him to train and compete. Luckily, the Kieran Maxwell Fund has raised 54 percent of the money needed to purchase the new prosthetic leg, leaving Kieran well on his way to achieving his goal.
With Kieran's stylish ride to prom, along with his fund's progress, it seems that things are definitely looking up for this inspirational teenager.
See photos from Kieran's prom night...
PHOTO GALLERY
Teen With Cancer Rides To Prom In Police car
For more of Kieran's story, visit: www.kieranmaxwell.com