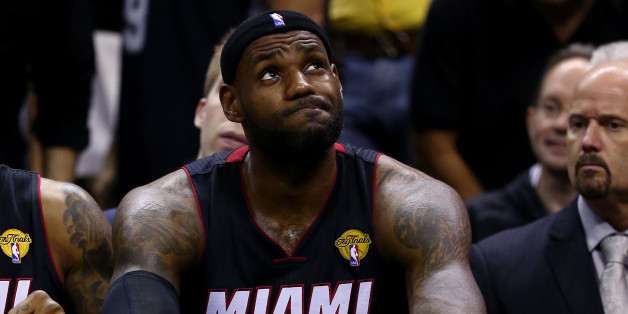 WASHINGTON -- NBA fans largely agree with LeBron James' decision to return home to the Cleveland Cavaliers, a new HuffPost/YouGov poll shows, but the majority of them think James would win more championships if he kept his talents in South Beach.
Forty percent of Americans who follow the NBA said James did the right thing by signing with Cleveland, as opposed to 24 percent who said he should have stayed with the Miami Heat and just 10 percent who said James should have tried his luck with a different team.
James announced last week that he will return to the Cavaliers, where the four-time MVP spent the first seven years of his NBA career before departing for Miami in 2010. James' decision to rejoin the Cavs sent shock waves through the basketball world, where speculation over the power forward's future had been rampant ever since he opted out of his contract with Miami last month.
Most observers of the league believed James would ultimately re-sign with the Heat, despite the team's loss to the San Antonio Spurs in the 2014 NBA finals. Basketball fans certainly believe James would have won more championships had he stayed in Miami, where he led the Heat to four consecutive finals and two titles during a four-year stint.
Fifty-two percent of fans polled said James' prospects of winning would be better if he stuck with Miami, whereas 29 percent said he's more likely to succeed in Cleveland. James, a native of Akron, Ohio, has said he looks forward to the challenge of mentoring the Cavaliers' young roster.
Most NBA fans also said Cleveland should set aside its anger over James' decision to leave the Cavaliers in his 2010 free agency. James infamously announced his move to Miami in a televised interview called "The Decision." Cleveland fans subsequently burned their jerseys of James, while Cavaliers owner Dan Gilbert disparaged him in an open letter that remained on the team's website for four years (and was only purged shortly before James confirmed his return).
Sixty-three percent of basketball fans said Cleveland should welcome James back, while 21 percent said they should not.
James addressed the backlash over his departure in his announcement last week, telling Sports Illustrated's Lee Jenkins that he was willing to put any lingering animosity behind him.
"It was easy to say, 'OK, I don't want to deal with these people ever again.' But then you think about the other side," James said. "What if I were a kid who looked up to an athlete, and that athlete made me want to do better in my own life, and then he left? How would I react? I've met with Dan, face-to-face, man-to-man. We've talked it out. Everybody makes mistakes. I've made mistakes as well. Who am I to hold a grudge?"
The HuffPost/YouGov poll was conducted July 11-14 among 1,000 U.S. adults, including 259 NBA fans, using a sample selected from YouGov's opt-in online panel to match the demographics and other characteristics of the adult U.S. population. Factors considered include age, race, gender, education, employment, income, marital status, number of children, voter registration, time and location of Internet access, interest in politics, religion and church attendance.
The Huffington Post has teamed up with YouGov to conduct daily opinion polls. You can learn more about this project and take part in YouGov's nationally representative opinion polling. Data from all HuffPost/YouGov polls can be found here.