A dress made of nothing but loom bands just sold for more than $200,000 on eBay.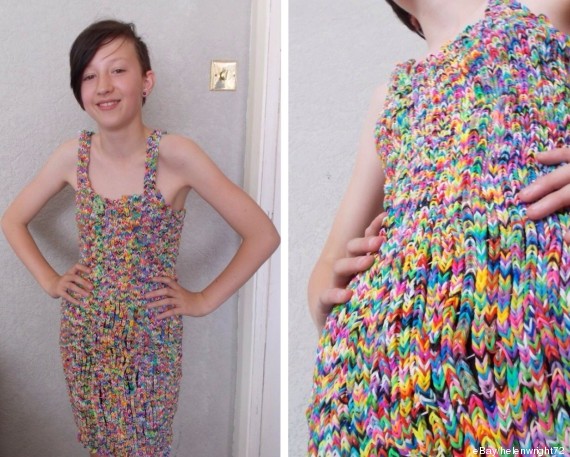 The mastermind behind the dress, a single mom from Wales named Helen Wright, said the idea for the unlikely garment came to her while helping her 12-year-old daughter with a few loom band creations.
Wouldn't it be neat, she thought, to create a dress out of the colorful rubber bands? So Wright recruited the help of her friend Katherine Burnand, who despite having arthritis, was eager to work on the dress.
"My friend Katherine physically made it because she's out of work and gets bored," Wright told the North Wales Daily Post of the project. "I said why don't we make a dress from loom bands and Katherine said she'd be happy do do it because she's too ill to work. She did an hour here or there in between her house work to keep her busy."
More than 40 hours of work and 20,000 loom bands later, the fanciful dress was completed, and Wright put a listing for the item on eBay.
She listed the dress -- modeled by her daughter -- for about $85, which would've just barely covered their costs. If they made more than that, Wright reasoned, they "might have a day out."
But in the end, Wright and Burnand got way more than they bargained for.
Their dress sparked a heated bidding war, and on Tuesday, when the auction ended, the dress -- which was bid on a total of 137 times -- was sold for a staggering $291,000.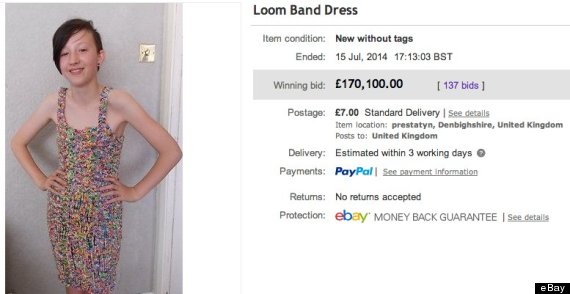 "I'm still in shock and I can't believe it," Wright told the Daily Post Friday of the dress' wild success. "I still won't believe it until…the money is in the bank."
As the BBC pointed out this week, it's unclear whether or not the winning bidder will actually pay for the dress, but "the website's rules say they must."
"We're trying to be realistic," Wright told the Daily Post. "We both rely on benefits to live but we get by."
Loom bands were invented a few years ago by Cheong Choon Ng, a Michigan-based dad. The bands, which are most commonly used to create friendship bands, have since become one of the most popular toys for kids and teens.
The bands, sold under the brand name "Rainbow Loom," have become so ubiquitous, in fact, that even celebrities like Miley Cyrus, Harry Styles and Kate Middleton have been seen rocking them, according to the Guardian.