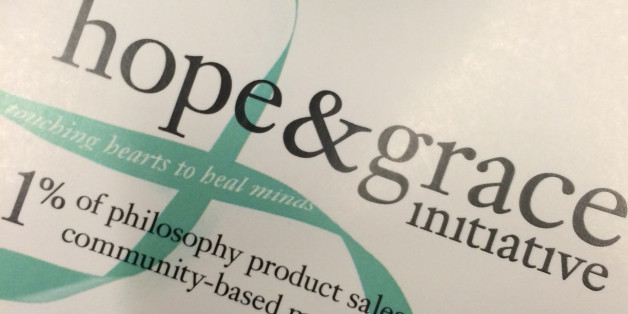 Chances are, you know someone touched by mental illness. You may even experience a mental condition yourself. Not surprising, given the fact that one in four adults in the U.S. -- about 61.5 million people -- will experience mental illness in any given year.
Given how pervasive mental illness is -- and the need to remove stigma around it -- philosophy, the well-being beauty brand known for its uplifting messages, announced today (July 15) the launch of its "hope & grace" initiative. The initiative was announced at a breakfast with speakers including Arianna Huffington, president and editor-in-chief of The Huffington Post Media Group; Jill Scalamandre, senior vice president of philosophy; and actress Glenn Close, co-founder of the mental health organization Bring Change 2 Mind.
Through the initiative, the company will donate 1 percent of sales from products purchased on philosophy.com through the end of this year to community-based mental health organizations.
And starting in 2015, 1 percent of all sales of products -- whether it be retail, online or on QVC -- will be donated to mental health organizations. A first grant of $20,000 has already been awarded to Bring Change 2 Mind.
Today only, for every use of the hashtag #hopeandgrace on social media, philosophy will donate $1 to these mental health organizations.
For more information on the initiative, watch the video below.
BEFORE YOU GO