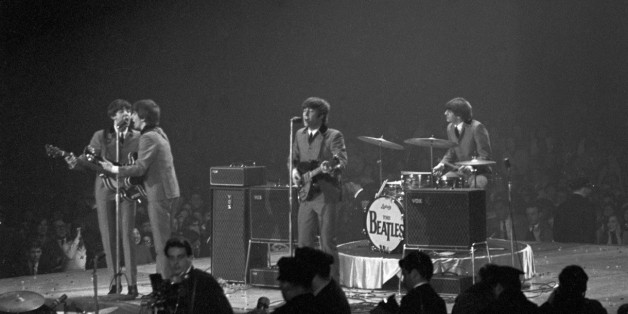 The long and winding road of Ron Howard's illustrious career has taken him to The Beatles. The Oscar winner will direct an authorized documentary about the Fab Four, with participation expected from Sir Paul McCartney, Ringo Starr, Yoko Ono and Olivia Harrison. (Ono and Harrison will represent their respective late husbands, John Lennon and George Harrison.) The untitled film will focus on The Beatles' touring years, which ended in 1966. Apple Corps Ltd., White Horse Pictures and Imagine Entertainment will produce the movie.
"I am excited and honored to be working with Apple and the White Horse team on this astounding story of these four young men who stormed the world in 1964," Howard said in a press release announcing the documentary. "Their impact on popular culture and the human experience cannot be exaggerated."
As noted by the press release, the project was first brought to Apple Corps by One Voice One World, and the company "has conducted extensive research around the globe, including inviting Beatles fans to send in clips of home movies and photos that they acquired during this extraordinary period." In keeping with those requests, the film's website includes a section that offers Beatles aficionados the opportunity to participate in the production process.
If you or someone you know has visual or audio materials that document the Beatles' live tours, we want to hear from you! We are looking for rare or unusual footage, photographs, and audio recordings, particularly those that highlight the fan experience -– what it was like to be a part of the frenzy.

If you have materials you believe belong in this film, please contact us using the form below.
This Beatles film is Howard's second documentary as a director. His first focused on Jay Z's Made In America festival.
For more on the film, head to beatlesliveproject.com. No release date has been set just yet.
BEFORE YOU GO
PHOTO GALLERY
The Beatles