What up, cuz: some recent research suggests your friends share a genetic makeup that makes them similar to your fourth cousins. This is THE MORNING EMAIL for Wednesday, July 16, 2014.
The Scuttlebutt
TOP STORIES
ISRAELI AIR STRIKES RESUME
"Israel resumed its air strikes in the Gaza Strip on Wednesday a day after holding its fire in deference to an Egyptian-proposed cease-fire deal that failed to get Hamas militants to halt rocket attacks." The Palestinian death toll passed 200. The U.S. is in a tough spot with the current conflict. And here's a roundup of the region's conflicts. [Reuters]
FOX TRYING TO BUY TIME WARNER
"The media giant 21st Century Fox, the empire run by Rupert Murdoch, made an $80 billion takeover bid in recent weeks for Time Warner Inc. but was rebuffed, people briefed on the matter said on Wednesday." If such a deal ever were to go through, CNN would then be on the auction block due to antitrust concerns, with both CBS and ABC seen as possible buyers. [NYT]
U.S. TAKING ON MOSCOW ALONE
"The United States is considering imposing unilateral sanctions on Russia over its threatening moves in Ukraine, a shift in strategy that reflects the Obama administration's frustration with Europe's reluctance to take tougher action against Moscow, according to U.S. and European officials." The potential move comes after a meeting with EU officials aimed at levying group sanctions. [AP]
STATESIDE: Google's Justice League
Google created an elite team that will work to discover major internet security flaws. California authorities are hoping increased fines will cut down on excessive water usage as its drought continues. A couple that had been married for 63 years died on the same day. The KKK is using sugar to lure new members. Jon Stewart got Hillary Clinton to talk 2016 on "The Daily Show." A man broke into the Kennedy compound, saying he was looking for Katy Perry. And The Washington Post's feature on the "Lion of Fallajah" is worth a read.
In playtime news, these laughing babies are the best.
INTERNATIONAL INTRIGUE: Germany Going Old School
Germany is considering solely using typewriters for classified documents after recent spying breaches. A typhoon paralyzed the Philippines, killing 10 and shutting down its capital. Russia has detained two metro workers whose mistakes may have contributed to the crash that killed at least 21 people yesterday. Parents of a girl born without a nose have made it their mission to encourage others not to give up on children with rare conditions. And extremists are jeopardizing the reputation for tolerance Southern Pakistan has cultivated.
In ambitious caper news, this raccoon went after a 28-pound bag of cat food.
BUY! SELL! BUY! $$$$$ for Kim K

Kim Kardashian's laughing all the way to the bank: her video game is set to break $200 million in revenue. Amazon can afford the occasional PR disaster. Bet you missed this sad, sad, sad change in Netflix delivery. Jill Abramson has some interesting advice about getting fired. Need some cash? Make a loom band dress and sell it for $200,000. And this is what the underwear index says about the economy. [Image via Realitea]
In odd couple news, meet this piglet and pit bull.
SCOUTING REPORT: America Believes LeBron
LeBron's publicity team did a much better job with Decision 2.0: the majority of Americans believe LeBron picked home over winning. Grantland ranks which NBA teams won and lost this year's off season. Derek Jeter got the send off he deserved at the All-Star Game. Everybody loves a hero. And here's who Bleacher Report thinks will be the best teams in sports … in five years.
In sweet dreams news, this dog's tail won't stop wagging as he's sleeping.
CULTURE CATCH-UP: Olivia Pope and Associates Returns...

ABC finally announced its lineup's return dates...only 71 days until we see Olivia Pope sans oversized luxury bag to hide her baby bump. Turns out working for Jimmy Fallon is more than a laugh-a-minute: you also get treated to burgers and booze. Disney's live-action "The Jungle Book" finally found its Mowgli. Two more rookies are out at SNL. And Marvel is making a female Thor!
In smart shopping news, here's how to make sure that suit you're wearing to the wedding can withstand all the evening's events.
LIVIN': So That's Why We're Tired...
Make sure you aren't letting these diet habits make you tired. Check out U.S. News and World Report's list of America's top hospitals. Here's the science behind procrastination... so you can read something else to keep procrastinating. The Atlantic has an excellent piece on why the myth of wealthy men and attractive women is just that, a myth. Hyped up? Here's how to finally calm down. And don't ever, ever, ever leave your contacts in for too long, or else germs can eat away your eyes.
In doors are hard news, check out these dogs who can't figure them out.
OTHER PEOPLE'S BUSINESS: Goop 2.0

We finally have some details on Blake Lively's lifestyle website. Kate Hudson looked fab in a black cutout ensemble. A very pregnant ScarJo glowed in these photos. Jeff Goldblum, 61, proposed to his girlfriend, who's 30 years his junior. Cameron Diaz destroyed Charlie Angels fan fiction everywhere when she denied reports she hooked up with Drew Barrymore. And Nick Lachey has some exciting news of his own: he and his wife Vanessa are expecting a second baby.
In skyhigh news, this is the coolest vandalism you're gonna see for a while.
TWITTERATI
@diablocody: I want my own Hollywood game like Kim Kardashian, except you'd just go to Taco Bell and get phone calls saying the network passed.
@AP_Images: Our award winning photographers capture a visual exploration of daily life around the world: /bit.ly/WfOdQZ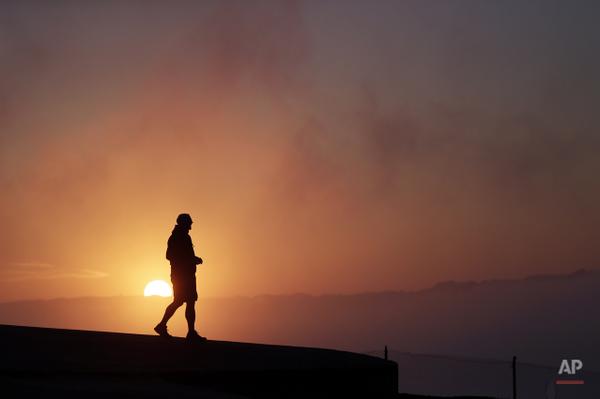 @TPAIN: Ain't nothin better than the feeling that you get when you're completely sure that you're done pooping
@ladygaga: I resent that I have to be getting married to wear Bridal, I mean what if I just love wearing white lace and pearls without it being creepy.
@CuteEmergency: sandals game on point

ONE MORE THING
You need these crazy awesome gadgets -- especially the shower wineglass holder.
Got something to add? Send tips/quips/quotes/stories/photos/events/scoops to Lauren Weber (lauren.weber@huffingtonpost.com). Follow us on Twitter (@LaurenWeberHP). Does somebody keep forwarding you this newsletter? Get your own copy. It's free! Sign up here.