Whether you end your morning phone calls with "namaste" or dread the wayward soaring yoga mat inevitably flying towards your head when commuting to or from Brooklyn on the subway, you can't deny it -- yoga is everywhere. Far before yoga boutiques and YouTube tutorials were weaved into the morning rituals of millions around the world, the ancient practice promised first millennium Indians rewards far more ambitious than good health and state of mind, including flight and immortal life.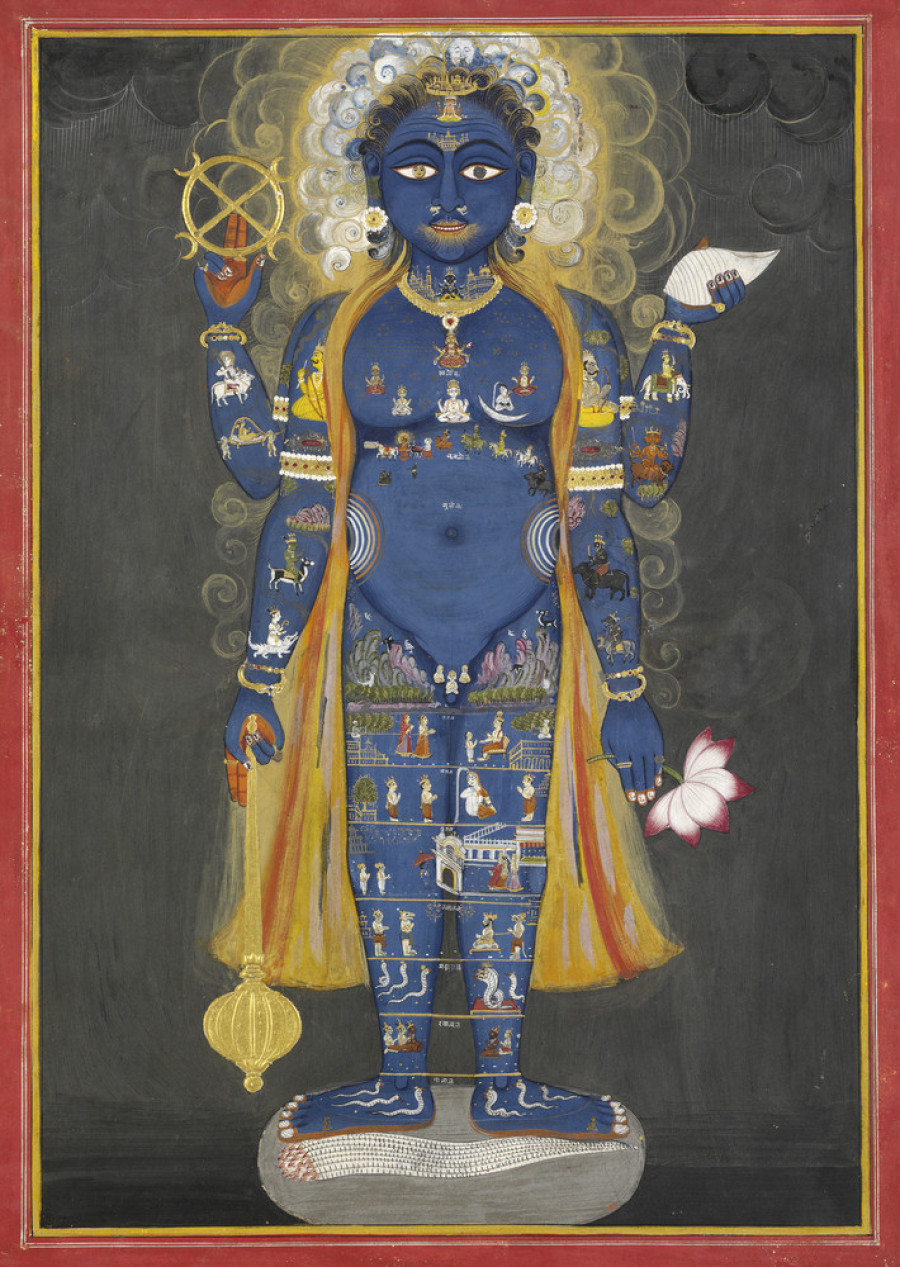 Vishnu Vishvarupa, c. 1800–1820. India, Rajasthan, Jaipur. Opaque watercolor and gold on paper; 38.5 x 28 cm. Victoria and Albert Museum, London, Given by Mrs. Gerald Clark IS.33-2006.
For nearly as long as yogis have been transforming their minds, bodies and spirits, artists have been documenting their achievements. While scholars debate the origins of yoga's practice, the exhibition catalogue dates the earliest artistic references to the tradition back to 3000 B.C., in the archaeological site of Mohenjo-Daro in the Indus River Valley. An exhibition at the Cleveland Museum of Art, home to one of the country's biggest collections of Asian art, is exploring artistic depictions of yoga from a dizzying array of perspectives ranging from ancient awe to cheeky camp.
"The discipline of yoga is widely recognized around the world as a source for health and spiritual insight," explained Fred Bidwell, interim director of the Cleveland Museum of Art, in a statement. "However, few are familiar with yoga's visual history. Through artworks of exceptional aesthetic and historical significance, 'Yoga: The Art of Transformation' illuminates yoga's diverse meanings, applications and philosophical depth."
The exhibition, curated by Debra Diamond, associate curator of South and Southeast Asian Art at the Smithsonian Institution's Freer and Sackler Galleries in Washington, D.C., features over 140 works that prove yoga doesn't just promote transformation in its followers, the practice itself is continually in flux.
Diamond, along with an interdisciplinary team of experts on religion, history, Sanskrit, Islam, philology, Indian culture and art history, has been exploring the yoga-centric art since the 1990s, unearthing the many unknown traditions at one time associated with yoga culture. "Yoga is much more than any of us knew. I mean, the more I worked on this project, the less I knew about yoga and the larger it got."
Even in its earliest origins yoga was never just one thing. Some more ascetic traditions emphasized celibacy while others preferred gathering at cremation grounds to consume meat, alcohol and sexual bodily fluids.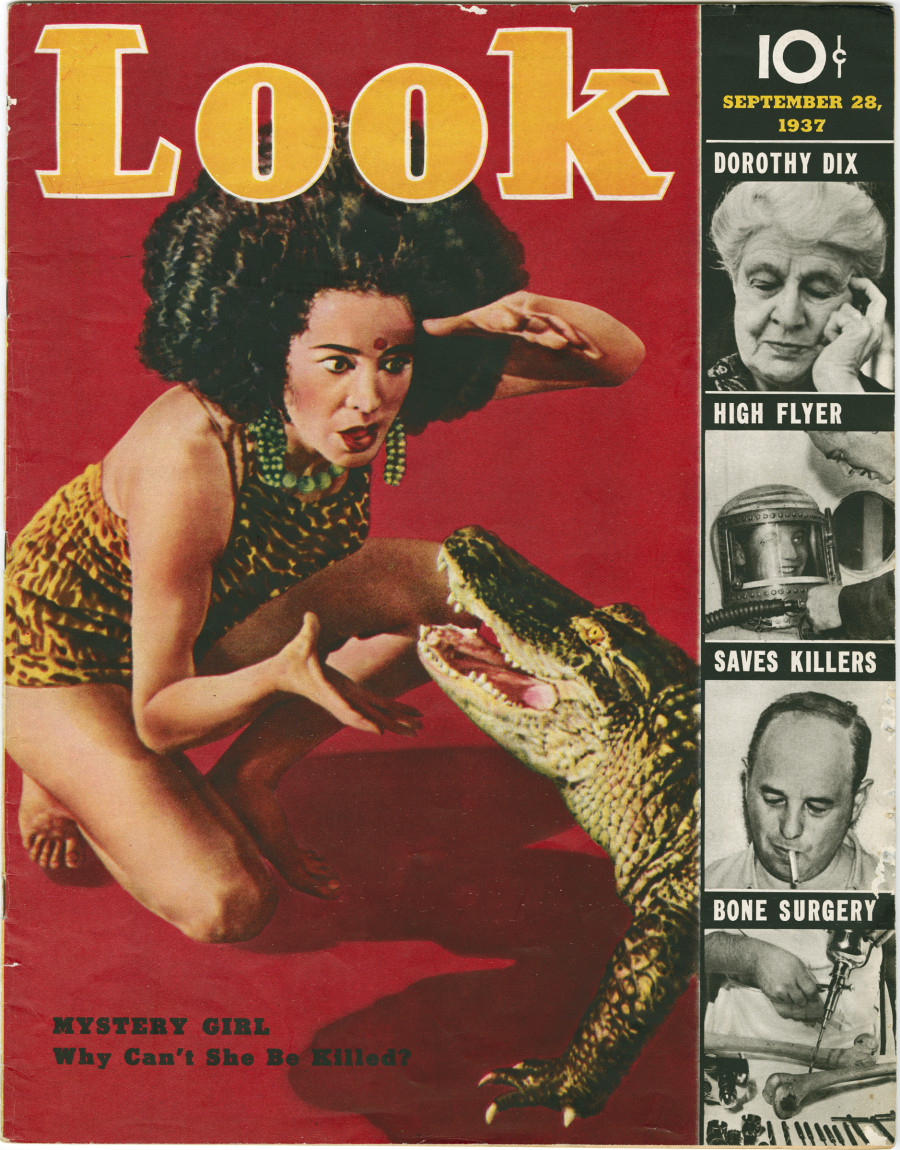 "Mystery girl: why can't she be killed?" Look, September 28, 1937. Des Moines, Iowa, United States. Magazine; 34.1 × 26.6 cm. Private Collection.
Bouncing between chronological, geographic and aesthetic categories, the show follows the art of yoga from its early origins, as something quite mystical and revolutionary, to the widespread spiritual outlet it is today. "Yoga has become a universal language of spiritual exercise in the United States, crossing many lines of religion and cultures," the White House said when announcing their Easter yoga garden in 2013. That's a long way from any sort of cremation grounds orgy.
As Steven Litt explains in his review: "The show's big, enlightening surprise is that while yoga's historical variations may seem mystical, alien, erotic, scary and even savage, the discipline -- in present forms -- has morphed into something familiar, popular and widely accessible."
Explore the colorful exhibition and see the endless permutations of yoga believers both human and divine. At one end, a cosmically inclined Vishnu Vishvarupa, rendered in watercolor in the 19th century, holds the sun in one eye and the moon in the other, harnessing the powers of the universe from head to toe. Jump to a 1937 circus poster, "Mystery girl: why can't she be killed?" and a French performer named Renee Bernard dons a yogini outfit and strikes a campy pose, channeling a long history of mystery into a hammed-up ad.
Whether or not you yourself care to spend an extended period of time in Warrior I, we highly recommend the visual fruits of the yoga tradition, as diverse, complex, strange and fulfilling as the technique itself. "Yoga: The Art of Transformation" runs until September 7, 2014 at the Cleveland Museum of Art. Namaste.
BEFORE YOU GO
PHOTO GALLERY
Architecture GIFs