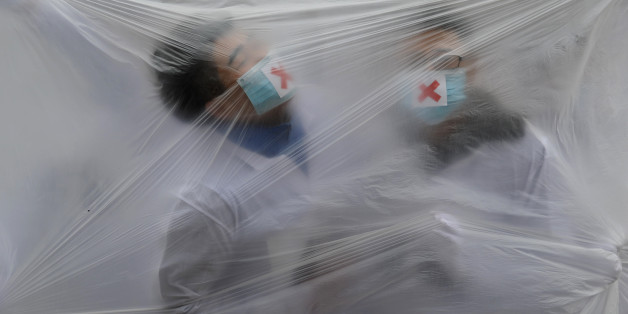 As a child, maybe you were asked on the playground how much money you would have to be paid to eat a bug or do something gross. Well, what if someone offered you money to breathe air that is literally off-the-charts bad? A recent article from the Australian Financial Review says that Coca-Cola is doing just that, paying expatriate employees "hazard pay" to live in China's polluted air.
A company spokeswoman confirmed the existence of the "environmental allowance," but did not disclose whether Chinese citizens working for Coca-Cola would also receive additional pay. Concerns about the adverse health effects of the air have sparked protests among those who see the price China is paying for urbanization.
An American Chamber of Commerce for Beijing and Northeastern China survey from this year found that 48 percent of respondents reported that pollution in China created challenges in recruiting and retaining executives. Coca-Cola's decision to enact new environmental hazard pay is the latest in a series of moves by major companies trying to keep employees enduring risk comfortable in their adopted country.
This year, Chinese Premier Li Keqiang said his country would "declare war" on pollution, and rolled out a plan allocating 2 trillion yuan ($330 billion) to motivate action on climate change. If you've been following China's breakneck march to industrialization, you've probably seen the reports of just how much damage they've done to the air.
Despite all this, China is planning to reduce pollution dramatically by 2022, to prepare for potentially hosting the Winter Olympics in Beijing. They plan to reduce coal consumption, encourage use of public transportation, construct devices that limit the release of harmful particles, increase the use of renewable energy and more.
BEFORE YOU GO
PHOTO GALLERY
Pollution In China