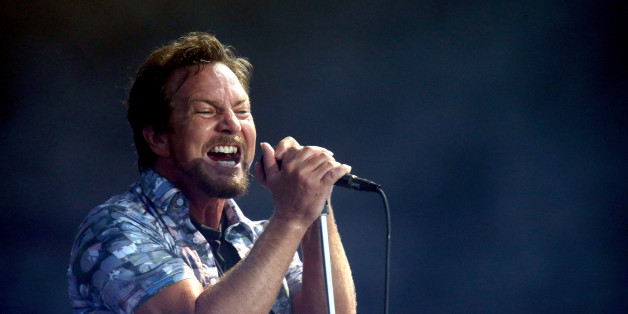 Pearl Jam lead singer Eddie Vedder wrote a plea for peace on his band's website following the controversy that erupted after Vedder was slammed for speaking a so-called "anti-Israel diatribe" during a recent Pearl Jam concert.
"With about a dozen assorted ongoing conflicts in the news everyday, and with the stories becoming more horrific, the level of sadness becomes unbearable," Vedder wrote in the piece, which was published by PearlJam.com on Wednesday. "And what becomes of our planet when that sadness becomes apathy? Because we feel helpless. And we turn our heads and turn the page."
Vedder found himself in hot water after remarks he made onstage in Milton Keynes, England on July 11. During an extended tag after performing Pearl Jam's hit song "Daughter," Vedder extolled the virtues of modern technology before expressing despair over the world's ongoing wars and conflicts. "At the same time that something this positive is happening, at the same fucking time, not even that far away, they're fucking dropping bombs on each other," Vedder said. "What the fucking fuck?"
Continued Vedder: "I swear to fucking God, there are people out there who are looking for a reason to kill. They're looking for a reason to go across borders and take over land that doesn't belong to them. They should get the fuck out, and mind their own fucking business."
While Vedder made no direct mention of the conflict between Israel and Gaza, his comments were read as a repudiation of Israel's recent actions against Gaza.
"Eddie Vedder, your true face is finally being revealed," Bed Red, a radio personality in Israel who had previously organized an effort to bring Pearl Jam to the nation, wrote on Facebook. "You are invited not to come here. I personally do not want to see you, and I will erase the Facebook page calling on bringing [Pearl Jam] to Israel, but not before I expose who you really are."
The Jerusalem Post, meanwhile, labeled Vedder's comments as an "anti-Israel diatribe."
In his piece clarifying the July 11 incident, Vedder did not mention any specific nation by name outside of the United States.
"Currently, I'm full of hope," wrote Vedder. "That hope springs from the multitudes of people that our band has been fortunate enough to play for night after night here in Europe. To see flags of so many different nations, and to have these huge crowds gathered peacefully and joyfully is the exact inspiration behind the words I felt the need to emphatically relay. When attempting to make a plea for more peace in the world at a rock concert, we are reflecting the feelings of all those we have come in contact with so we may all have a better understanding of each other."
BEFORE YOU GO
PHOTO GALLERY
Celebrity News & Photos