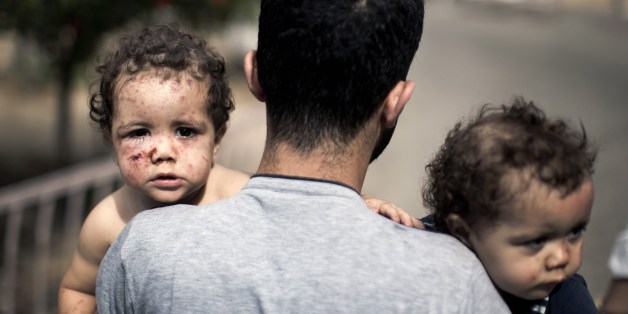 Soon after 5-year-old Noureldin went to bed last week in Gaza City, an air strike flattened his home. Six members of his family were killed as they had tea in the yard.
Noureldin, who hasn't "uttered a word" since the incident, is now recovering in al-Shifa hospital in Gaza City, according to UNICEF. He is one of at least 296 Palestinian children who have been injured since Israeli air strikes began last week. The Israeli government has accused Hamas of kidnapping three Israeli teenagers in June -- the initial trigger responsible for the current escalating violence -- the BBC reported.
According to Save the Children, one in five Palestinians killed in the crisis so far have been children.
Both sides of the conflict have compromised the safety of children -- rocket attacks from Gaza have threatened the lives of young ones in Israel, too. And since Israel prompted a growing ground offense Thursday, there's more potential for harm -- at least 15 of the 58 Palestinians killed by Israeli ground forces have been under the age of 18, according to Reuters.
"I cannot tell them the truth, that there is no safe place, and we cannot leave," one distraught Palestinian mother told UNICEF of her scared children after air strikes sent pieces of shrapnel and glass flying through their home.
While the devastation may be thousands of miles away, your efforts can make an impact to children and their families grappling in war-torn Gaza. Here are three organizations you can support to make a difference:
UNICEF has sent emergency psycho-social teams to help children and their parents cope with fear, anxiety and stress. "These teams were on the ground from the second day of the escalation, often in perilous conditions," Safa Nasr, UNICEF child protection officer in Gaza, said. So far, UNICEF teams have reached 302 children.
Learn more about UNICEF's impact in the West Bank.
Save the Children, one of the largest American NGOs working in the West Bank, has demanded a ceasefire from both Israeli and Palestinian forces in the name of child safety. According to a statement the organization released Friday, its psycho-social support teams have already visited hundreds of families in the unstable region, hoping to ease the trauma inflicted upon thousands of families.
Learn more about Save the Children's presence in Gaza.
Amnesty International has boldly denounced violence in Gaza. "There can be no excuse for either side failing to protect civilians, including journalists, medics and humanitarian workers or civilian facilities," the organization said in a statement last week. Amnesty International is urging the United Nations to mandate an independent international investigation into the conflict and ensure those responsible for the violence are charged with war crimes.
Learn more about how Amnesty International is advocating for peace.
BEFORE YOU GO
PHOTO GALLERY
Israel Invades Gaza