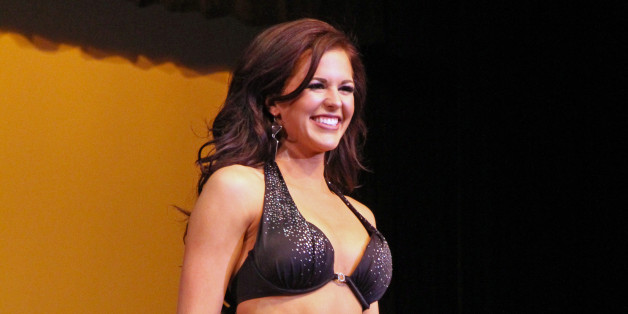 Miss Idaho 2014 is here to Pump. You. Up!
This isn't getting "pumped" in the conventional, Arnold Schwarzenegger-approved sense. Miss Idaho (aka Sierra Sandison) does it with her insulin pump, which the 20-year-old has started wearing with pride after struggling with her diagnoses of Type 1 diabetes two years ago.
WIDE AWAKE!! How am I supposed to sleep???? @PageantJunkies @MAOClassUpdates #missidaho2014 #MissAmerica pic.twitter.com/FOh0bXZ3Nu

— Sierra Anne Sandison (@sierra_anne93) July 13, 2014
"In February 2012, my world was flipped upside down by my diabetes diagnosis," Sandison wrote in a blog post after winning The Miss Idaho Scholarship Program last Saturday. "For a while, I pretended that I didn't have diabetes, hoping it would go away. That led to crazy blood sugars, of course, and a very sick, grumpy, and discouraged Sierra."
Upset, but with no other options, Sandison says she gradually worked to bring her condition under control through a low-carb diet, lots of exercise and insulin injections. She was still self-conscious, however, especially when she was on stage for pageants.
"When I first started competing, I was using injections rather than a pump," she explains. "I didn't want people to see a weird-tubey-machine-thing attached to me all the time, and could not wrap my head around having a medical device on my body for the rest of my life."
That changed when she learned of Nicole Johnson -- winner of Miss America 1999 -- who won the pageant while wearing an insulin pump.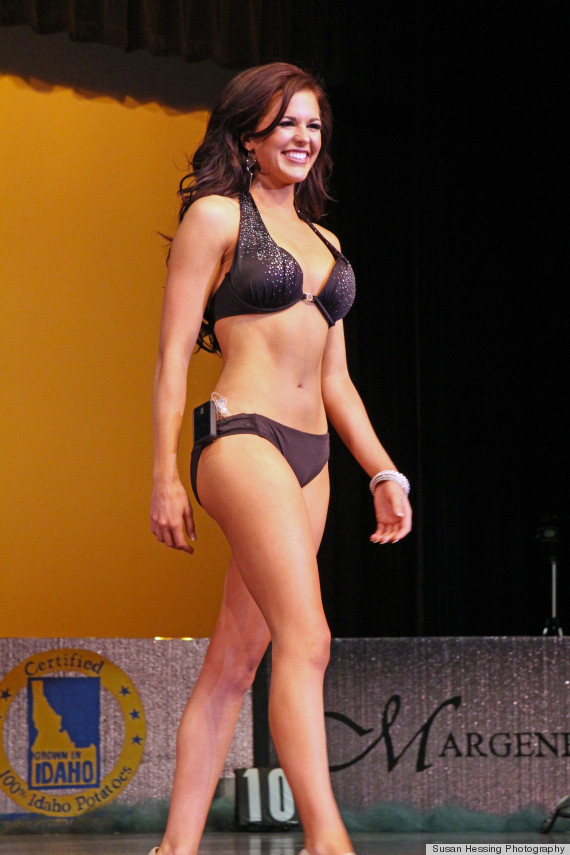 (Photo via Susan Hessing Photography)
Inspired, Sandison got the pump, and, after agonizing over the decision, wore it onstage Saturday during the Miss Idaho Scholarship Program pageant. She described the experience in her blog:
As I nervously walked out of the dressing room the first night of competition, the first person I saw said, "What's that? Is that an insulin pump?". My stomach flipped upside down. "I shouldn't have worn this," I thought, "everyone is going to be confused and wonder what I am wearing."
Turns out the inquisitor, a fellow pageant competitor, also had diabetes -- but had opted not to get a pump for similar reasons. Undeterred, Sandison wore her pump throughout the competition, including in her bikini. The photo (see above) has inspired others to share photos of their own insulin pumps, united by the hashtag "#showmeyourpump."
See some of those photos, below:
I'm obsessed with @sierra_anne93 so I'll participate in #showmeyourpump 💙💙💙 pic.twitter.com/ON7oReNf8G

— Catrina Curtis (@cat_trina_) July 16, 2014
Me and my pump at mile 21 of a marathon! Love this trend! #showmeyourpump pic.twitter.com/4qooLc3bBI

— klucka (@klucka) July 17, 2014
Supporting Miss Idaho #showmeyourpump @KedzCovers pic.twitter.com/VxtZpOsk9K

— Kedz Covers, Inc. (@KedzCovers) July 17, 2014
Working out all hooked up #showmeyourpump #stretchmarks pic.twitter.com/OjXGX14oYR

— type one (@imtype1) July 18, 2014
@sierra_anne93 @missidahoorg @curlysarah56 @MarieBe Just love the idea!!! #showmeyourpump pic.twitter.com/zWu37qUhmJ

— Angela Berni (@swisschoct1) July 15, 2014
@sierra_anne93 is an inspiration.Thank you for wearing your pump loud and proud! #type1 #insulinpump #showmeyourpump pic.twitter.com/tN5CP6j6pW

— Cath (@diabetesabordo) July 16, 2014
The online campaign has inspired countless diabetics who rely on insulin pumps to help manage their blood sugar. Sandison's original Facebook post features more than a hundred comments and photos from people in similar situations. "You changed my 11 year old daughter's summer!" reads one comment. "She's been so self-conscious but since she read about you & saw this photo, she cannot wait to wear a bathing suit tomorrow."
BEFORE YOU GO
PHOTO GALLERY
Aspiring Model Bares Colostomy Bags