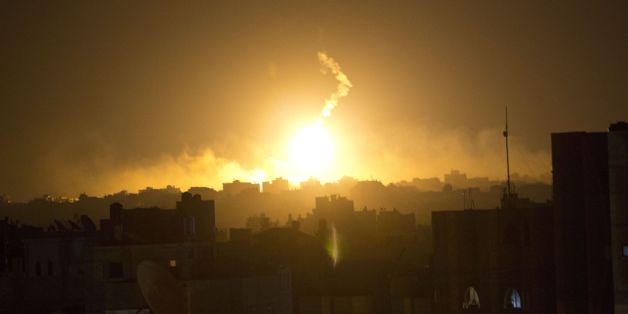 * Palestinians say 345 killed in fighting; 7 Israelis dead
* Israel says half of Hamas's rockets used or destroyed
* U.N.'s Ban to meet Abbas in Qatar, tour region in truce bid (Adds military says expanded offensive, strike on Hamas leader's house, updates Israeli, Palestinian deaths)
By Nidal al-Mughrabi and Maayan Lubell
GAZA/JERUSALEM, July 20 (Reuters) - Israel said on Sunday it had expanded its ground offensive in Gaza and militants kept up rocket fire into the Jewish state with no sign of a diplomatic breakthrough to end the worst fighting between Israel and Hamas in two years.
Gaza residents said land and naval shellings were the heaviest in 13 days of fighting. Explosions rocked the coastal enclave overnight and shells fired by Israeli naval forces lit up the sky.
Israeli tank shelling killed one Palestinian and hit houses in the northeastern Shejaia district, where residents called radio stations pleading for evacuation.
An Israeli air strike there on the house of senior Hamas official Khalil al-Hayya killed his son and daughter-in-law and two children, hospital officials said. Near the southern town of Rafah shelling killed four Palestinians, health officials said.
In Israel, sirens sounded in towns near Gaza, warning of approaching rockets.
Israel sent ground forces into Hamas-dominated Gaza on Thursday after 10 days of heavy air and naval barrages failed to stop rocket fire, some of which reached deep into Israel, from the Palestinian territory.
The military said in a statement on Sunday it had sent additional forces into the Palestinian enclave. Israel has vowed to destroy a network of tunnels out of Gaza and hunt down the militants' stockpiles of missiles.
Gaza officials said at least 345 Palestinians, many of them civilians, have been killed in the 13-day conflict. On Israel's side, five soldiers and two civilians have died.
Diplomatic efforts to secure a ceasefire involving, among others, Egypt, Qatar, France and the United Nations, have failed to make headway.
Qatar was due to host a meeting between Palestinian President Mahmoud Abbas and U.N. Secretary-General Ban Ki-moon on Sunday, a senior Qatari source told Reuters. Ban was due during the week to travel to Kuwait, Egypt, Israel, the Palestinian Territories and Jordan, a U.N. statement said.
The Qatari source said Abbas was also due to meet Hamas leader Khaled Meshaal.
Western-backed Abbas in April struck a deal with Islamist Hamas that led to the formation of a Palestinian unity government, seven years after the group seized control of Gaza from Abbas's Fatah party.
FAILED EFFORTS
Hamas has rejected Egyptian efforts to end fighting, saying any deal must include an end to a blockade of the coastal area and a recommitment to a ceasefire reached after an eight-day war in Gaza in 2012.
Egypt said on Saturday it had no plans to revise its ceasefire proposal. A Hamas source in Doha said the group has no plans to change its conditions for a ceasefire.
Israel is wary of mediation by Qatar, which hosts a large number of exiled Islamists from across the Middle East including Meshaal, and Israeli officials have said Egypt must be a party to any ceasefire deal.
French Foreign Minister Laurent Fabius, who flew to Israel after meetings in Egypt and Jordan, said on Saturday efforts to secure a ceasefire had failed.
"On the contrary, there's a risk of more civilian casualties that worries us," Fabius said, after talks with Israeli Prime Minister Benjamin Netanyahu in Tel Aviv.
Hostilities between the two sides escalated following the killing last month of three Jewish students that Israel blames on Hamas. Hamas neither confirmed nor denied involvement.
The apparent revenge murder of a Palestinian youth in Jerusalem, for which Israel has charged three Israelis, further fueled tension.
Israeli bulldozers and engineers worked along a 1.5-km-wide (one-mile-wide) strip of Gaza's eastern frontier, uncovering 13 tunnels, at least one of them 30 meters (90 feet) deep, military spokesman Lieutenant-Colonel Peter Lerner said.
About 95 rocket launchers were also found and destroyed in the sweep, he added.
Searches were continuing in what he described as an open-ended mission that had "severely impeded Hamas capabilities".
Israel says more than 1,700 rockets have been fired out of Gaza during this month's fighting, and between 3,000 and 4,000 destroyed in military strikes - together almost half of the militants' original estimated arsenal.
Hamas says it is continuously replenishing its stock of weapons and is ready for a prolonged conflict.
The Israeli death toll has been kept low due to the rockets' relative inaccuracy, a network of air raid sirens and shelters and the Iron Dome rocket interceptor's 90 percent success rate.
The Israeli military urged Palestinians to flee a growing area of Gaza ahead of further military action in the Mediterranean enclave. Residents say about half of the territory's 1.8 million population have been told to move.
With both the Israeli and Egyptian borders sealed off, Gazans say they have few places to escape to.
The largest U.N. agency in Gaza, UNRWA, said about 61,500 people had sought refuge in its buildings, mainly schools - more than in any previous conflict there between Israel and Islamist militants. (Writing by Maayan Lubell; Editing by Mohammad Zargham and Robert Birsel)
BEFORE YOU GO
08/05/2014 4:20 PM EDT
Israel Arrests Kidnapping Suspect
Reuters reports that Israel has arrested one of the suspects in the kidnapping and killing of three Israeli teenagers in the West Bank in June.
Hussam Kawasme, a 40-year-old resident of the West Bank city of Hebron, was arrested on July 11 in connection with the killing of Israelis Gil-Ad Shaer, Naftali Fraenkel and Eyal Yifrah, who went missing on June 12 and were discovered dead a couple of weeks later.

Their kidnapping sparked a cycle of violence that led to the month-long conflict between Israel and Palestinian militants in the Gaza Strip.

Kawasme's arrest was made public for the first time on Tuesday in a document from an Israeli court case over whether houses belonging to him and two other suspects - who remain at large - should be destroyed as a punitive measure.

The lawyers listed as representing Kawasme were not reachable for comment.

The court document said Kawasme had admitted to helping to organize the kidnapping - securing funding from the Hamas Islamist group in Gaza and purchasing weapons which he passed on to the two other suspects who carried out the attack.

Kawasme also helped to bury the bodies of the teenagers in a plot of land he had bought a few months earlier, it said.

Israel has named the other two suspects in the case as Marwan Kawasme and Amar Abu Aysha.