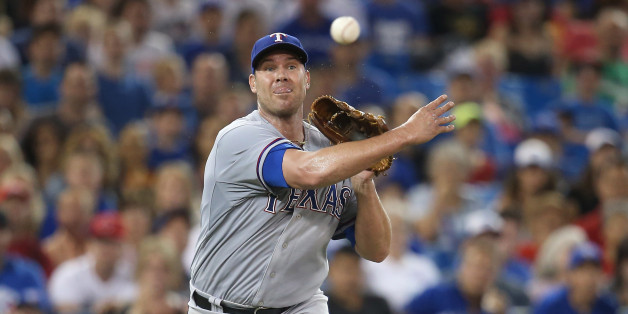 Texas Rangers pitcher Colby Lewis tried to make up his own unwritten rule of baseball on Saturday night after a loss to the Toronto Blue Jays. But nobody seemed to be buying it.
Only leading 2-0 with two outs in the fifth inning, Blue Jays outfielder Colby Rasmus beat Texas' defensive shift with a bunt single down the third base line. That's just a smart play by Rasmus, right? Not to Lewis. After failing to throw him out at first, the nine-year veteran shouted something at Rasmus.
"I told [Rasmus] I didn't appreciate it. You're up by two runs with two outs and you lay down a bunt. I don't think that's the way the game should be played," Lewis explained, via MLB.com. Not only did Lewis feel like Rasmus showed bad baseball etiquette, he thought it was a selfish play as well. "I felt like you have a situation where there is two outs, you're up two runs, you have gotten a hit earlier in the game off me, we are playing the shift, and he laid down a bunt basically simply for average. [Rasmus] didn't steal within the first two pitches to put himself in scoring position. That tells me he is solely looking out for himself, and looking out for batting average. And I didn't appreciate it."
Rasmus seemed confused by Lewis' frustration, saying he "didn't do anything out of the unwritten rules of baseball" and he "felt like that's what I should do to help my team."
Rasmus wasn't the only one who didn't understand what Lewis was complaining about.
colby lewis doesn't understand baseball, which is rough because he's a baseball player #MLB

— Nick Rangel (@realnickrangel) July 20, 2014
Still yet to find one person saying "YEAH YOU GO COLBY LEWIS"

— Joe Lucia (@Joe_TOC) July 20, 2014
Thanks to Colby Lewis' comment, Adam Wainwright is now runnerup for most ill-advised baseball quote of the week.

— Jerry Crasnick (@jcrasnick) July 20, 2014
Shorter Colby Lewis: "Derpy derp derp"

— keithlaw (@keithlaw) July 20, 2014
Oops. Bad link. Shorter version: Colby Lewis is a moron: http://t.co/41mxG8JQ0z

— Craig Calcaterra (@craigcalcaterra) July 20, 2014
Lefties were hitting .402/.444/.598 against Colby Lewis coming into today. The bunt by Rasmus wasn't bad form. It was mercy.

— Joe Sheehan (@joe_sheehan) July 20, 2014
In a game rife with dumb complaints, Colby Lewis has managed to come up with probably the dumbest I've ever seen. http://t.co/7bkATJvYYd

— Jonathan Raymond (@jisaacraymond) July 20, 2014
This is beyond stupid, Colby Lewis. http://t.co/oJ15OnpGes

— J.P. Breen (@JP_Breen) July 20, 2014
Close your eyes, and this reads like an Onion story. Well, you can't close your eyes and read so…just read it. http://t.co/Z52N3MEGGZ

— Dave Lozo (@DaveLozo) July 20, 2014
Wow. Colby Lewis is quite a psychopath, huh?

— Jimmy Traina (@JimmyTraina) July 20, 2014
It gets worse every year. There are some baseball players that invent reasons to get mad. The Colby Lewis thing is hysterical.

— Russillo (@ryenarussillo) July 20, 2014
Getting word Colby Lewis is looking for Justin Smoak's cell number. Didn't like the swinging bunt there in the top of the 12th.

— Jason A. Churchill (@ProspectInsider) July 20, 2014