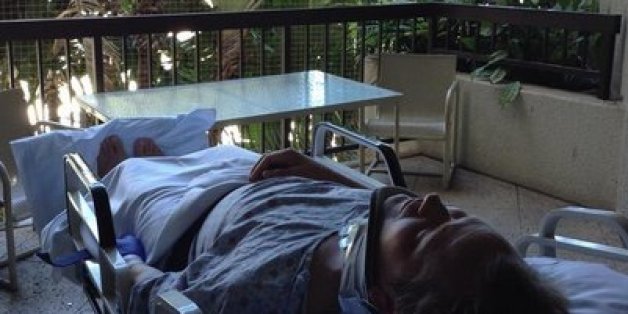 Todd Duitsman, a man who was paralyzed while vacationing in Hawaii and stranded on the island for a couple weeks, is finally getting a ride back home to Stanwood, Washington.
While body surfing the shore break at Big Beach on Maui, the father of three was swept by a large wave and slammed into the sand head first, according to Hawaii News Now. He endured a severe spine injury and was left paralyzed from the neck down.
Two weeks passed since the accident and Duitsman waited, stranded at Queens Medical Center on Oahu. It would've cost his family $50,000, according to KOMO News, to fly him home on an air ambulance to Standwood, Washington, and Premera Blue Cross, his medical insurance company, wouldn't cover the cost. Now, according to Hawaii News Now, he could be headed home as soon as Saturday.
Despite his painful and challenging condition, Duitsman remains in good spirits and, after a local news station shared his story, people across the nation were inspired to show their support and offer donations to bring him home.
"We have been blessed by the outpouring of support and prayer from the people of Hawaii," read a Thursday post on a Facebook page dedicated to Duitsman's recovery. "Thanks to the thousands of people who are helping in large ways and small, you are making a real difference in Todd's journey forward!"
As a thank you, Duitsman, with the help of friends and family, has posted videos taken from his hospital bed. And while he still has a long way to recovery, it's safe to say he'll be back to the islands as soon he is able to.
"I'm gonna work my tail off and work to get rehabilitated and walk again," he told Hawaii News Now. "And yeah, I'll be back. I will be. I love Hawaii."
Watch his message below:
BEFORE YOU GO
PHOTO GALLERY
Inspirational Quotes To Get You Through The Week (February 18, 2014)