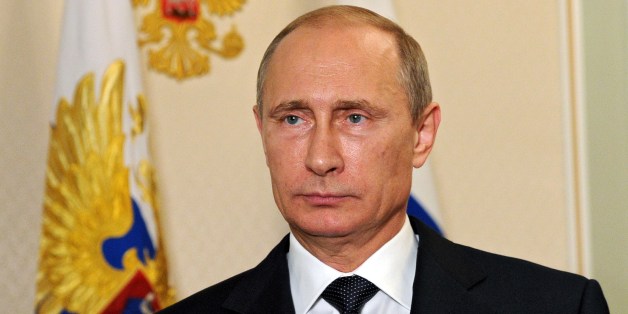 Negative views of Russia are on the rise among Americans. A new poll finds polarized views of Hillary Clinton's tenure as Secretary of State. And Americans have some fascinating ideas on how to fix Congress. This is HuffPollster for Monday, July 21, 2014.
AMERICA'S VIEWS OF RUSSIA FELL SIGNIFICANTLY IN 2014 - Paul Steinhauser: "Most Americans say Russia is directly or indirectly responsible for the downing of a Malaysia Airlines jetliner over eastern Ukraine, and unfavorable opinions of Russia have surged, according to a new national poll. A CNN/ORC International survey conducted Friday through Sunday also indicates that nearly nine in 10 say that Moscow and pro-Russian rebels that control the area where Flight 17 crashed last week will try to cover something up in any international investigation. But only one in 10 say the United States should take military action if there is clear evidence that Russia is responsible for the shooting down of the plane, which killed all 298 passengers and crew….According to the poll, just 19% of Americans have a favorable opinion of Russia, down from 41% in February. Fifty-seven percent of the public saw Russia in a positive way in a 2011 CNN/ORC survey." [CNN]
Opinions were shifting before downed flight - A February Gallup poll gave Russia lower ratings than the CNN/ORC survey taken the same month, with just 34 percent of Americans viewing Russia favorably, the lowest rating of the country since before 2000. In a Pew Research poll released a month later, a combined 69 percent of Americans called Russia an adversary or a "serious problem," up 15 points since late 2013. [Gallup, Pew]
Another datapoint showing America's isolationist streak - That just a tenth of Americans want the country to intervene in Russia is unsurprising, coming after a spate of polls showing declining desires for intervention both broadly and in specific situations. A June NBC/Wall Street Journal survey found that 47 percent of Americans wanted to see the U.S. less active in world affairs, up 33 points since 9/11. And despite rising mistrust of Russia and Putin, Americans have consistently opposed both military action in the region and the idea that they're responsible to take action in the conflict. [NBC/WSJ, HuffPost]
POLL OF VOTERS IN COMPETITIVE STATES GIVES CLINTON LOW RATINGS - Maggie Haberman: "A majority of voters are unimpressed with Hillary Clinton's performance as secretary of state, according to a new POLITICO poll. Just 14 percent described her time at State — she served four years ending in February 2013 — as 'excellent,' while 28 percent defined it as 'good.' Twenty-one percent called it 'fair,' and 32 percent rated her performance 'poor.' Six percent weren't sure or declined to answer. The survey of likely voters in states and districts with the most competitive House and Senate races was conducted this month as Clinton traveled around the country to promote her new memoir, "Hard Choices," and discuss her time as the nation's top diplomat. Clinton's ratings did not vary meaningfully across income levels or age, but there was a clear partisan divide over the former secretary of State and likely 2016 presidential candidate. Some 79 percent of Democrats viewed her performance as either good or excellent, while just 12 percent of Republicans saw her that way. Only 15 percent of Democrats thought she did the job fairly or poorly, in contrast to 86 percent of Republicans." [Politico]
2014 midterm geography leans red - Keep in mind that Politico's sample consisted only of voters in 16 states and 66 U.S. House districts with competitive races in 2014 (voters were selected proportionately for the initial sample, so that a large state like Michigan would contribute roughly six or seven times as many registered voters as a smaller state like New Hampshire). Those competitive states and districts account for just under a third (33.2 percent) of the U.S. population, according to Politico editor Steve Shepard.
Political handicappers have noted that red states dominate the Senate battleground, with a number of endangered Democratic incumbents running in states that "only fell into Democratic hands in the first place when Obama was defeating John McCain in 2008," as Charlie Cook put it in April. That red tilt is evident in the Politico sample: Barack Obama defeated Mitt Romney by a 3.9 percentage point margin nationwide (51.0 to 47.1 percent), but according to analysis by HuffPost's Rachel Lienesch, Romney narrowly won the competitive states and districts sampled by the Politico poll (by a 49.2 to 48.9 percent margin). [National Journal]
Other findings from the Politico poll on endorsements... - Haberman: "Among Democratic voters, an endorsement from President Barack Obama and Bill and Hillary Clinton is most likely to sway voters, while Sen. Elizabeth Warren has sway over a relatively narrow slice of the electorate. On the GOP side, an endorsement from Republicans Mitt Romney, Jeb Bush or Rand Paul is most likely to deliver Republican votes in the midterm elections." [Politico]
...and foreign policy - Alexander Burns "Amid deepening violence across Eastern Europe and the Middle East, Americans are recoiling from direct engagement overseas and oppose U.S. involvement in Afghanistan, Iraq, Syria and Ukraine by large margins, according to a POLITICO poll of 2014 battleground voters. The survey provides a unique look at the foreign policy attitudes of voters who will decide the most competitive Senate and House races this fall. It shows an intensely skeptical view of American military intervention." [Politico]
Poll administered via GfK Knowledge Panel - Politico's partner in fielding the new survey is Massachusetts-based Social Sphere Inc., the company that is also polling for the Boston Globe during the 2014 campaign. They administered the new Politico survey using GfK's online "Knowledge Panel," the same methodology used by the AP/GfK poll. Steve Shepard: "While the polls are completed online, KnowledgePanel's sampling frame includes Americans living in households without Internet access. GfK sends mailers — in English and Spanish — to random addresses in the U.S. Postal Service's database. Recruits can join the panel by mailing back a form, calling a toll-free phone number or visiting a website. GfK provides those who want to join the panel but don't have Internet access with a computer and/or free Internet access." [Politico]
DEMS' FEMALE SOUTHERN CANDIDATES PLAY MAJOR 2014 ROLE - Howard Fineman: "As candidates and voters, the women of the South could well be the Democrats' last line of defense against Republicans hungering to retake the U.S. Senate in November. In presidential years, the South is pretty much GOP territory. But in 2014, Democrats are in desperate need of help from four Southern states and the women running in them: Secretary of State Alison Lundergan Grimes in Kentucky, Sen. Mary Landrieu in Louisiana, Sen. Kay Hagan in North Carolina and charity CEO Michelle Nunn in Georgia. All but Hagan are members of deeply rooted political families in their respective states, and Hagan has acquired that aura through her unassuming charm and prodigious fundraising. The consensus of public polls has each of the four neck and neck in her race. The overall Senate math is complex and ever-changing, but Democrats probably need Hagan and Landrieu to hold onto their seats and either Grimes or Nunn to win. 'We're the ballgame,' said Grimes adviser Jonathan Hurst." [HuffPost]
Most think more women officials would improve governing - Justin McCarthy: "Four in five Americans (81%) say the U.S. would be better governed if more people with business and management experience were in political office. Meanwhile, 63% say the country would be better governed with more female political leaders -- up slightly from 57% in 1995 and 2000….The 63% of Americans who believe the U.S. would be better governed if more women were in political office includes 69% of women and 55% of men. Belief that more women would lead to better government decreases with age, but majorities in all age groups agree. Overall, self-identified liberals (78%), unmarried women (78%), and women aged 18 to 49 (76%) express the most optimism in female leaders. A large majority of blacks (75%), Democrats (75%), and people aged 18 to 29 (73%) also believe having more women in office would improve the government. Not all Americans share the same enthusiasm for female political leadership, however. While nearly half of Republicans (46%) feel that having more women in office would result in better government, almost one in five (19%) feel such governance would be worse -- the highest percentage among any demographic." [Galllup]
AMERICANS WEIGH IN ON HOW TO FIX CONGRESS - Frank Newport: "In our most recent Gallup Poll Social Series survey, July 7-10, 15% of Americans said they approved of the job Congress is doing. We followed up and asked Americans a simple question: 'What is the most important thing you would recommend be done to fix Congress?' This was an open-ended question and interviewers typed in respondents' answers verbatim. We've made the actual verbatim responses of the 500 or so respondents of whom we asked this 'fix Congress' question available for readers to look at themselves, and to use as the basis for forming their own conclusions about just what it is the people would do to fix their governing body. " [Gallup]
Gallup has already compiled the most common responses. Among the most interesting:
-"I don't know. Get them to agree on things."
-"More vacation time."
-"Throw them all out and have no lawyers that can serve and make sure all of them were poor at one time."
-"Put some regular people in there, normal everyday citizens."
-"The immigrant thing."
-"They should put back word of God in schools."
-"Lock them in a room together until they get along."
-"Be more open to everybody, not just your own, be there for everybody, less bullying."
-"Training in mindfulness, meditation, greater compassion, and psychological flexibility, so workable compromises can be reached with greater ease and efficiency."
-"Firearms."
-"Well placed dynamite...I guess I have never seen so much upheaval in my life. More common sense."
-"Revolution."
-"To fix Congress? I'm not really sure."
Ahhh, verbatims...the YouTube comments section of the polling community.— Alex Lundry (@alexlundry) July 18, 2014
HUFFPOLLSTER VIA EMAIL! - You can receive this daily update every weekday via email! Just click here, enter your email address, and and click "sign up." That's all there is to it (and you can unsubscribe anytime).
MONDAY'S 'OUTLIERS' - Links to the best of news at the intersection of polling, politics and political data:
-Barack Obama's approval rating in his 22nd quarter in office averaged 43.2 percent, ahead of George W. Bush at the same point in his presidency (35.8 percent) but well below Reagan and Clinton. [Gallup]
-New York Gov. Andrew Cuomo (D) leads challenger Rob Astorino by 37 points. [Siena]
-PPP (D) finds a closer Senate race in Montana. [PPP]
-Six months of legalized marijuana has changed few opinions in Colorado. [Quinnipiac
-Nate Cohn sees no evidence yet of momentum toward a Republican wave election. [NY Times]
-Elizabeth Warren would be the most liberal Democratic nominee since 1972, Harry Enten writes. [538]
-Jay Ulfelder argues for simplicity in forecasting. [Dart Throwing Chimp]
-Only three of the 10 potential Democratic candidates Gallup included in a 2006 poll ended up running in 2008. [Vox]
-A digital political firm wins a patent for a method of targeting voters with online ads. [Ad Age via @victorylab]
-About a third of Americans think "someone who dresses very differently than most
people" is strange, and other highlights from the Fashion Program at Marist College/Marist Poll. [Marist]