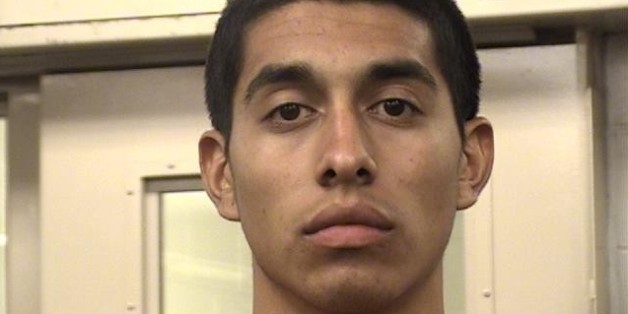 By Joseph Kolb
ALBUQUERQUE, N.M., July 21 (Reuters) - Prosecutors have charged three New Mexico teens with murder for allegedly beating to death two homeless men whose bodies were so badly disfigured they have yet to be identified, police and the Albuquerque District Attorney's Office said.
Kayla Anderson, a spokeswoman for the district attorney's office, said Alex Rios, aged 18, as well as a 16-year-old and a 15-year-old were arrested on Saturday and appeared in state court on Monday charged with open counts of first degree murder.
According to a criminal complaint filed by police, the two younger teens live across the street from the vacant lot on Albuquerque's west side where the killings took place. The lot is often used as a drinking spot and occasional campsite by some of the city's homeless.
The complaint filed by Detective Geoffrey Stone says the 16-year-old admitted to officers he and the other two defendants had beaten more than 50 people in random attacks over the past year, but that he said they went too far in the latest assault.
The complaint says the 16-year-old told investigators the three had just returned from a party at which he broke up with his long-term girlfriend.
It said they heard voices coming from the lot, and that they tied black T-shirts around their faces to hide their identities.
In the lot, the complaint says, the teens found three men who they attacked with punches, kicks, bricks, cinder blocks and a metal pole. One of the men was able to flee, it said.
The complaint also says the 15-year-old told detectives that "all three took turns picking up cinder blocks over their heads and smashing them into the male subject's faces."
According to the complaint, the 16-year-old told Stone that after returning home, he looked in the mirror and "saw the devil."
A police spokesman said the men's bodies, which were discovered on Saturday, were so badly disfigured that they have yet to be identified.
Rios will be charged as an adult, Anderson said.
"As for the other two, they will be treated as if they were 18 or above, but will be held at the juvenile detention center," she said.
She said the teens are considered Serious Youthful Offenders, which includes anybody aged 15-17 who is indicted or bound over for first degree murder as adult offenders.
She said if a grand jury, which must hear the case within 10 days, indicts on the first-degree murder charges, all three will be tried as adults. (Reporting by Joseph Kolb; Editing by Daniel Wallis and G Crosse)