The Environmental Protection Agency Office Of Water's Twitter feed went a bit off-message on Monday night.
Normally, the site talks about the U.S. government's latest efforts to protect clean water and posts links to stories about pollution and invasive species. But around 10 p.m. Monday, this odd tweet appeared: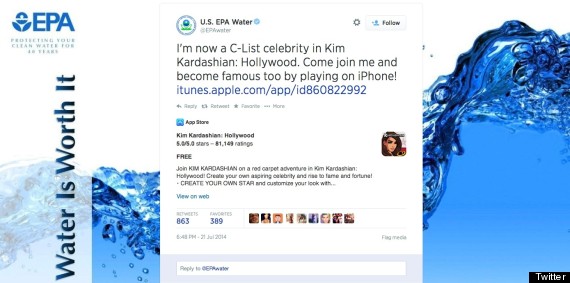 The message, which as of this writing has been retweeted more than 3,000 times, is likely the product of a hacker. But it's also entirely possible that the page's social media manager is a Kim Kardashian fan who simply meant to post the tweet on his/her personal feed rather the EPA's.
Either way, the EPA's Twitter followers seem to have taken the errant tweet in stride, with most finding humor in its surprising appearance:
.@EPAwater I really hope no one gets fired for this because it is beautiful and made me laugh for hours

— RMJ (@rmccarthyjames) July 22, 2014