Royals have always been trendsetters, but in his first year alone, Prince George has far outdone any of his predecessors.
So, in honor of his birthday, here are 10 things that Prince George and his royal mum and dad have influenced.
1. His Mom's Pregnancy Complications Raised Awareness About Hyperemesis Gravidarum Kate's hospitalization during her first trimester shone a spotlight on what was a little-known medical condition called hyperemesis gravidarum. The Duchess' highly publicized diagnosis helped to raise awareness about this rare complication of pregnancy, as media outlets described the condition and other women who suffered from hyperemesis gravidarum wrote about their experiences.
2. And She Put Stylish, Form-Fitting Maternity Wear On The Map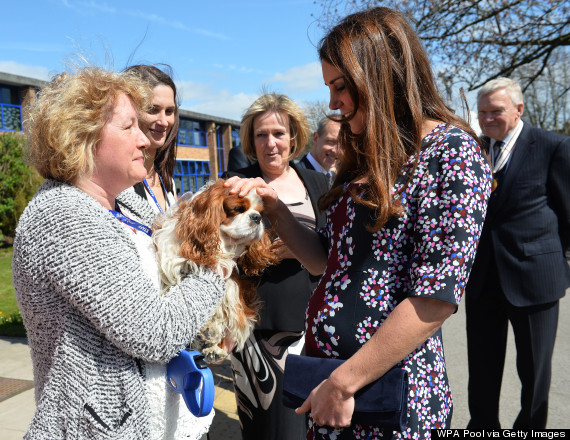 When she was pregnant with Prince George, Kate Middleton spurned the idea that expectant mothers should only wear shapeless dresses and tent-like blouses. Instead, Her Royal Highness opted for more stylish, tailored outfits.
3. He Created A Swaddle Blanket Frenzy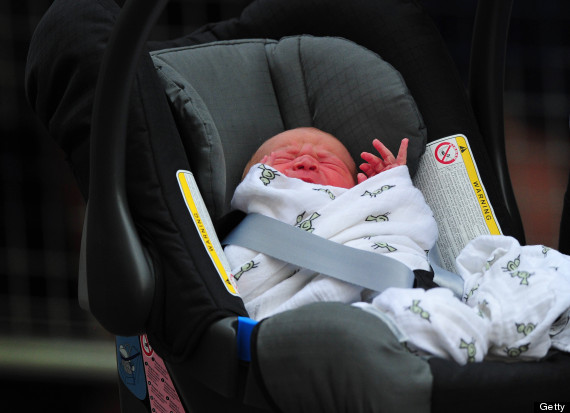 Baby products started selling out the moment Prince George made his public debut. When the newborn was photographed in an aden + anais swaddle blanket on the day he left the hospital with his parents, he caused an Internet frenzy. The brand's website crashed within hours, and sales on George's bird-covered blanket increased by 600 percent.
4. His First Public Debut Sparked A Car Seat Safety Debate When Will and Kate left the hospital after the birth of their son, many expressed concerns that Prince William hadn't strapped George into his car seat properly. This prompted a slew of articles and new debates about the safest way to travel with a baby.
5. His Dad Showed That Paternity Leave Is A Normal Part Of Parenthood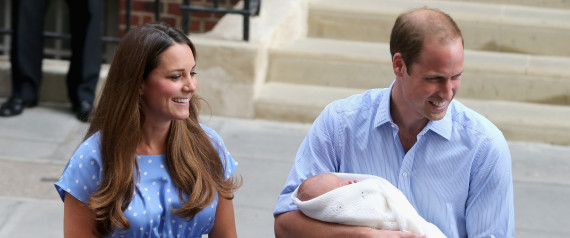 Prince William stayed home with Kate and their newborn son for the two weeks of paid leave that all U.K. dads are legally entitled to. As Yahoo News noted, "by taking a paid break from his position as a Royal Air Force search-and-rescue helicopter pilot, he's undoubtedly setting a new precedent for men everywhere."
6. His Mom's Nursing Choices Might Raise U.K. Breastfeeding Rates While she's never officially commented on her breastfeeding choices, Kate Middleton was photographed wearing a Seraphine maternity dress, which might be an indication that she did indeed decide to nurse baby George. The suggestion that the Duchess of Cambridge opted to breastfeed her child could have a big consequences in the U.K. When she was pregnant, an article in the Telegraph stated that the royal mama's decision about nursing could help to turn around England's falling breastfeeding rates.
7. Two Of His Three Monikers Are Climbing The Baby Name Charts In true royal fashion, Prince George actually has three names: George Alexander Louis. According to Social Security databases, George and Alexander both rose on the baby name popularity chart between 2012 and 2013. George, which had been steadily declining in popularity over the past seven years, jumped back up nine spots, while Alexander moved from number nine to number eight.
8. He Made Dungarees Trendy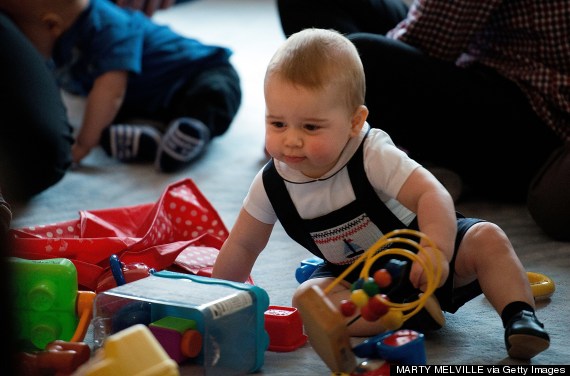 9. He Piqued the Internet's Curiosity About Christenings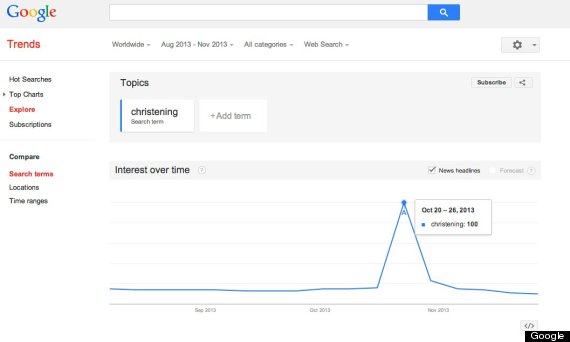 Prince George has not only sparked trends in the real world, but online as well. In the days after his October 23rd christening, the Google search term "christening" spiked massively.
10. He Reminded Us That Chubby Cheeks Will Always Be In Style It seems like news outlets can't talk about Prince George without mentioning his adorable cheeks. But it's also refreshing to see the 1-year-old so confidently showing off his pinch-worthy face. In fact, because of Prince George, babies everywhere are embracing their chubby cheeks, too.
BEFORE YOU GO