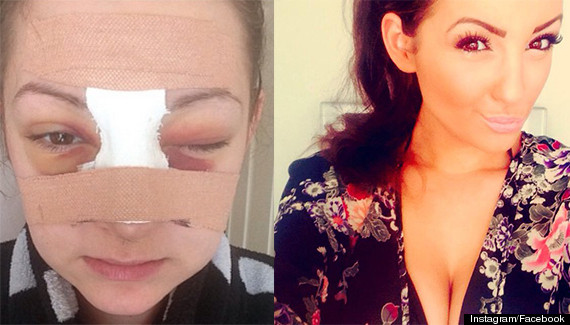 She was once beaten so badly that she needed reconstructive surgery. Now Lacy Lund is following her dream in the hopes that other survivors will be inspired.
In March 2013, Lund's boyfriend brutally attacked her, leaving her nose shattered and in need of rhinoplasty to recover.
About a year and a half later, the British woman is determined to move on from that dark chapter in her life.
"It was so horrific being attacked by someone I'd fallen madly for... I remember the force he inflicted on my face, I felt my nose burst," Lund, now 19, told Caters News Agency. "My ex left me completely broken on both the inside and out... But now, I've finally got my confidence back and I'm becoming a beauty queen."
Lund said she hopes her story inspires other survivors.
Her ex-boyfriend, Dean Campbell, 23, pleaded guilty to assault occasioning actual bodily harm last summer in Grimsby Magistrates Court last summer. He received community service and a fine equivalent to about $425.
Lund maintains an active social media presence, posting frequently to Instagram and Facebook.
Like Us On Facebook |

Follow Us On Twitter |

Contact The Author