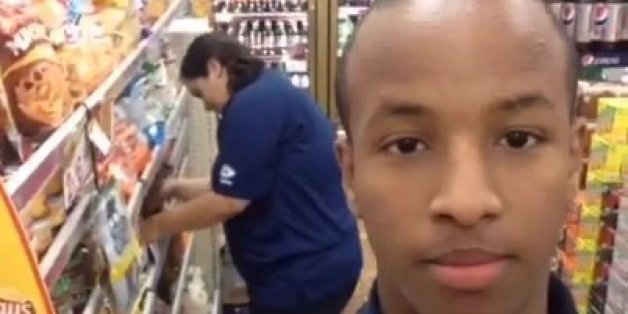 While shopping in a series of convenience stores, Vine user Rashid Polo realized that something was up: the store employees around him were ostensibly hard at work, bending to rearrange products for sale, busying themselves with drink machines, but they kept popping up wherever he went.
This phenomenon was not a new experience for Polo, and no matter where he was or what he was doing, it seemed he was guilty of only one crime: shopping while black.
So he came up with the brilliant idea to catch the clerks on camera and uploaded the resulting videos to Vine.
"[The employee] been following me around the store the whole time," he explains in one, but before he can continue, his camera lens catches her close behind him once again.
"There she goes!" he says. "She thinks I'm stealing."
A number of African-Americans have experienced the perils of shopping while black, including a few very famous folks. President Barack Obama has shared stories about being followed in department stores when he was young. Last year, a Swiss clerk refused to show Oprah Winfrey a handbag because it would "cost too much."
But when people who aren't presidents or media moguls are discriminated against, the incident tends to go on unchecked. But Polo's vines put his experience -- and the experiences of so many others -- center stage, and he took to Twitter to say how happy he was his videos could make even the smallest difference.
Discrimination is never cool. I'm glad I could shed some light on such a sensitive topic in a positive way.

— Rashid (@Rashidpolo) July 21, 2014
BEFORE YOU GO
PHOTO GALLERY
Racist Remarks Made By Politicians