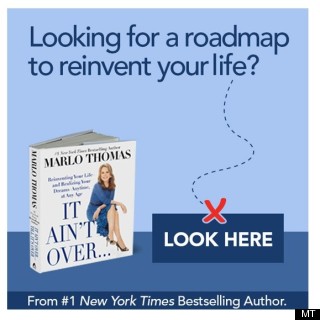 "One of the reasons I started my website is that I wanted a place for women to come together and dream. We women need to know that we don't have to hang on to an old dream that has stopped nurturing us—that there is always time to start a new dream. This week's story is about Holly Bartman -- a crafty stay at home mom who needed a way to make extra income for her family, and found inspiration through her son's love of superheros." —Marlo, MarloThomas.com


By Lori Weiss
It was a superhero holiday at Holly Bartman's house. Her son, Owen, was turning four and like most young boys, he was fascinated with his Saturday morning friends -- Krypto the Wonderdog, Danny Phantom and especially Ben 10 -- a young boy who could morph into all kinds of different creatures, each one with his own set of super powers.
Owen couldn't wait for all his friends to join in on the superhero fun, so when it was time to plan his birthday party, Holly needed to find a way to unleash her SuperMom powers.
"We didn't have a lot of extra money," Holly explained, "but I grew up making outfits for my Barbie with construction paper and building her dream home out of boxes. So I decided to make Owen a Ben 10 cape for the party and to make superhero kits for all his friends."
"I made sure to include granola bars for energy, sunglasses to keep their identity secret, their own superhero capes and a crime fighting sidekick -- because, really, every superhero needs to have one. In this case, it was a stretchy fabric frog."
And as you might expect, within seconds of receiving their top secret packages, there was a backyard filled with ten little superheroes wrapped in colorful capes. All was well with the world -- with one minor exception. Holly had revealed her true identity -- as Wonder Woman.
"One of my friends couldn't believe I made the capes. And she kept telling me that I should find a way to sell them. I had sold some other things at craft shows, but I really didn't see myself running a business. I did like the idea of bringing in some extra money though -- to pay for pre-school and weekend trips and Christmas presents."
Holly had left her job as a special education teacher just before she gave birth to Owen. After Owen, came a little girl named Lillian, and the new mom wanted more than anything to stay home with her kids until they began kindergarten.
But it was 2006 and Michigan was feeling the effects of the recession long before the rest of the country. Holly's husband, Brent, oversaw computer systems for an automotive parts supplier -- and with the auto industry in trouble, his paycheck had been cut nearly in half.
"I really didn't know how to sell anything outside of craft shows," Holly said. But I decided to give it a try. So I made some capes and started posting them on ebay. And then Etsy began growing, so I set up a shop there and word began to spread. While I always kept a stock of capes in red and blue and orange -- people began requesting special designs. One woman wanted a superhero dinosaur cape with a Triceratops head on it!"
As the orders continued coming in, the Bartman's bedroom was beginning to look a little bit like the Batcave. There were storage units for fabric, garment racks for pieces under construction and closets filled with capes that could give just about anyone super powers. And Holly was bringing in nearly $1000 every month.
There was just one little problem. Holly's superhero husband, was getting tired of having to leap over mountains of capes just to get ready for work in the morning. So she moved her fledgling business to a little office in an old winery. Little did she know, that she would happen upon a Clark Kent, who would use his extraordinary strengths to help her turn what some saw as a nice little hobby -- into a 2.4 million dollar business.
Article Continues Below Slideshow
PHOTO GALLERY
Holly Bartman
"We had these long hallways that weren't very busy," Holly recalled, "so I'd roll out strips of fabric and cut ten capes at a time. The fabric was almost as wide as the hall, but there was about a foot of space on either side, for tenants to sneak through. And each morning, that's what the guy down the hall did. After a few months of doing that, he finally asked what I did. When I said, 'I make superhero capes.' He looked at me and said 'Really? And you make money doing that?'
But the next day, the familiar face from down the hall returned -- this time, not with a question -- but with a proposal. His name was Justin Draplin and he owned a marketing company. He had gone back to his office and done some research and he was convinced, that with the power of the internet, he could help Holly move her customized cape business into the future.
"I wasn't looking for a business partner. I was busy and getting close to more than I could handle at that point. Lillian was only two and Owen was in kindergarten. But I agreed to sell him capes and he was going to set up his own website."
But when Justin started walking into her office with orders for 50 capes every couple days, Holly was near tears.
"It was the holiday season and I was already working 80 hours a week," Holly remembered. "Justin was doubling that. I was getting up before the kids and cutting out shapes and initials. I'd stop to get everyone ready, go cut out a few more, take Lillian to pre-school, and then go to the office. After school, I'd bring her back with me to finish up, run home to put dinner on the table and go back to sewing. After a month of that, I had to tell him, that we were done -- that he had to stop taking orders!"
Once she got past the Christmas rush, the crafty entrepreneur reconsidered. The two decided to become partners, with Justin handling the marketing and payroll, and Holly devoting her time to the things she loved most -- creating capes and spending time with her own little superheroes. They began hiring other moms who wanted to bring in some extra income -- and before they knew it, the business they named SuperflyKids, had taken on a super powered life of its own.
It wasn't just parents who were ordering the custom-made capes, it was brands like Mopar and Benadryl who wanted to feature superhero kids in their ad campaigns. Old Navy was having a super sale -- and what better way to do that than to dress thousands of sales associates in capes? And then there were the celebrities that were calling -- hoping to bestow super powers upon their kids.
"We got a call for a big order that was going to California and as Kelly, our customer service supervisor, started asking questions, she realized she was talking to Kevin Costner's wife. Each time we get a call like that, we all freak out and jump around. It's so exciting!"
Holly and Justin also make sure that the super powers, which come with each cape, get to the kids who need them the most. For every fifty dollars spent on their website, a cape is donated to a charity, hospital or toy bank.
But as every superhero knows, a cape is simply not complete without a few accessories. So along with masks and utility belts, there are blaster cuffs, which allow creative kids to send out make believe laser beams or to become completely invisible. And while these days, there are just as many girls who want to be superheroes as boys, the company also makes pretty tutus for the days they'd rather be ballerinas.
Today, SuperflyKids is based in an 8,000 square foot command center in Livonia, Michigan and produces an average of 5,000 custom superhero capes every month -- in just about any color combination a child can come up with. Last year they made the Inc 500 list, as one of the nation's fastest growing companies.
But no matter how big they become, each and every caller is still greeted by a super sales staff that begins by asking "How Can We Save Your Day?" And as they grow, Holly and Justin continue to find ways to help the community. This year they launched a series of fun runs that allow caped crusaders to raise money for the charity of their choice.
"When I first started out, so many people asked what I was going to do when I didn't know any more little kids," Holly said with a smile, "or when kids stopped wanting to be super heroes. There will always be negative Nellys. But there will also be cheerleaders, like my friend who convinced me to try this."
"You control your own destiny. You decide what's going to happen in your life. So ask yourself who you want to listen to. And if you decide you're ready for a new adventure, then put on your superhero cape and get to it."
* * *
To read 60 other inspiring stories -- buy your copy of "It Ain't Over Till It's Over." Click here.
Add Marlo On Facebook:
Follow Marlo on Twitter:
Sign up to receive my email newsletter each week - It will keep you up-to-date on upcoming articles, Mondays with Marlo guests, videos, and more!