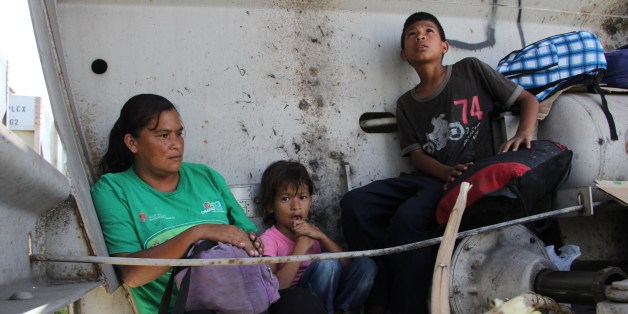 Though immigration is a polarizing issue, the plight of migrant children at the southern border of the United States is so dire that an unlikely assortment of faith groups have found themselves standing on the same side of the fence.
The complex political calculations surrounding the border crisis fade when leaders come face to face with the many unaccompanied children detained by the Border Patrol, leading some religious leaders to conclude that the current situation is fundamentally a moral one. Many of the migrants, mostly from Central America, are fleeing violence and poverty in their home countries, meaning that their deportation could lead to their deaths.
Russell Moore, a leader in the conservative Southern Baptist Convention, visited a Customs and Border Protection detention facility in McAllen, Texas, on Tuesday, leading him to conclude, "What is not complex is the truth and the reality that these children are created in the image of God."
New York's Cardinal Timothy Dolan of the Catholic Church wrote an impassioned blog post after witnessing an anti-immigrant protest in southern California that shouted at people to go home. "It was un-American; it was un-biblical; it was inhumane," he said. The leadership of religious officials may help steer the debate in a less xenophobic direction going forward.
Beyond simply advocating for justice in their own congregations, many religious leaders have united to sign petitions for the sake of migrant children. A coalition of both liberal and conservative Evangelical Christians sent a letter to Congress yesterday which urged specific measures to protect young migrants. It was signed by Leith Anderson, the President of the National Association of Evangelicals, Stephan Bauman, the President and CEO of World Relief, Russell D. Moore, President of the Southern Baptist Ethics and Religious Liberty Commission, Samuel Rodriguez, President of the National Hispanic Christian Leadership Conference, Richard Stearns, President of World Vision U.S., Jim Wallis, President and founder of Sojourners, and many other Christian leaders who are often not on the same page.
Another petition sponsored by the Interfaith Coalition for Immigrant rights, among other groups, urged Congress to take action to help migrant children by increasing funds for the Office of Refugee Resettlement and providing them with legal aid. 3,841 people of faith had signed by the time it was sent. "We are asking President Obama, Congress and the Department of Homeland Security to do the right thing by providing funding for the care and due process of these migrant children," said United Methodist Bishop Minerva Carcano.
On the ground, church groups have been instrumental in providing relief and care to migrants. Despite criticism, Baptist relief groups like Texas Baptist Men and the Cooperative Baptist Fellowship continue to provide support to needy families and children on the border. Some churches in the area are even providing physical support, like St. Joseph's Catholic Church in Fontana, California, which has served as a temporary refuge for migrants being processed by federal agencies. An informal relief center has been organized at Sacred Heart Catholic Church in McAllen, Texas, with Baptists, Methodists, Episcopalians, and more coming together to welcome immigrant families. Carmen Garza, a volunteer, told the LA Times, "If my neighbor is in trouble, I help my neighbor. And these people are our neighbors."
Though the Christian faith of many of the migrants has struck a particular chord with American Christian churches and organizations, they aren't the only faith leaders getting involved in the issue of border justice. Rabbi Asher Knight of Temple Emanu-El in Dallas, Texas, told the New York Times that over 100 leaders of Dallas faith-based organizations had come together to talk about how to assist the needy. "The question for us is: How do we want to be remembered, as yelling and screaming to go back, or as using the teachings of our traditions to have compassion and love and grace for the lives of God's children?" he said.
The involvement of religious leaders that often disagree serves to further frame this issue as a human one; a question of mercy versus judgment. "These children are unifying us," said Bishop Carcano.

BEFORE YOU GO
PHOTO GALLERY
Quotes By Inspiring Religious Thinkers