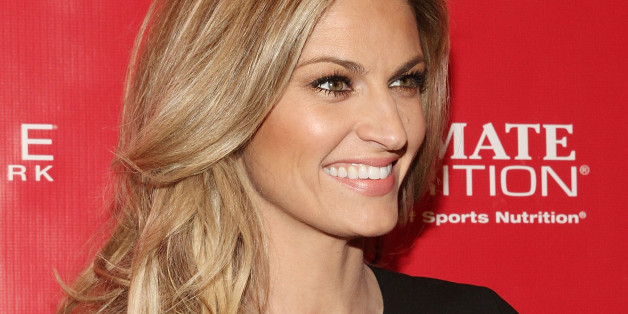 After calling Fox Sports' Erin Andrews a "gutless b**ch" last week, Boston sports radio host Kirk Minihane apologized for his language during his broadcast Wednesday morning -- then proceeded to berate Andrews one more time.
"I used a word to reference Erin Andrews that I shouldn't have used to reference Erin Andrews," Minihane said in a recording transcribed by The Boston Globe. "I will completely cop to that. I said it, I admit it, that was a mistake. I just feel like it was the wrong time to use it."
Apology out of the way, Minihane attempted to justify the original statement with this questionable follow-up (emphasis added):
I will say this. I think she stinks at her job. I don't think she's very smart, I don't think she comes across as very smart. I think Fox only hired her because she's good-looking. I think if she weighed 15 pounds more she'd be a waitress at Perkins. That's what I believe.
Minihane also apologized on Twitter, linking to an official statement on the station's website.
Last week, Minihane was widely rebuked for attacking Andrews over what he perceived as a soft question directed at St. Louis Cardinals pitcher Adam Wainwright. Wainwright had been accused of throwing Derek Jeter a couple easy pitches during the 2014 All-Star Game; he denied doing so.
Andrews' follow-up question, "Don't you just love social media?", alluded to Twitter's role in stoking the controversy -- a question Minihane took issue with as being too easy, prompting this rant: (Warning: Adult language follows.)
What a bitch! I hate her! What a gutless bitch! Seriously, go away. Drop dead. I mean, seriously what the hell is wrong with her? First of all, follow up. Second of all, the guy admitted he did it. He admitted it. He told reporters he threw a couple of pipe bombs. How is that social media's fault? I hate her. I seriously hate her so much. Social media is the reason she has a big house! Shut up. Shut up. I shouldn't call her a bitch, I'm sure she's a nice person."
The Boston Globe notes Minihane's latest comments were posted on the station's website under the heading, "The triumphant return of Kirk Minihane."
Listen to Minihane's latest comments regarding Andrews, below, starting at 5:52.
BEFORE YOU GO
"
PHOTO GALLERY
PHOTOS: Erin Andrews