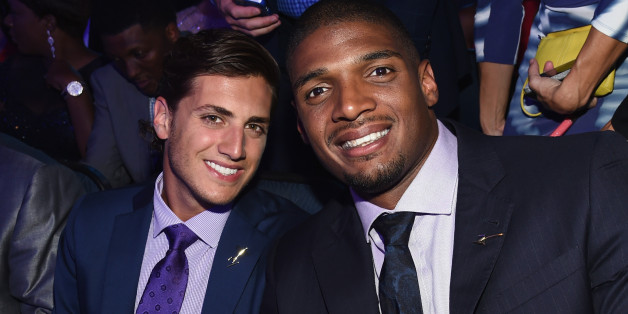 Michael Sam reveals that he second-guessed his decision to come out as gay ahead of the NFL draft in a new interview with "Good Morning America."
"I was like, 'Maybe I shouldn't have done what I did.' You know?" Sam, who made history as the first openly gay player to be drafted by the NFL, told GMA co-anchor Robin Roberts just before his first day of training camp for the St. Louis Rams.
While Sam had his doubts, he said boyfriend Vito Cammisano provided plenty of emotional support.
"I had so many emotions going in my head," he said. "And then I felt a touch over my shoulder and it was Vito .... [and] I was like, 'I don't care what happens. You know, I know I did the right thing in my heart. And whatever happens, happens. I'm just going to move forward.'"
Sam also praised Cammisano, who was a star member of the University of Missouri's swim team, in a revealing new interview with Out magazine. Cammisano, he said, helped him become more comfortable coming out as gay during an August 2013 minicamp with his Missouri Tigers teammates.
"When I got up there in front of my team, it was actually the first time I said the words to anyone: 'I am gay,'" he told Out magazine. While he was nervous, his teammates didn't bat an eyelash: "Mizzou is a family. At another school, it might have been a different story."
Sam also received the 2014 Arthur Ashe Courage Award at the ESPYs in Los Angeles last week.
BEFORE YOU GO
PHOTO GALLERY
LGBT Athletes