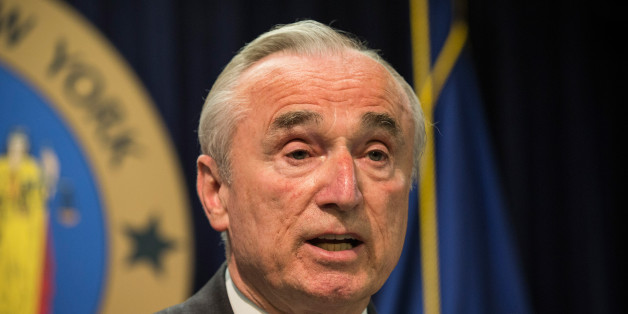 New York City police officers have been ordered to go through a mandatory retraining in the use of force, police commissioner William Bratton told reporters Tuesday.
The order follows the death of Eric Garner, a 46-year-old father of six, who died after being put in a chokehold while under arrest in Staten Island last week for selling untaxed cigarettes. Chokeholds are prohibited by the NYPD.
"As I have reviewed that incident and reviewed the training of the department, it is my belief that we are going to have to do more than just a review of Staten Island," Bratton said at a news conference.
Bratton said he will begin a "top to bottom" review immediately, starting with meetings to see how officers currently "take people down" during arrests. He acknowledged that formally retraining the entire department, the largest police force in the country, could take years to complete.
Although Bratton did not specifically mention the use of Tasers in the initiative "to develop state-of-the-art use-of-force policies," a source tells The New York Times the department is quietly looking into wider use of the controversial tool, which delivers a powerful electrical shock when fired, as part of a wider discussion in how to subdue individuals who resist arrest.
But as the paper notes, stun guns have been employed by police officers in the past, sometimes with tragic results:
But months after the police began to expand the use of Tasers, an emotionally disturbed man in Brooklyn fell to his death after the police shot him with a Taser. In that September 2008 episode, the man, Iman Morales, had engaged in a 30-minute standoff with the police, waving a fluorescent light bulb from a building ledge. A lieutenant on the scene ordered another officer with the Emergency Service Unit to fire a Taser at Mr. Morales, who fell headfirst to the sidewalk.
Soon after the incident, the officer involved killed himself.
As a Stanford study found, Tasers can cause "significant injury if deployed into sensitive areas if the body such as the eyes, throat, or genitals" and can deliver fatal shocks if the individual suffers from heart issues and other cardiovascular problems or when subjects are found to be under the influence of drugs.
Garner, who was reportedly asthmatic, went into cardiac arrest while in police custody last week. Video of the incident shows Garner begging officers to let him breathe as he lies on the ground.
In a statement, public advocate Letitia James said NYPD officers should be outfitted with cameras to increase accountability.
"As technology advances and becomes more accessible, we must investigate its use in improving government services, such as public safety," James said. "Given the disturbing circumstances surrounding Eric Garner's death and countless complaints of police misconduct, I support outfitting NYPD officers with video cameras, beginning with a pilot program."