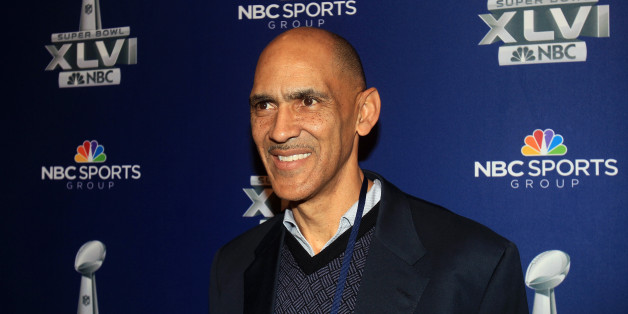 Former NFL coach Tony Dungy vaguely claimed that "things will happen" when explaining why he would not have drafted openly gay football player Michael Sam. What he didn't say at the time was that one of those things would, apparently, be Tony Dungy.
The former head coach of the Indianapolis Colts and Tampa Bay Buccaneers, who is currently an NBC analyst, drew attention to himself and Sam as the St. Louis Rams were preparing to get training camp underway for the upcoming season with comments to the Tampa Tribune. Sam, the 2013 SEC Co-Defensive Player of the Year who came out in February, waited until the eighth-to-last selection of the entire 2014 NFL draft before being selected by the Rams.
"I wouldn't have taken him,'' Dungy told Tampa Tribune reporter Ira Kaufman. "Not because I don't believe Michael Sam should have a chance to play, but I wouldn't want to deal with all of it."
"It's not going to be totally smooth," Dungy also told the Tribune. "Things will happen."
The comments by Dungy, who advocated for teams to give Michael Vick a second chance to return to the NFL after the quarterback served time in prison for his involvement in running a dogfighting ring, appeared in an article published by the Tampa Tribune on Sunday. They sparked controversy and earned him the title of the "World's Worst Person In Sports" on Keith Olbermann's ESPN2 program on Monday night. Earlier on Monday, Sam and the rest of the Rams' rookies reported to camp.
"Thank God he wasn't St. Louis Rams' coach," Sam responded with a laugh on Tuesday, via NFL.com. "But I have a great respect for Dungy, and everyone in America is entitled to their own opinions."
In attempting to downplay the situation and keep the focus on football, Sam cut off a follow-up question on the controversy, according to Dan Hanzus of NFL.com
"I don't really care what people are coming up and talking about," Sam said. "My job is to make this team, that's my number one priority."
Rams head coach Jeff Fisher also addressed Dungy's comments during an appearance on ESPN's "Mike & Mike" radio show on Wednesday. He stated that Sam was "absolutely not" a distraction for his football team.
"Let's define distraction," Fisher added, via ESPN.com. "There were a couple extra cameras during the early OTAs, there may have been an extra camera yesterday as the rookies reported and went on the field for the first time, but no, it's not."
While a few extra cameras wouldn't seem likely to garner much attention from the players or coaches at Rams Park, Sam and Fisher both had to address Dungy's comments. Dungy has also continued to make headlines while attempting to clarify his initial comments and stance on Sam. In a statement released to media outlets on Tuesday, he said that he would not have had a problem with having Sam on his team and that he did not believe his sexual orientation should have played a role in his evaluation as a player.
"I do not believe Michael's sexual orientation will be a distraction to his teammates or his organization," Dungy said in that statement, via ESPN.com. "I do, however, believe that the media attention that comes with it will be a distraction. Unfortunately we are all seeing this play out now, and I feel badly that my remarks played a role in the distraction."
In his statement on Tuesday, Dungy claimed that his comments were made when "the Oprah Winfrey reality show that was going to chronicle Michael's first season had been announced." The OWN documentary series was announced on May 14 and then postponed on May 16, specifically to avoid any possible distraction as Sam attempts to make the Rams' roster. Calling Dungy's timeline into question, Kaufman appeared on "The Dan Patrick Radio Show" on Tuesday and said that the interview occurred "a week or two back," at a time when the documentary series would not have been a factor.
Dungy then appeared on "The Dan Patrick Radio Show" on Wednesday and was asked about Sam, his support for Vick and the significance of his religious and political views in the controversy.
"I hadn't thought about it but I think it might be a good idea," Dungy told Patrick when asked if he had considering reaching out to Sam. "I'd love to do that. Hopefully I'll get the chance. I would want to wish him the best and let him know that I have no bitterness or animosity towards him even though I don't agree with his lifestyle. I love him and I wish him the best and I would love to say that to him."