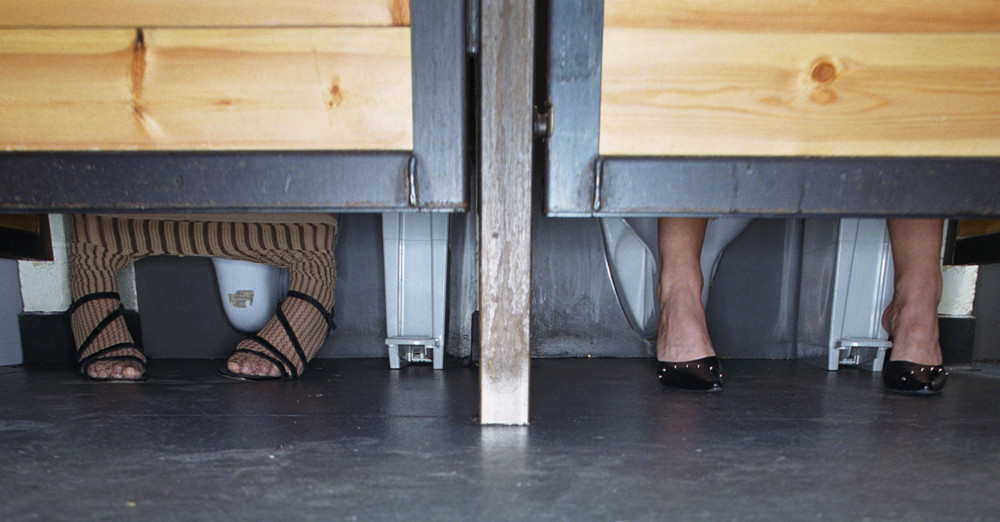 In February 2012, a fast-food worker returned to her job at a McDonald's restaurant in Grand Island, Nebraska, after three months of maternity leave. As a nursing mother, she was determined to continue breastfeeding. As a working mother, that meant she would have to pump her breast milk at work, store it and then take it home to her baby.
Her right to do so was protected under federal law, as a provision of the Affordable Care Act, better known as Obamacare. Under the 2010 law, employers must give eligible employees "reasonable" break times to express milk for a nursing baby, for up to a year after the baby's birth. They must also provide a clean, private location that isn't a bathroom. The law considers bathrooms an unsanitary place to handle what is, after all, food for an infant.
The managers supervising the McDonald's employee ignored those rules repeatedly, a Labor Department investigator later found.
Even though she obtained a doctor's note stating she needed to express milk for her child -- at her manager's insistence -- the woman wasn't given access to a private room. The employee break room had no door or curtain to keep people from walking in on her, so she was forced into the restaurant's public bathroom.
The worker filed a complaint with the Labor Department, saying her rights as a nursing mother were being violated. Within days, a manager forbade her from pumping milk anywhere in the restaurant, according to the Labor Department investigator's findings.
The woman was forced to clock out and walk 15 minutes each way to a public library whenever she needed to pump milk. This was worse than inconvenient -- it was financially damaging. The investigator determined that the worker had lost $81.24 due to those trips to the library.
Her manager dropped her hours from 20 to 7.25 for at least one week, a schedule change the investigator deemed an "apparent retaliatory action" in response to the worker's complaints.
As a result of the investigation, McDonald's agreed to pay back wages to the worker and restore her hours. The company also agreed to set up a portable tent in the break room to provide her with a space for pumping milk out of co-workers' view. The investigator determined that the violations were not intentional, but were instead "due to naivety of the front line manager."
The McDonald's file was one of 105 cases reviewed by The Huffington Post as part of a Freedom of Information Act request for investigations into nursing-mother complaints. The cases spanned from March 2010, when the Obamacare provision went into effect, until late 2013, and only closed investigations were released. The names of the women who filed the complaints were redacted, but the names of the companies and their officers were not.
The nursing-mothers provision covers only those hourly workers who fall under the Fair Labor Standards Act, the same set of employees who are eligible for minimum wage and overtime protections. Many salaried workers are currently exempt from the law. The complaints filed by workers therefore tilted heavily toward the low-wage end of the economy, particularly the retail sector.
The case files show that moms who work outside the home face a predicament. They are told by health professionals and society at large that breastfeeding is the right thing for themselves and their babies, with the American Academy of Pediatrics recommending breastfeeding exclusively for the first six months of the baby's life. Yet women still aren't always granted the on-the-job flexibility they need to make it work. But they have to try, because the Family and Medical Leave Act covers only 12 weeks of unpaid leave.
Among the more visible companies whose workers' complaints were ultimately substantiated were Starbucks, Walmart, Dollar General, Dillard's, Sunglass Hut, Meijer, Outback, Anthropologie, Lowe's and the Salvation Army. McDonald's had two such claims filed against it -- one by the worker at the corporate-owned store in Nebraska, another by an employee at a franchise in California. The company didn't respond to requests for comment.
In the vast majority of cases, Labor Department investigators found merit in the nursing mothers' complaints. In many instances, bosses weren't aware of all their obligations under the law and they quickly agreed to comply. In others, their actions were more egregious.
One California call center went so far as to fire a temp worker who was covered by the law after she complained about not having ample break time to express milk, an investigator found. The company was forced to pay the worker back wages.
For a law that covers millions of workers, 105 cases investigated and closed over the course of three years by no means proves there are rampant violations. The relatively small number of complaints might indicate an effective rollout of the regulation. But there's good reason to believe that the hurdles these women faced are, in fact, more common than the numbers suggest.
Awareness of the law is extremely low, and many women don't know they have federal rights as nursing mothers, according to the findings of a recent HuffPost/YouGov poll. Only 25 percent of respondents correctly said that employers with at least 50 employees are required under the law to provide workers with a space for pumping breast milk. A larger share -- 37 percent -- incorrectly said that no such law exists. And the largest share of all -- 38 percent -- admitted they didn't know enough to say one way or the other. Women were only slightly more likely than men to be familiar with the requirement.
There's another reason to believe the difficulties may be more common than they seem: The women who pursue federal complaints against their bosses must be willing to sacrifice anonymity, since everyone at work knows who the new mother is. Some women who filed complaints actually abandoned them after realizing their bosses would have to be interviewed by investigators.
The Labor Department's cases share some clear patterns:
Many women ended up pumping milk in the bathroom, which, even if clean and spacious, is still a bathroom. Consider the travails of an employee of Sodexo, the food and services company, who was "instructed to use an employee bathroom," according to an investigator's report. This arrangement apparently necessitated sitting on the bathroom floor. The woman tried switching to a public restroom in the building, which was "frequented by others" while she expressed milk. The woman eventually switched back to using the employee restroom "due to a sewage problem" with the public one. In an email, a Sodexo spokesman said the company has had a nursing-mothers policy in place since 2004 and updated it in 2010. "[N]ursing mothers will have access to a suitable private space and be provided with reasonable break times ... to both express and store breast milk," he wrote.
In cases where women weren't given a private space, colleagues and even customers walked in on them while they had their breasts exposed. This was most common for those relegated to common-area break or storage rooms. For instance, a worker at a nursing home in Washington state was instructed to use a supply room, where she sat on top of a garbage can to pump milk. Even though the door had a lock, colleagues with spare keys often walked in on her while searching for supplies. She was later moved to another storage area where the same thing happened repeatedly, the investigator determined.
Some women said they weren't allowed enough time to pump, even though under the law, employers don't have to pay them for the time if breaks aren't normally paid. At a HealthSouth rehab center in Memphis, Tennessee, for example, an employee alleged that managers wouldn't provide a co-worker to cover for her when she was pumping. As a result, she was "constantly interrupted by intercom pages that a certain patient's room needed her attention or she was needed at the desk," according to the report. Because she couldn't get the time she needed, she said, her body stopped producing milk. HealthSouth didn't respond to a request for comment.
Having a strong corporate policy on nursing mothers doesn't mean it's always followed. Meijer, the Midwestern grocer and retailer, had two substantiated complaints filed against it -- one in which a worker said she wasn't given enough break time, another in which a worker said she didn't always have access to a private office. A Meijer spokesman said that the company has a corporate policy accommodating nursing mothers that predates Obamacare and that all its facilities have areas designated for pumping.
Even when breaks were provided, some women weren't always allowed to pump when their bodies demanded it, which also undermines milk production. The worker at the McDonald's franchise in California said she was told by her supervisor that she could take a break to pump "only if the restaurant was not busy," in the words of the investigator.
Merely raising the issue with a supervisor can create tension. In a small number of cases, workers had their hours cut or were written up after demanding break time or a private room. One woman at a call center in West Virginia was given the break time she needed for pumping but was "penalized with write-ups which would eventually have resulted in termination," the investigator found. The company's human resources manager said she hadn't known about the new requirements.
Despite the public's growing awareness and acceptance of the needs of nursing mothers -- and despite what she considers a strong federal law on the books -- Dr. Joan Younger Meek, a professor of clinical sciences at the Florida State University College of Medicine, said she wasn't surprised to hear about the challenges women faced on the job.
"What we've said for many years in the breastfeeding community is that it seems every mother has to fight this battle for herself," said Meek, a member and past chair of the U.S. Breastfeeding Committee. "We're just trying to create an atmosphere that will allow mothers to be successful at breastfeeding and have a culture that's accepting of it. It's actually better for all of us if they breastfeed and breastfeed longer. It makes for healthier communities in the long run."
Most health experts agree that breastfeeding is the best option for a baby if a mother can do it. According to the Department of Health and Human Services, the composition of breast milk protects babies from disease better than formula does, leading to fewer respiratory infections and less risk of asthma and obesity in children. Breast milk is also easier for babies to digest.
Those benefits served as the prime motivation behind the Obamacare provision. During the health care reform debates of 2009, the measure was championed on the House side by Rep. Carolyn Maloney (D-N.Y.) and on the Senate side by Sen. Jeff Merkley (D-Ore.). Over the years, Maloney had heard from mothers who were punished and even fired for pumping milk on the job.
Merkley told HuffPost that he empathized because his wife, Mary Sorteberg, a registered nurse, had wanted to continue breastfeeding once she went back to work after maternity leave.
"It was stressful just thinking about going to the manager and saying, 'Hey, can I have the space and flexibility to do this?'" Merkley recalled. "And the manager is kind of like, 'Well, I wonder what room we can use ...'"
Democrats framed the measure as a family values issue. To make it more palatable to business, they included an "undue hardship" exemption that gives small employers -- those with fewer than 50 employees -- a pass if they can demonstrate it's logistically too difficult to provide the time and space the nursing mothers need.
The Affordable Care Act then as now drew extraordinary Republican opposition on Capitol Hill. Yet the amendment quickly drew GOP support, passing unanimously through the Senate committee.
Sen. Tom Coburn (R-Okla.), a doctor, summed up the GOP position during a committee hearing in 2009: "I'm hardly ever wanting the government to interfere, but this is one of the places where I think since we already interfere in the workplace anywhere else, we ought to at least make it a wonderful place for women."
The Institute for Women's Policy Research has projected that an additional 165,000 women each year will breastfeed for at least six months because of the provision. Those gains will come in particular among women who work low-wage jobs and who are minorities.
But there are still millions of women, particularly in white-collar jobs, who aren't covered under the Fair Labor Standards Act and thus miss out on the nursing-mothers provision. Maloney and Merkley have introduced a bill that would expand the provision to cover all workers, be they hourly or salary. Merkley said he hopes they can attach the measure as an amendment to another bill headed for the president's desk.
"From the reporting we're getting back from businesses, this actually works out to be a pretty good deal," Merkley said. "Their employees feel really well treated because they're given this flexibility. It's a really big return in how employees feel about their company."
To express milk at work, a new mom first needs a decent pump, the cost of which health insurers must now cover under the Affordable Care Act. According to Meek, the best option for the workplace is an electric pump that allows a woman to express milk from both breasts simultaneously. This leads to more milk in a shorter period of time.
The woman will also want either a lock on the door or a sign to hang outside it; some hand sanitizer; a cooler and bottles to store her milk; and, if her pump is electric, an outlet to plug in.
Aside from that, she only needs the understanding of her boss. Of course, not every business can be expected to have its own lactation room, so the law offers employers a good deal of flexibility. As in the McDonald's case, where the store provided the worker with a tent in the break room, the final arrangement may often be ad hoc. Above all, employers are expected to be reasonably accommodating.
As the Labor Department's investigations show, that isn't always what happens.
At a call center in California operated by TeleDirect, a temp worker employed by the firm AppleOne went to three different supervisors trying to arrange break time for pumping. An investigator found that the woman wasn't given breaks or a private room and ended up using the bathroom during lunch.
The nursing mother was soon fired for carrying her cell phone with her against call center policy. The Labor Department concluded that the rule had been selectively enforced against the woman. AppleOne was ordered to pay her $1,372.50 in back wages over the firing. The company didn't respond to a request for comment.
At a Dollar General store in Columbus, Georgia, a worker had no place to pump privately, so she used a break area that was visited by co-workers and shoppers. "Whenever customers went by the break area ... they either stuck their head [in] to see what she was doing, asked where the rest room is located, or they asked her to help them to locate merchandise," the investigator wrote. Some colleagues apparently felt so bad for her that they would sit nearby "to block customers or other co-workers" from seeing her.
After giving the worker 15-minute breaks for two months, the store manager suddenly "refused" to grant her the time, according to the investigation. The manager also cut her weekly hours from the high 20s down to 12, forcing her to find a new job. Due to the investigation, the company agreed to pay the woman $814.43 in back wages and "start a project to provide a place shielded from view and free from intrusion" for nursing mothers.
"We do have a policy in place to make sure our employees who are nursing have time and a private place to express breast milk," a Dollar General spokesman said in an email.
A Labor Department spokesperson said the department works "very closely with the employer to achieve compliance as part of the investigation."
Noting that the Obamacare provision is still fairly new, the spokesperson added, "It's very difficult to draw conclusions just three years into a new law. There is a learning curve with the regulated community."
Hopefully, Meek said, employers will learn -- so that breastfeeding mothers don't have to file complaints at all.
"The vast majority of mothers in our society are going back to work, and the barriers start well before they go back," she said. "For some, there are almost insurmountable obstacles, and they'll end up stopping [breastfeeding] or introducing formula sooner than they want to. This law was a good start. But obviously we need all employers following it."
With additional reporting by Emily Swanson.
HuffPost readers: Care to share your experience pumping at work? Tell us about it.